Matt Holliday within Boston Red Sox's Financial Grasp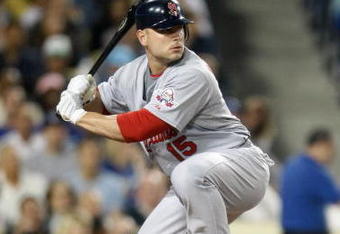 Jeff Gross/Getty Images
The Mets have signed Jason Bay.
Dismayed that Theo Epstein failed to retain the popular left fielder but relieved that Brian Cashman has not acquired in him another Johnny Damon, Red Sox Nation releases a long-held breath.
Still, the Red Sox could go outfielder crazy and seize the available, affordable and vastly superior Matt Holliday.
According to ESPN's Buster Olney, the Cardinals believe themselves well-positioned to re-sign their goatish protection for Albert Pujols. With their current offer, they would frankly get Holliday for a proverbial song.
Matt's statistical value is well in excess of $16 million a year. Checkout Fangraphs if you have any doubts, and you will find Holliday profitable at $20 million a year. If Scott Boras is in fact trolling old suitors for $90 million over five years, then Matt Holliday just became the this offseason's bargain opportunity.
Can the Red Sox afford him?
At that price, how can they not?
Can they sign him and not hit their heads on Bud Selig's luxury-tax ceiling?
Absolutely. Although much has been made recently about spending limits and luxury-tax equations prohibiting the Red Sox from signing another big free agent, there is a simple work-around.
No, I'm not referring to the hackneyed and disallowed concept of backloading the contract. As The Providence Journal's Daniel Barbarisi has clarified, Major League Baseball calculates a team's payroll using individual contracts' average annual salaries.
Backloading may reduce a team's yearly commitments, but it will not help one slide under the spending cap.
But there is a way.
If the Red Sox want Holliday, they can offer him two contracts simultaneously.
The first contract would cover only 2010 and would be low enough (say $2 million) to avoid the luxury tax.
The second contract would cover the next four years (2011-2014) and would spread out the remaining $88 million.
Although Holliday would be worth the money (luxury tax and all), the Red Sox can save their 22.5 percent if they can convince Matt sign two contracts at the same time. Is he ambidextrous?
This article is
What is the duplicate article?
Why is this article offensive?
Where is this article plagiarized from?
Why is this article poorly edited?

Boston Red Sox: Like this team?