Oakland Raiders: Where Common Sense Seems a Mystery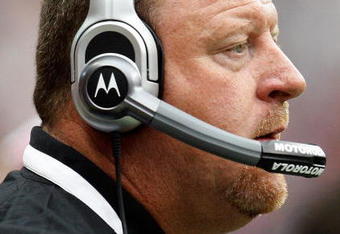 Ronald Martinez/Getty Images
Losing games is not what athletes and fans want from their teams, period. I myself am an Oakland Raiders fan and I feel the need to share some of my frustrations and observations with you.
So here we go:
Do you think the Oakland Raider players are uninspired by the lack of common sense leadership coming from either Tom Cable or Al Davis (who knows who is really in charge of the roster)? I think the players see what I am talking about below and are just not inspired to give 100% to these leaders.
I mean come on, it is not difficult to see that Darren McFadden is ONLY useful in the slot and is not a good running back in the NFL (at least not with the play calling we use for him). Cable didn't use him in the slot versus the Browns at all. As a matter of fact, McFadden was the starting running back.... WHY?
Michael Bush has better stats than McFadden in most all categories. Bush just is a better running back and has shown that EVERY time he is in the game..... so why did McFadden start over Bush?
Do Al Davis and Tom Cable want to lose? I doubt it, but roster moves like that don't make sense.... hell they even started the 4th string running back Gary Russell, over Michael Bush during one recent game... friggin idiots.

Since I am on the subject of bad leadership, why didnt J.P Losman come into the game to replace Charlie Frye? Frye played and threw like sh*t. He threw off his back foot more than a scrambling Jafuctus Russell. It is plain and simple, Frye stunk. Wouldn't 3 interceptions by the third string quarterback mean that it is time for a change and try losman?
We are not talking about a perfect season we are trying to keep. The Raiders are just trying to find the best players to put on the field to WIN games- right? Well it sure doesn't seem that they are really trying to win. This is not rocket science here, this is common sense, and the Raiders leadership seems to be lacking it. Don't you think? Or am I the only one thinking this way? 

So here is the deal, if Frye or Russell is the starting quarterback for the upcoming Baltimore Raven game, then I believe the Raider leadership really want to lose and has no interest in putting the best team on the field. Common sense tells you to try J.P Losman. He just won a championship and is on the roster. Not only that, #1 qb Russell stunk the #2 Gradkowski is injured and the #3 Charlie Frye stinks. That is reason enough to give Losman all first team snaps this week and start him next Sunday. As a matter of fact you can see it in the wide receivers faces that they are frustrated and tired of the bad passing, and I am to. 

It is the end of the 2009 season and it is time to vent. I am tired of the poor play calling, the bad roster moves, the lack of common sense, the "no offensive coordinator" project that isn't working, the crappy offensive line and the lack of fire that Cable has on the sidelines. Speaking of Tom Cable, he was fiery when he first started as head coach, did Al Davis wussify him?
I do apologize for the scattered thoughts, the incomplete sentences and the lack of grammar skills that I have displayed in this article but I am frustrated to say the least.
The San Clemente Kid
Addition after the loss to the Ravens
O.K. so where was Bush as the starting running back? Where was Losman to see what he could do? Why was Russell still at quarterback after two turnovers?
So now the Raiders go into the off season not knowing what Losman can do.
I don't know what the leadership of this team are thinking. Do they really want to win? Sometimes it just doesn't seem like it.
This article is
What is the duplicate article?
Why is this article offensive?
Where is this article plagiarized from?
Why is this article poorly edited?

Oakland Raiders: Like this team?