Has Dontrelle Willis Psyched Himself Out of Major League Baseball?
December 28, 2009
by Caesar Cliffius
Dontrelle Willis had one of the most promising baseball careers of anyone in MLB when he was the National League's Rookie of the Year in 2003.
He helped lead the Florida Marlins to their second World Series Championship in 10 years. He was 14-6 with a 3.30 ERA and averaged eight strikeouts every nine innings. He also threw two shutouts in his rookie year.
As many others do, Willis suffered the sophomore jinx in his second season with the Marlins. He finished the year 10-11 with an ERA of 4.02. He only finished two of the 32 games he started.
In 2005 he finished second to St. Louis Cardinals pitcher Chris Carpenter for the National league's Cy Young Award. Even though he had better numbers in nearly every category sans innings pitched and strikeouts, he only garnered 11-of-32 first-place votes.
His record of 22-10 with an ERA of 2.63 landed him a position on the American Team in the World Baseball Classic the following spring. He also led the National League in 2005 with seven complete games and five shutouts.
In 2006 and 2007, Willis' combined record was only 22-27 with a 4.49 ERA, raising questions about his future and having him traded along with third-baseman Miguel Cabrera to the Detroit Tigers.
Cabrera continued to be one of the best players in baseball while Willis continued to slide on the downhill slope.
The year was a complete disaster, with him losing the only two decisions he was in on. His ERA was an incredibly high 9.38. Giving up hits was not the culprit as he apparently couldn't see where the plate was. He walked 35 batters in only 24 innings.
In the minor league in 2008, he had a combined total of three wins against four losses and an ERA of 4.47 raising speculation that he may never be worth the big money ($29 million over three years) the Tigers paid for him.
2009 was hardly better for the 27-year-old southpaw. With the Tigers he was only 1-4 with a 7.49 ERA and was sent back to the minors for work on his skills. At least he had reduced his walks to seven in every nine innings pitched.
With three minor league teams Willis was 2-3 with an ERA of 4.58. His control was better but was having bouts of anxiety disorder (commonly known as panic attacks).
He was not called up in September with the other prospects in their farm system, leaving serious doubt about his future as a major league pitcher.
So for one whose career looked so bright in 2005, the lights have dimmed considerably and it appears that there is very little sand left in the upper chamber of his hourglass of Major League Baseball.
Dontrelle is a likable, affable gentle giant, and the game of baseball needs more like him. What has caused the D-train to be switched down the wrong track?
Could the beginning of the end be traced to his arrest in the winter of 2006 for DUI? He was arrested after urinating in the middle of the road. He had stopped his Bentley in the middle of the street and failed to take a breathalyzer.
Whatever problems he has, in my opinion, are all inside the box. The young man is experiencing panic attacks, and as one who speaks from experience, they are very hard on your psyche. Every time you "visit the scene" fear strikes her ugly head. It is a very difficult thing to cope with and is impossible to overcome without therapy and or medicine.
I for one, hope this is just a temporary setback and he can come back and be the player everyone expected after his breakout year of 2005.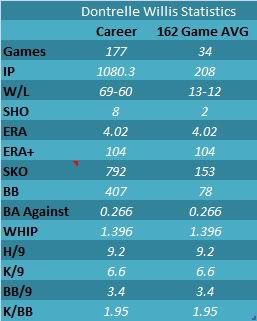 Please visit my website where this article was first published.