New Redskins GM, Bruce Allen, Fires Everybody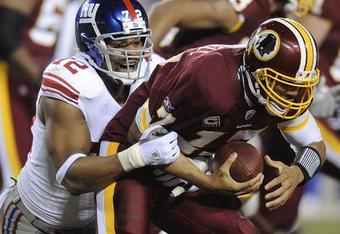 Following a lopsided 45 to 12 loss to the New York Giants at home, new Washington Redskins GM and VP of football operations Bruce Allen decided that he wouldn't wait until the offseason to make what many have deemed to be 'badly needed organizational changes.' "We were completely dominated by a division rival on out home turf" Allen said in a press conference Tuesday morning. "The play calling, the execution...everything about the game was unacceptable. This is why I've made the decision to end the professional relationship between the Washington Redskins and everyone who is currently employed by the Washington Redskins."

That's right. Today, in the wake of a game that included what Mike Tirico called 'the worst play in the history of Monday Night Football', Allen made the decision to indiscriminately fire everyone in the Redskins locker room and organization. "We can't point fingers here" Allen said. "Everyone is responsible for the dismal play of this franchise, and the only way to turn the corner is to start fresh." The coaching staff were the first to be informed, Including, as many suspected, head coach Jim Zorn. As Zorn was addressing the rest of the team, an assistant came into the facility at Redskins park to inform the entire team that they, too, had been let go.

Former Redskins QB Jason Campbell was in still in shock when he spoke to reporters.

"I knew that some of us were gonna be gone, but I don't know what to say. We're all getting fired? The kicker too? They even gave pink slips to the practice squad. It just doesn't seem right!"

The firings, however, didn't stop there. Further dismissals included 7 ball boys, 146 custodians at FedEx Field, 220 food and drink vendors and all the valet parking attendants at FedEx Field and Redskin Park in Ashburn, VA. The 65 volunteers who helped to move 25,000 pounds of snow so that Monday nights game could be played have also been let go, which perplexes most, since they weren't really working for the organization anyway.

Chris Cooley had harsh words for the new GM's actions on his Twitter:

"I'm on IR, and I'm still fired? I'm the last good player on this team! Is it because you always wanted Witten instead of me? Admit it! You love Jason more than me! I'm sorry I couldn't be Jason Witten, Mr. Allen!"

When asked how the Redskins will finish their last 2 games with no team, Allen mentioned the possibility of hiring the actors from the sports film "The Replacements" to finish the season. Keanu Reeves could not be reached for comment.

So after an abysmal game and a timultuous day at Redskins Park, the journey for this storied franchise continues. Many believe the Washington Post said it best when they printed, "Honestly, there's no possible way this move leaves us any worse than we already were."

It is of note, however, that for undisclosed reasons, all members the Washington Redskins Cheerleading squad have been retained.

Every wide receiver that the Redskins released this morning was signed by the Oakland Raiders this afternoon.
This article is
What is the duplicate article?
Why is this article offensive?
Where is this article plagiarized from?
Why is this article poorly edited?

Washington Redskins: Like this team?