Michael Crabtree as Offensive Rookie of the Year Is Not As Crazy As It Seems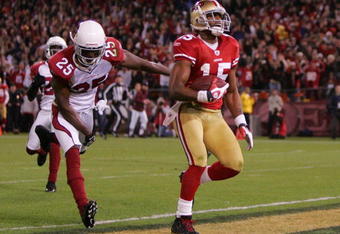 Ezra Shaw/Getty Images
At the beginning of the 2009 NFL season, if someone had stated that Michael Crabtree would be in the running for offensive rookie of the year, you would have thought they were crazy.
For one, at that time Crabtree wasn't even signed yet by the 49ers. There was a major concern that Crabtree would never sign and instead go back to the draft for 2010.
Crabtree did end up signing with the 49ers, but he missed the first five games of the season.
Right now, though, there's really no clear runaway winner for the offensive rookie of the year. Percy Harvin of the Minnesota Vikings looked like he was going to be the best candidate for the award, but he has been sidelined by injuries recently and could miss another game this week.
Jeremy Maclin for the Philadelphia Eagles had put up some solid numbers as well, but he is another player who is injured right now.
Hakeem Nicks with the New York Giants has been impressive. He currently leads all rookie receivers in yards.
Kenny Britt of the Tennessee Titans came up with maybe the best play from a rookie so far this season. He caught the game-winning touchdown pass to cap the 99-yard drive to close out the Titans' win over the Arizona Cardinals.
All those players are wide receivers. There are three running backs that could be in the hunt for the award as well. Knowshon Moreno of the Denver Broncos seems the best bet for the award out of all rookies.
LeSean McCoy has been steady for the Eagles out of their backfield and has helped make up for the injury to Brian Westbrook.
Chris Wells of the Cardinals has had a decent season as well.
Here's a look at the numbers for each of the rookie wide receivers.
* Harvin in 12 games has 48 catches, 681 yards, and six touchdowns, with 34 kick returns for 986 yards and two touchdowns.
* Maclin in 11 games has 46 catches, 623 yards, and four touchdowns.
* Nicks in 11 games has 38 catches, 685 yards, and six touchdowns.
* Britt in 11 games has 38 catches, 642 yards, and three touchdowns.
For running back rookies, here are the numbers.
* Moreno in 13 games has 205 carries for 837 yards, five touchdowns, a 4.1 yards per carry average, 19 catches for 109 yards, and a touchdown receiving.
* Wells in 13 games has 136 carries for 596 yards, five touchdowns, a 4.4 yards per carry average, and 10 catches for 105 yards.
* McCoy in 13 games has 139 carries for 558 yards, three touchdowns, a 4.0 yards per carry average, and 34 catches for 256 yards.
With Crabtree, he has put up the numbers that he has now in eight games. He also missed a lot of time practicing because of the holdout, which I think will also hurt his chances of winning the award, but his numbers are right in line with the other rookie receivers.
Here's a look at Crabtree's numbers: He has 37 catches for 473 yards and two touchdowns.
I'm not going to say that Crabtree is going to win the award. I think he does need some recognition with what he's been able to do since joining the team, but in the end the holdout will hurt him in the votes.
The actual winner I believe will be Moreno, just because he's played in every game and will significantly go over 1,000 yards by the time the NFL's regular season ends.
I think that Harvin more than likely would have won the award if the vote was held today, but since he's missing games towards the end of the season, it's going to impact his chances.
This article is
What is the duplicate article?
Why is this article offensive?
Where is this article plagiarized from?
Why is this article poorly edited?

San Francisco 49ers: Like this team?