Arizona Cardinals Need To Be Doubted To Win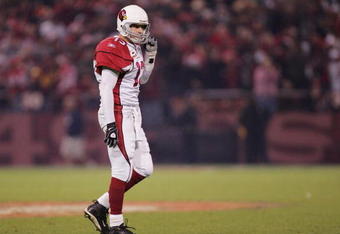 Ezra Shaw/Getty Images
While all teams have their fair share of ups and downs, no team can turn on a dime quite as masterfully as the Arizona Cardinals.
One week after making one of the most complete teams in the league look like a JV squad, beating the then 10-1 Vikings convincingly in prime time, they returned to the field wearing flip-flops and sun hats, sipping piña coladas through curly straws.
Well okay not really, but they may as well have because they certainly didn't show up to play football against the 49ers last night.
After the Vikings game, ESPN's Mike Sando said : "The Cardinals outperformed the Vikings in every important dimension: offense, defense, special teams, coaching, intelligence, and overall orneriness."
In the 49ers game, the script was completely flipped.
The Cardinals could do nothing right it seemed. The 49ers suddenly looked like Mike Singletary's 1985 Bears.
Arizona handed San Francisco seven turnovers. That's really the only stat you need, but I'll hand out some more anyway.
How do you hold Adrian freaking Peterson to 19 yards rushing on 13 carries last week, then let Frank Gore gash you for 167 yards on 25 carries in the very next game?
The only sensible answer I can come up with is because the Cardinals need to be doubted to win. When they finally earn the respect from everyone, they have nothing to play for apparently.
Last season they started 7-3. Outside of Cardinals Nation, no one saw that coming.
Yet at 7-3 they started to gain too much respect, so they dropped four of their next six games on purpose—three in dismal, embarrassing performances—which was as it turns out a perfect fit for the Cardinals game plan all along.
It set the stage for their improbable Super Bowl run.
They were called the worst playoff team in history at the onset of the postseason. I mean how many 9-7 teams are very good to begin with, let alone make it past the first round of the playoffs?
It worked out superbly wouldn't you say?
First they beat the favored Falcons because no one gave them a chance.
Then they beat the Panthers in Carolina—we all knew the Cardinals had no track record of winning on the road and had already lost to the Panthers once, so the game had all the makings of a Cardinals loss. Wrong.
Well surely they would succumb to the Eagles, right? Nope. Doubt the Cardinals, and they will win.
Fast forward to last night.
For the first time in my life, I heard every single one of the talking heads on ESPN propping up the Cardinals after their dismantling of the Vikings.
I heard things I thought I would never hear. "The Cardinals can play with anyone in the league."
I should have known right then and there that something was amiss, because as soon as the Cardinals are favored in a game, any game, they will lose.
They need to be doubted to win.
It is not a mystery. It is what it is. It is a proven fact.
Google it.
This article also appears on NFLTouchdown.com
This article is
What is the duplicate article?
Why is this article offensive?
Where is this article plagiarized from?
Why is this article poorly edited?

Arizona Cardinals: Like this team?