It Was Not All Maurice Jones-Drew: Dissecting the Game-Clinching Run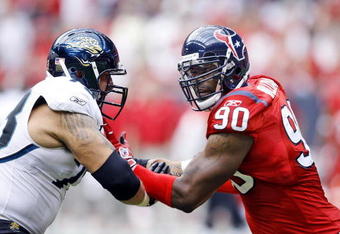 Bob Levey/Getty Images
With the win over the Houston Texans, the "rebuilding" Jacksonville Jaguars continue to defy the odds. A winning record in the division and the conference tie-breaker advantage makes this four-game stretch an early Christmas present for Jaguar fans.
The credit for the victory has been assigned to a handful of players: Derek Harvey, Tyron Brackenridge, Derek Cox, Gerald Alexander, and Maurice-Jones Drew are a few names that come to mind.
In Drew's case it was that late fourth-quarter run that sealed the victory and added to the mystique that he is the guy to be relied upon. Though he gets the glory for getting the yards, it was not all Drew in this instance.
I wanted to gain a better understanding of what made that final play such a success. Up to that point the Texans had held Maurice Jones-Drew in check, allowing only 41 yards on 17 carries. With 4:01 on the clock and three time outs remaining, there was more than enough time for the Houston defense to force a punt and give Matt Schaub the opportunity to steal this game.
Here is the breakdown of that final drive:
1st-and-10 at JAC 24 M.Jones-Drew up the middle to JAX 24 for no gain.
2nd-and-10 at JAC 24 M.Jones-Drew up the middle to JAX 39 for 15 yards.
1st-and-10 at JAC 39 M.Jones-Drew up the middle to JAX 43 for 4 yards.
2nd-and-6 at JAC 43 M.Jones-Drew right end to HST 48 for 9 yards.
1st-and-10 at HOU 48 M.Jones-Drew up the middle to HST 48 for no gain.
2nd-and-10 at HOU 48 M.Jones-Drew right end to HST 41 for 7 yards.
3rd-and-3 at HOU 41 M.Jones-Drew right end to HST 38 for 3 yards.

Houston uses their last time out with 2:13 left to play. Somehow, in six attempts, Drew has almost matched his game total. Maurice receives the glory for getting the yards, but the credit lies solely with Jordan Black, Marcedes Lewis, Eben Britton, and Greg Jones.
Jordan Black is lined up as the right offensive tackle while Eben is the right guard. The linebackers are reading the off-tackle play and the defensive backs are playing up tight. What is interesting about the Texans formation is that safety Bernard Pollard is playing the left outside linebacker spot, while Brian Cushing is wide-left to contain anything that gets pushed outside.
The right defensive end, Antonio Smith shoots the B gap and Black takes him inside. This has essentially negated any interior lanes but has also opened the C gap. Black has done his job, but just barely. Smith is able to get a hand on MJD, something that will actually benefit the play.
Cushing pushes hard up-field in an effort to get around Marcedes. The beauty of this matchup is that Cushing's attempt to put a swim move on Lewis completely fails. Big No. 89 gets under the linebacker's pads, and clears out Cushing by driving him deep into the backfield. There is now no one to contain.
Meanwhile, Britton has pulled from his guard spot. Exhibiting great quickness, he fills the lane opened by Black and Lewis, taking out the CB Jacques Reeves. (I may have the wrong player here as I couldn't get a good read on the number or name on the jersey.)
What Eben also does is negate Bernard Pollard filling the lane from his safety position. Thought not credited with the tackle, he is one of the first to make contact with No. 32.
All that's left is for the fullback to finish the task. Middle linebacker Demeco Ryans and right outside linebacker Zac Diles have read the play and are quick enough to get to the hole, actually getting a yard into the backfield. However, Greg Jones meets them just as they begin to turn towards MJD and like a bowling ball takes them both out of the play. The irony is that Smith's brief grab of MJD looks to have allowed a split second for the running back to wait as Jones finishes his block.
As much as the offensive line has been highlighted as a weakness during the season, this play deserves recognition for its dominant execution at a critical time.
This article is
What is the duplicate article?
Why is this article offensive?
Where is this article plagiarized from?
Why is this article poorly edited?

Jacksonville Jaguars: Like this team?