Steelers Overrated?: Tough Loss in Kansas City Has Some Wondering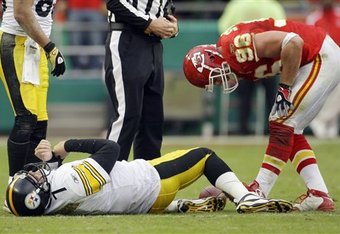 The 2009 Pittsburgh Steelers have been marked by inconsistency, injuries, and just plain bad kickoff coverage.
They have been finding different ways to lose this year, including games which they held leads in the second half. Today the Steelers made the Kansas City Chiefs' season when they blew a 10 point lead and lost 27-24 in overtime.
It is time to reevaluate what this year's Steelers are. They are a careless team that has yet to play a full game from start to finish. To get to the point, these Steelers might be overrated and might have trouble even making the playoffs in a very tough AFC. Here are some reasons.
Giveaways and Takeaways
The Steelers have now turned the ball over at least once in every game this season. Today in Kansas City, they turned the ball over three times and the Chiefs scored 10 points off those turnovers.
Quarterback Ben Roethlisberger threw a back breaking interception to Andy Studebaker in the end zone, which the KC linebacker returned all the way to the Steeler eight yard line. KC scored a tying field goal off that interception to bring the score to 17-17. If the Steelers had scored a touchdown on that drive, the game most likely would have been over given how well the defense was playing at the time.
Roethlisberger is the most unconventional QB in the league, often hanging onto the ball a bit longer to find the big play downfield. He found Mike Wallace, Hines Ward, Heath Miller, Santonio Holmes, and Rashard Mendenhall after escaping one potential sack after another. However, he did throw an interception that helped to tie the game and swing the momentum to the Chiefs' side.
You must take the good (three TD passes, nearly 400 yards of passing) with the bad (two INTs). It is what it is, and Roethlisberger will take some chances. Let's just hope that the turnovers are kept to a minimal for the next six games.
Speaking of turnovers, the Steelers have had trouble taking the ball away while on defense, especially when Troy Polamalu is not in the game. Today the Steelers got a fumble recovery but it was not enough. With Polamalu likely to miss three more games, it will be rough sledding for the Steelers, even against the Oakland Raiders and Cleveland Browns in early December.
Finding Ways To Lose
These Steelers are finding new ways to lose this season. Against the Chicago Bears, it was two missed field goals by the usually reliable Jeff Reed. Against Cincinnati the first time, it was not finishing the game when the team had an 11 point lead in the fourth quarter. Against the Bengals the second time, it was lack of execution on offense and questionable offensive play calling, not to mention a kick return by Bernard Scott.
Today, it was the defense allowing two deep passes to somebody named Lance Long and former Dolphin star Chris Chambers that led to the tying touchdown. In overtime, the Steelers allowed Chambers to get loose and finish them off with a game winning 61-yard catch and run that took the Chiefs inside the Steeler five yard line, essentially winning the game. If the Steelers have any visions of defending the Super Bowl title, this must stop now.
In the recent season's past, the Steelers would find ways to win, and a double digit lead by the Steelers at ANY POINT in the game would mean a Steelers win. Not this season. This season, even a 28-0 lead does not seem safe (see the San Diego game).
Kickoff Coverage
It has been a problem all season. Joshua Cribbs has gone to a Pro Bowl mostly due to his performances against the Steeler special teams, and this season has been no different. Percy Harvin, Bernard Scott, and now Jamaal Charles have all also taken Steeler kickoffs for touchdowns. Last season, the kick coverage was one of the best things about the team, allowing no touchdowns and just 19.1 yards per return. This year, it does not even qualify as a glaring weakness. It is a disaster.
Coach Mike Tomlin tried to make a statement when he waived Arnold Harrison last week and signed Donovan Woods. It did not work this week as Charles took the opening kick for a touchdown. The question for me is, why was Anthony Madison, who along with Patrick Bailey and Andre Frazier made up one of the best kick coverage units last season, let go for ordinary kickoff man Stefan Logan?
I am not saying that that one man makes an entire unit, but one thing that can be said about Madison is that he is a sure tackler, which the Steelers special teams is missing right now. I only hope that the special teams shapes up fast soon before it costs the Steelers another game.
I could go on about the play calling and execution on offense for days, so I will not do it now. All I can say about Bruce Arians is, why a toss sweep to Mewelde Moore on 3rd-and-2 when the run up the middle with Mendenhall has been successful for most of the game? While Mendenhall got more carries today than he did against Cincinnati, it is still not enough. The play calling was better today than last week, but it still needs improvement.
Ben Roethlisberger also took a knee in the head in that overtime, which caused him to leave the game with an apparent concussion. Let's all hope that he does not try to return too quickly for his own sake like he did in 2006. The offense can be good with Charlie Batch for a few games if need be, so there should not be any pressure on Roethlisberger to hurry back.
Next week's game in Baltimore will be gut check time. Both teams will be desperate to stay alive in the AFC playoff hunt. Despite its meltdown in the fourth quarter and overtime, the Steeler defense has given up just 11 touchdowns this season. The special teams and offense have given up eight. Are the Steelers overrated or are they just going through a rough patch of the season? There will be no better test than Baltimore next week.
Next game: November 29 in Baltimore @ 8:20 pm Eastern
This article is
What is the duplicate article?
Why is this article offensive?
Where is this article plagiarized from?
Why is this article poorly edited?

Pittsburgh Steelers: Like this team?