Less Is Mauer: Why Zack Greinke Is the AL MVP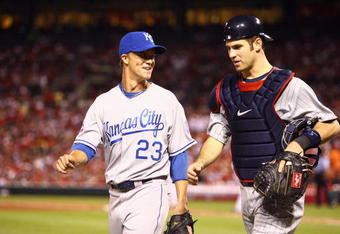 Jamie Squire/Getty Images
In discussing the Cy Young award, the debate is hindered by the question of what, exactly, the voters are judging the players on.
In the 2009 NL Cy Young race, for example, people who look primarily to players' skill sets supported Tim Lincecum. Writers who decide based on the impact a pitcher has on a team endorsed Chris Carpenter. And voters with limited cognitive abilities to analyze statistics cast their ballots for Adam Wainwright.
Luckily, the Most Valuable Player award has the criterion right in the title; the winner is (theoretically) the player who contributes most to the success of a team.
The best way to measure that, of course, is Win Probability Added (also known as Win Percentage Added or WPA). If you are unfamiliar with sabermetrics, a team's Win Probability is the winning percentage of teams in all games with identical situations since 1956. A player's WPA is the difference between what the WP is before he takes the mound or steps into the batter's box and after the at-bat.
For example, if CC Sabathia starts the game by striking out Jacoby Ellsbury, the Red Sox' chances of winning the game would go from 50 percent to maybe 48 percent. Sabathia will be credited with 0.02 WPA, while Ellsbury would lose an equal amount.
If Dustin Pedroia steps up to the plate and lines the first pitch into the bleachers, Boston's chances might improve to, say, 61 percent. Pedroia would have earned 0.13 WPA, while Sabathia loses the same amount, bringing his composite to -0.11.
Who has the highest WPA in the American League?
It isn't MVP frontrunner Joe Mauer, though the 3.64 wins he added to the Twins' record were certainly meaningful.
It isn't Mark Teixeira (3.58) or Miguel Cabrera (1.59), and it certainly isn't Derek Jeter (1.41).
It was Zack Greinke.
Greinke broke out in a big way in 2009. With a WHIP of 1.07 and a K/BB ratio of 4.75 to go along with his ML-leading 2.16 ERA, he ran away with the AL Cy Young.
Greinke's 6.07 WPA wasn't just tops in the AL—it was the best of any pitcher in baseball.
You think the Royals were bad this year? Without their ace, they would have been equal with the Nationals in the standings.
Mauer wasn't even the most valuable hitter in the American League. He finished a full 0.69 games behind Ichiro Suzuki, with Jason Bay, Ben Zobrist, Johnny Damon, and Franklin Gutierrez sandwiched in between. Don't say that's because of the games Mauer lost to injury—he had more plate appearances than Zobrist.
When subjected to the next-best way to approximate a player's worth, Wins Above Replacement, Mauer's case looks better.
WAR is a formula that uses composite statistics to estimate value using skill sets (as opposed to WPA's emphasis on individual successes). Mauer's 8.2 WAR ranks third among MLB hitters, just 0.2 behind Albert Pujols.
Unfortunately for Mauer, the top-ranked hitter is Zobrist (8.6), and even he finished way behind Greinke (9.4).
Of course, there are some intangibles that cannot be quantified. Mauer's offensive numbers are not adjusted for his position when factored into WPA and WAR, though it's doubtful that the discrepancy would fully compensate for Greinke's enormous leads (2.43 WPA, 1.2 WAR).
I'm not a big believer in judging a player's worth by the success of his team, but it's hard to dispute the role Mauer played in the Twins' late-season comeback to win the division—especially after Justin Morneau's injury.
It's one of those prickly situations where the numbers don't tell the whole story. While the statistics strongly favor Greinke, there's certainly a case to be made for Mauer.
Of course, Greinke doesn't have a chance. Most mainstream analysts would sooner write about their love of Satan than express support for sabermetrics. The media loves subjective intangibles, even ones that aren't all that important (sorry, Harold Reynolds, but Derek Jeter is not the MVP).
I'm hoping Mauer wins, because none of the other supposed front runners deserve it. But no matter what the BBWAA says, the numbers conclude that Greinke is the MVP.
This article is
What is the duplicate article?
Why is this article offensive?
Where is this article plagiarized from?
Why is this article poorly edited?

Kansas City Royals: Like this team?