Falcons Fly to Carolina For Sunday Rematch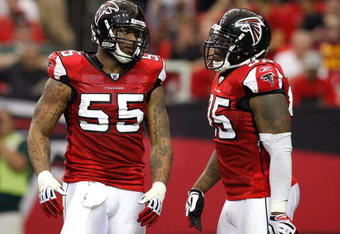 Kevin C. Cox/Getty Images
After putting up 31 points against the Redskins last week, the Atlanta Falcons fly north to Carolina. It was the first time in 32 games Washington has allowed 30 or more points. But the media was more caught up in the, "The Days of DeAngelo" soap opera.
The Falcons spent the week watching fines handed out, including a $15,000 to coach Smith himself. That overshadowed the performance of the Falcons offensive production.
The Panthers are coming off a tough loss to the New Orleans Saints. This was a game Carolina lost control of late in the game. No discredit to Carolina, no one expected them to keep it close and New Orleans has been strong in the fourth quarter of games.
The good news for Panther fans is it's been two weeks without Delhomme turning the ball over. He is playing an opportunistic defense Sunday that gives up yardage, but takes the ball away.
Both Falcons running back Michael Turner and Panthers running back DeAngelo Williams are averaging 150 yards per game over the last two weeks. So this game may not last three hours.
The Falcons have a 1-3 record on the road this season with losses at New England, Dallas, and New Orleans. They are perfect this season at home including a win against the Panthers in Week Two.
This week, both teams are at the point of must win games whether they admit it or not. The Saints are rolling away with the division and both teams need to keep pace with the wild card teams. The Panthers need this win much more due to their Week Two loss to Atlanta.
INJURIES DOMINATE THE GAME
Going into Sunday both teams are hurting at the running back position. For the Panthers, both DeAngelo Williams and Jonathan Stewart are questionable. The Falcons list both Jerious Norwood and Jason Snelling. For two teams that employ a run first mentality, this is a bad week for both.
On top of that, the Panthers lose stand out linebacker Thomas Davis for the season. In the Week Two matchup against the Falcons, Davis led the team in tackles. His absence will hurt.
SORRY STEVE, NO HALL TO BICKER WITH SUNDAY
Upon entering the league, former Falcons corner DeAngelo Hall loved to get into it with Panthers receiver Steve Smith. Since the departure of Hall, Smith is averaging 131 yards per game against the Falcons.
The Falcons, not known for their secondary, have allowed a league-high 31 passing plays of 20 yards or more. Good news for the struggling Panthers passing game. Smith has only one touchdown all season and he will be facing Chris Houston on Sunday.
ABRAHAM HAS AN AVERAGE TO MAINTAIN
Suspiciously missing from most of my reports this season is All-Pro defensive end John Abaraham. Usually a terror, this season he has faded into the background. Granted, he is held so much it's easy to understand why.
He has played Delhomme five times in his career and has five sacks. Abraham needs one to keep his average up on the Panthers QB.
THANK YOU JAY CUTLER
I'm sure Panthers quarterback Jake Delhomme was saying last night. Thanks to Cutler's five interceptions, he surpassed Delhomme for the lead in interceptions this season. Delhomme has 13 thus far to five touchdown passes.
In their first meeting, the Falcons picked Delhomme off three times and allowed only one touchdown pass. That was the controversial call made in favor of tight end Donte Rosario. Replays showed control was not established but all that matters are the eyes of the officials.
WHO TO WATCH
Jonathan Babineaux - Last week Babs had two sacks and six tackles before halftime. He's really stepped up his game and is possibly the most underrated defensive lineman in the NFC South right now.
He's starting to look a lot like the guy he replaced in Rod Coleman. He finds ways to the opponents backfield every game. The biggest change is his tackling ability. He must have seen something on tape that made the light go off in his head.
Curtis Lofton - Lofton came into the week leading the NFL in tackles. He now sits four behind the 49ers stud Patrick Willis. Before the final whistle blows Sunday, expect him to once again lead the league.
He is currently tied for the lead in solo tackles. Panthers blockers had best take note of this guy on every snap.
Michael Turner - The past two weeks the Falcons have seen Turner look like the guy they signed to a multi year deal last season. Expect a heavy dose of the burner on Sunday.
Tye Hill - Since taking over the starting role two weeks ago against the New Orleans Saints, Hill has performed well. Last week he made his first interception of his career.
This particular pick was special. Not only because it was the first of his career, but also because it was returned for six points.
John Abraham - Known as the "Predator," Abraham has had a very quiet season. If you watch tape on him you would be amazed at how often he is held. The difference is in the past he could beat the hold and make the play.
This season, he's being held while double and triple teamed. He and Pathers tackle Jordan Gross should have some great match-ups Sunday.
Eric Weems - With injuries to Harry Douglas and Jerious Norwood, Weems has been the man on special teams. He's show some amazing quickness and is due to take one back at any time.
Sunday could go down to special teams to determine the winner and the Falcons struck gold with Weems.
Matt Ryan - It's been awhile since I've watched a game where Ryan didn't toss an interception. He must be more careful with the ball and make better reads.
In the past few weeks he's had a tendency to stare down his receiver which is a complete 180 compared to his play last season. He used to look off safeties, now he invites them in.
ON THE BUBBLE
Falcons kicker Jason Elam has had a tough season so far. He has battled a hamstring injury and his missed field goals have put the Falcons in a bad spot in each of the Falcons losses.
As long as Elam connects on all his kicks, the odds favor the Falcons to win.
Also on the bubble is receiver Michael Jenkins. He has a bad case of butterfingers of late. It seems he makes the impossible catch but misses easy short passes for first down.
WHO WILL WIN
I hate picking games against division rivals. That said, in the past two weeks I've been off the correct total of the score by five points. Not bad considering I was terrible starting off the season. Like Turner, I've stepped up my game.
FALCONS 20, PANTHERS 16
I honestly do not expect a high scoring affair. I believe the Falcons will put their points up early and allow the Panthers to hang in there until the end.
This article is
What is the duplicate article?
Why is this article offensive?
Where is this article plagiarized from?
Why is this article poorly edited?

Atlanta Falcons: Like this team?