Pitching for the Milwaukee Brewers in 2010: John Lackey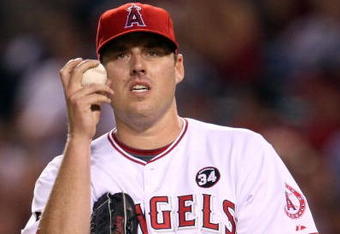 Stephen Dunn/Getty Images
Much in the same fashion that CC Sabathia was the top pitching prize last winter, John Lackey will find himself in that position this winter. Lackey may find more suitors than Sabathia did, but he won't command nearly the same contract the big lefty did.
No fewer than eight teams have been linked as possible destinations for the Angels' ace. The Angels, Mets, Yankees, Dodgers, Rangers, Brewers, Orioles, and Astros have all been reported as having interest. Also, reports range in him getting anywhere from a three to six year contract with dollar amounts varying from $36-100 million.
Not only will the contracts vary on Lackey, but the role he serves will depend on which team he decides to pitch for.
The Yankees, Mets, and Astros already have established top-of-the-rotation pitchers. He would serve as a solid number two or lower pitcher for these teams.
The Dodgers could use him as an ace or mid-rotation pitcher depending on what they decide to do with Chad Billingsley. His acquisition would also serve as a jab at the rival Angels.
The Brewers, Rangers, and Orioles would all insert Lackey at the top of their rotation. He would have the pressure of being the ace of a staff, but he would do so with teams that wouldn't have the pressures to win like the New York or Los Angeles teams do.
The Brewers may have about as much chance to sign Lackey as they did with Sabathia, but it's a discussion Brewers GM Doug Melvin needs to have.
Lackey burst onto the scene by winning game seven of the World Series for the Angels in 2002 against the Giants. His performance served as a prelude to what would turn into a decade filled with reliability and consistency.
Since that time, he turned into the ace of the Angels rotation and one of the most reliable pitchers in baseball. Over the past seven seasons, he has averaged 30 starts, 199 innings pitched, and 13 wins.
Despite missing time each of the last two years, he has still averaged 25 starts and 170 innings pitched. In a market filled with question marks, Lackey is as close of a sure-thing that is available.
Lackey is a Type A free agent; meaning the team signing him will forfeit a first round pick to the Angels. The Brewers would catch a break with this due to the fact that they finished in the bottom half of the league record-wise. The Brewers would only give up a second round pick by signing Lackey. If ever there were a year for the Brewers to sign a Type A free agent, this would be the year.
While Lackey would fit well into the Brewers' rotation, his price tag would cost the team almost all available funds they planned to spend on pitching this winter. It's a risk the Brewers can't afford to make.
If Lackey had been available last year, it's quite reasonable to think that he and the Brewers could come together on a deal. He wouldn't have been the gem of the winter, giving a team like Milwaukee a more legitimate shot of winning his services.
For now, it will be a good gauge of the free agent market to at least have conversations with Lackey and his representation. It will give Doug Melvin a good idea the market value for other, cheaper arms available on the market. He will then be able to decide which pitchers will best fit in with the Brewers financially for 2010 and beyond.
To read more by Jesse Motiff, click here .
This article is
What is the duplicate article?
Why is this article offensive?
Where is this article plagiarized from?
Why is this article poorly edited?

Milwaukee Brewers: Like this team?