Spread 'Em: Week Nine NFL Picks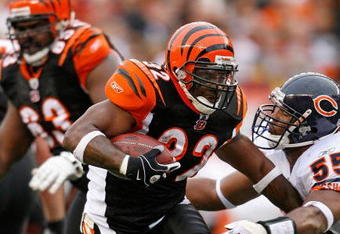 Andy Lyons/Getty Images
As the NFL begins its second half, parity has been thrown out the window.
It seems that, week in and week out, there are clear-cut favorites and underdogs in more than half of the games played. There are few bizzare point spreads on a weekly basis.
Outside of the 6-1 Denver Broncos being underdogs every week (including this one), there are very few head-scratching favorites and underdogs. Also, the double-digit favorites are easier to pick because the underdogs are, for the most part, so overwhelmingly bad.
At the halfway point of the season, following a brutal 5-8 showing in week eight, I'm 20 games over .500 thus far (68-48), and hoping to keep making the right picks down the stretch.
Despite how well I've done so far, remember that all picks are for entertainment purposes only. I'm not perfect. I never will be.
If you're a faithful reader, you know by now that I base my picks on flawed logic, personal opinion, age-old gambling trends, and matchups. If you're looking for high-end analysis…well…I'd suggest John Clayton of ESPN, but he picked Denver to go 3-13, or something like that, so I don't know if mainstream media analysis is the best option.
Here now are the Week Nine picks, with the home team in bold .
Kansas City (+6.5) over Jacksonville
Theoretically, the Jaguars should roll over the Chiefs. Everything points to a Jacksonville win, supposedly.
Kansas City doesn't stop the run well, and the Jags have one of the most dynamic running backs in football: Maurice Jones-Drew. The Jaguars have more overall talent, and they're playing at home, as well.
However, probably against my better judgment, I'm going with my gut, and taking the Chiefs. With Larry Johnson suspended, Kansas City won't have any choice but to give Jamaal Charles the bulk of the carries at running back, and he may be more talented than Johnson at this point. As I showed last week, betting on a feeling instead of statistics can be hazardous to your wallet. Maybe I'm toxic right now, but I'm going with the feeling here, anyway.
Jaguars 21, Chiefs 18

Cincinnati (+3) over Baltimore
The Ravens would love to avenge their three-point loss to the Bengals at home from earlier in the season. Cedric Benson ran for 120 yards in that game, and Carson Palmer threw a TD pass to Andre Caldwell with 22 seconds left to win it.
In the minds of the Ravens, it was a bit of a fluky win. However, the Bengals outgained the Ravens, held the ball for 10 more minutes, and allowed just one offensive TD to the Ravens. The score was close, but the Bengals were the better team on that day.
While it's entirely possible that the Ravens are back on track after defeating Denver last week, the Bengals will be coming off their bye week, and are hosting this game. At this time of year, these could be big factors in deciding which team wins. I'm taking the Bengals.
Bengals 21, Ravens 17

Houston (+9) over Indianapolis
Since 2002, the Texans are 1-13 against the Colts. Currently 5-3, and posing the only legitimate threat to challenge Indianapolis in the AFC South at this point, the Texans have a lot to prove coming into this game.
The Colts, sitting at 7-0 and fresh off a tough win over the 49ers last week, will be well-prepared and motivated to widen their lead in the AFC South, and continue to hold the No. 1 overall seed in the AFC as the NFL approaches the halfway point in the season.
Both Peyton Manning and Matt Schaub should have big games for their teams. The key to the game will be how the running backs fare. Neither team has done well running the football all season.
Ryan Moats did a nice job filling in for Steve Slaton last week, and he could seize the starting job with another big performance this week. Meanwhile, Joseph Addai and Donald Brown have posted pedestrian numbers while splitting carries for Indianapolis. The team that has the best running back will win this game. I'll take the hot hand and ride the Texans in this one.
Texans 21, Colts 20

Atlanta (-10) over Washington
After a stretch in which they've played four of their last five games on the road, the Falcons come home to face a reeling Washington Redskins team.
As tempting as it is to pick against the double-digit favorite here, I'm taking the Falcons. They've been getting skewered in the media lately because of their struggles, and I've fallen into that trap a bit. Their three losses have all come on the road, and against playoff-contending teams (New England, Dallas, and New Orleans). Perhaps the criticism is premature.
As for the Redskins, they are playing out the proverbial string at this point. They may pull off a shocking win here, but it seems unlikely given their struggles to do much of anything besides collect their paychecks and play badly.
Falcons 34, Redskins 13

Green Bay (-10) over Tampa Bay
Ryan Grant figures to have a big game running against Tampa Bay's weak rush defense, and Aaron Rodgers should pick apart the Buccaneers' secondary.
On the other side, the Buccaneers will use rookie QB Josh Freeman against the Packers, a team with an opportunistic defense capable of causing several turnovers. This has the makings of being a blowout.
Packers 34, Buccaneers 14

Arizona (+3) over Chicago
Last week, the Bears won in spite of another mediocre performance from Jay Cutler, who now has 11 TD and 11 INT on the season. Meanwhile, all Kurt Warner did last week was throw five interceptions and lose a fumble, turning the ball over six times to the Carolina Panthers. Warner's had the more consistent season thus far, but neither of these guys inspires a lot of confidence. I don't trust the signal-callers for either team.
Both teams have running games that have proven to be horrible thus far. Neither team has an elite defense.
In games like this, where many of the matchups seem to be even for both sides, the outcome usually boils down to the athletic playmakers on either team. Larry Fitzgerald figures to play a bigger role in Arizona's offense and success than Devin Hester will, so the advantage goes to Arizona.
Cardinals 24, Bears 20

New England (-10.5) over Miami
The Patriots had extra time to prepare for this one thanks to their bye week, and they should benefit from the time they had to rest and get ready for this key intra-division game.
Miami is fresh off their surprising win over the Jets, one that happened despite a lackluster 104 yards of total offense. Ronnie Brown and Ricky Williams had a lot of success in the Wildcat offense against the Patriots last season, and both should do well this week, too. However, inexperienced Miami QB Chad Henne will likely be a non-factor this week, allowing the Patriots to focus on the run during key situations in the game.
I expect Tom Brady to have a field day against the Miami secondary, and unless the Dolphins can hold the ball for several sustained drives, I expect the Patriots to win this game easily. As much as I hate siding with the double-digit favorites, I think this could be a statement game for the Pats.
Patriots 31, Dolphins 17

New Orleans (-13) over Carolina
With the way the Saints have played this year, especially at home, anything under a two-touchdown spread seems to be an inviting play in my book.
This week, the turnover-happy Panthers come to New Orleans. Carolina could keep the Saints at bay a bit if they can control the time of possession, and not turn the ball over. Limiting Jake Delhomme's passes will be vital to this plan, as the Saints feature an opportunistic secondary.
On offense, it would be stunning if the Saints were held in check by the Panthers' defense. They are versatile and dangerous. So long as Drew Brees isn't forced into making mistakes with the football, they should win by two touchdowns, or more.
Saints 35, Panthers 20

Detroit (+10) over Seattle
The Seahawks have been at their best at home against the worst the NFL has to offer; their two wins this season, against the Rams and Jaguars, came by a combined score of 69-0.
The Lions are similar to the teams Seattle has already thrashed this season, with one exception: Calvin Johnson. Oh sure, the Rams have Stephen Jackson, and the Jags have Maurice Jones-Drew, both of who are among the best running backs in football. Neither of those teams have a big-play receiver like Johnson, however.
Admittedly, this pick hinges on Johnson's health; he is likely to be a game-time decision. If he plays, he will be productive against an average Seattle defense. If he doesn't play, it limits what the Lions can do offensively, and it will likely mean that Seattle covers the spread.
This is gambling though, right? So I'm taking the risk, and going with the Lions to cover.
Seahawks 27, Lions 21

Tennessee (+4) over San Francisco
I'm well aware this isn't 2008. I'm well aware the Titans have been lousy all season long.
Yet last week, with Vince Young under center and Chris Johnson racking up over 200 yards on the ground, the Titans played as if they had nothing to lose.
The 49ers' defense has the potential to confuse Young and force him into some mistakes, and they also do a solid job of containing opposing teams' running backs. Tennessee's defense, conversely, is horrendous; the 49ers should move the ball easily and could have their best scoring day of the 2009 season.
Still, given their propensity to play a lot of close games, I don't see the 49ers pulling away from the Titans. Instead, I get the feeling this could come down to a late drive either way.
49ers 31, Titans 28

NY Giants (-5) over San Diego
This will be a great "barometer" game for both teams. San Diego has yet to beat any team with a winning record this season, while the Giants have lost three straight, and are in danger of falling out of the NFC playoff picture.
The Chargers are basically a one-dimensional team on offense; they can only pass the football. The Giants' three losses have come against Pro Bowl-caliber QBs (Drew Brees, Kurt Warner, and Donovan McNabb), and they face yet another one in Phillip Rivers.
If the Giants can defend Rivers' deep passes to Vincent Jackson, and limit their offense to using the middle of the field instead of the edges, they should win easily. If Jackson gets open consistently, and Rivers has time to get him the ball, the Chargers could pull off a tough road win.
Eli Manning's play of late has been bad, probably due in part to his foot injury. The Giants should be able to run the ball well against the Chargers, which should limit Manning's throws and decrease his mistakes. They'll score fewer points, but they'll also keep the Chargers' offense off the field as a by-product.
Between the Giants' ability to run the ball on offense and pressure the quarterback on defense, they should be able to limit the Chargers' passing attack and end their losing streak.
Giants 24, Chargers 17

Philadelphia (-3) over Dallas
Anything other than a shootout would be a pretty big surprise at this point; Dallas has scored 75 points in their last two games, while the Eagles have put up 67.
Dallas seems more equipped to sustain long drives, thanks to their running back tandem of Marion Barber and Felix Jones. The Eagles' quick-strike offense is capable of scoring on a few big plays against a Dallas defense that gives up nearly 350 yards a game, though.
In trying to find an edge one way or the other, I kept coming back to points allowed. Other than a blowout loss to the Saints, the Eagles haven't given up 20 points to any of their opponents. Meanwhile, the Cowboys have allowed 20 or more on four occasions.
While both teams will score their share of points, the Eagles' defense seems to be able to shut teams down when the need arises, and I think this ability will play a decisive role in this game.
Eagles 31, Cowboys 24

Monday Night
Denver (+3) over Pittsburgh
This was a hard decision. There are compelling reasons to pick the Steelers.
First of all, Pittsburgh is coming off their bye week. Secondly, the Steelers present some of the same challenges to Denver that the Baltimore Ravens did last week, only with a better QB, better coaching staff, and a better overall defense. Plus, given the success Baltimore had in using the no-huddle offense, it seems likely that Pittsburgh will employ a similar strategy and use the no-huddle at times.
Putting all of that aside, the pick is Denver for two reasons.
1. The Broncos can exploit Pittsburgh's secondary with more five-receiver sets and change-ups in the running game, such as the "Wild Horses" offensive scheme. As much as Denver likes to run the football, they may be best served throwing it, and they have the players in place to be successful while passing.
2. Baltimore may have created a blueprint for beating the Broncos, but the Broncos have been adept at adjusting to their opponents all season long, and I don't expect that to be different in this game.
As an aside…Denver is the underdog at home again? Seriously?
Broncos 27, Steelers 20
This article is
What is the duplicate article?
Why is this article offensive?
Where is this article plagiarized from?
Why is this article poorly edited?