The Dime Package: The Indianapolis Colts' 10 Greatest Running Backs
With Edgerrin James returning to Indy in 2009 as a member of the Seahawks (before he was ultimately cut), I thought it would be appropriate to look at the greatest running backs in the history of the Indianapolis Colts.
Please note, this is only a look at running backs who played in Indianapolis.
This is not a slight against the Baltimore Colt greats like Lydell Mitchell and Lenny Moore. It's just that many Baltimore and Indianapolis Colts fans look at the history of the team in two parts.
Since my history with the team deals primarily with Indianapolis, I'm concentrating on the backs that did their running in the Circle City.
Though the Colts have had a sketchy history in Indianapolis, there's a surprisingly deep amount of talent on this list as you head up to number one.
10. Anthony Johnson (1990-93)
While Johnson makes the list, it is only barely. Although Johnson did lead the Colts in rushing in 1992, he gained less yards in four years in Indianapolis (1,017) than he did in one single season in 1996 with Carolina (1,120).
The 10th spot was a tough one to pick. The other nine players clearly had the credentials to be on the list.
Johnson gets placed here since he did lead the team in rushing one season, even if the '92 Colts were the worst rushing team in the league.
9. Rodney Culver (1992-93)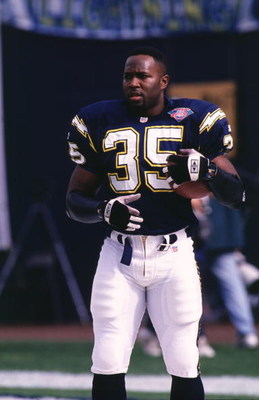 Many remember Culver as a passenger on a ValuJet flight that crashed into the Florida Everglades in 1996, killing him and everyone else on board.
Before that tragic event, Culver spent four years in the NFL. His first two years were in Indianapolis.
His rushing numbers were nothing spectacular in those years. He amassed just 471 yards. However, he was a legitimate goal line threat, scoring 10 touchdowns in limited duty.
Because of his nose for the end zone, and the fact he played at Notre Dame, Culver was a fan favorite in Indianapolis.
Even though he had moved on to the San Diego Chargers by 1996, everyone in Indianapolis felt the loss of Culver.
Roosevelt Potts (1993-95)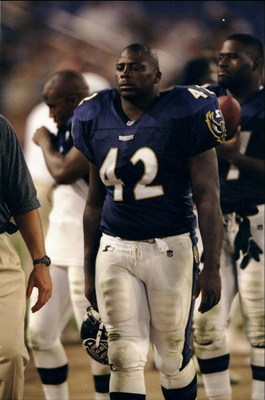 Potts is the only true fullback on the list, and the only true fullback to lead the Colts in rushing. As a rookie, Potts gained over 700 yards and ended his three year Colts career with 1,356 yards.
Potts was also a gifted receiver for a fullback. He caught over 20 passes in each of his three seasons in the blue and white jersey.
Once Marshall Faulk arrived, Potts' carries diminished, but there's no denying that Potts and Faulk were a powerful combination.
If Potts had a weakness, it was the lack of touchdown productivity. At 6'0" and 250 pounds, you would have thought Potts would have had more than one rushing touchdown in three seasons.
7. Randy McMillan (1984-86)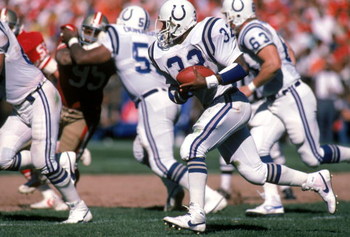 McMillan was a player that came with the Colts from Baltimore in 1983.
Though the Colts didn't have much success in their first three seasons in Indianapolis, winning just a third of their games in that stretch, it wasn't because of a poor running attack.
McMillan led the Colts in rushing in each of his three years in Indianapolis. He was the main ball carrier of the 1985 squad that finished fifth in the league in rushing and first in yards per carry.
As the early years saw a parade of bad quarterbacks like Art Schlichter, Mike Pagel, and Mark Herrmann, McMillan was one of the few bright spots on some bad Colts teams.
6. Dominic Rhodes (2001-06, 2008)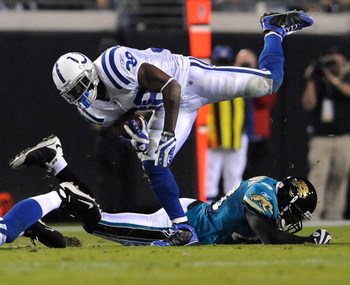 Rhodes was a classic workhorse back for the Colts. Never really in the spotlight while in Indianapolis, Rhodes did manage to gain 2,812 yards and score 25 touchdowns.
Not bad for a guy who only started part of two seasons.
Rhodes debut was a historic one. When James went down with a knee injury in 2001, Rhodes came in to lead the team in rushing. Rhodes became the first undrafted free agent to gain 1,000 yards in a season.
However, Rhodes will always be known as the guy that led both teams in rushing in Super Bowl XLI. Rhodes' 113 yards helped the Colts maintain ball control and bring home a championship to Indianapolis.
While Rhodes career didn't take off in Oakland, and he was cut before the start of the 2009 season by Buffalo, he was a great fit for the Colts system and a very underrated back.
5. Albert Bentley (1985-91)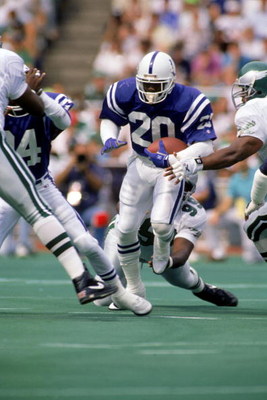 It's hard for most fans to think of the late '80s Colts' teams without thinking of Eric Dickerson. However, there was another back on those teams who may be the most underrated back in Indianapolis Colts' history.
Long before the tandems of Rhodes and Joseph Addai, the Colts had Dickerson and Bentley. And while Dickerson got the well deserved headlines, Bentley's production was remarkably strong in a backup role.
In seven seasons with the Colts, mostly as a backup, Bentley gained 2,355 yards and scored 19 touchdowns. His four-and-a-half yards per carry is best in Colts history (including Baltimore) for a back with more than 500 carries.
Bentley even led the Colts in receiving in 1990 with 71 receptions.
Bentley's best season was the strike shortened 1987 campaign. It was the same year the Colts traded for Dickerson. Yes, despite the strike and the benching for Dickerson, Bentley still managed over 1,000 yards from scrimmage and scored nine touchdowns.
Bentley never complained. He was a quality back on some very strong teams that would have been a solid starter for many other clubs.
It's a shame that his career with the Colts goes mostly unnoticed now.
4. Marshall Faulk (1994-98)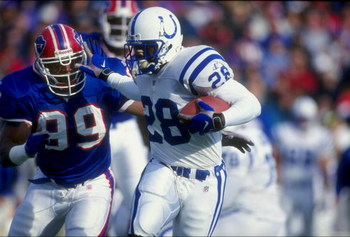 There's been some solid talent on this list, but the quality of this list jumps tremendously with the final four players.
Faulk gave the Colts their first legitimate star since Dickerson had left. He led the Colts in rushing every year he was with the team, and topped the 1,000 yard mark on four different occasions.
The addition of Faulk gave the Colts a solid rushing attack and helped lead them to the playoffs in 1995 and 1996.
However, it's easy to believe that Faulk was a great running back, but the stats don't support that theory, at least with his time in Indianapolis.
His Colts production pales in comparison to his years with the Rams. Faulk averaged only 3.8 yards per carry during his stint in Indianapolis.
Also, Indianapolis' remarkable playoff run to the 1995 AFC Championship was done mostly without Faulk, who was hurt after a single carry in the playoff opener at San Diego.
Faulk may have turned out to be a much better player in St. Louis, but Faulk's Indianapolis years were solid, but not spectacular.
3. Joseph Addai (2006 - present)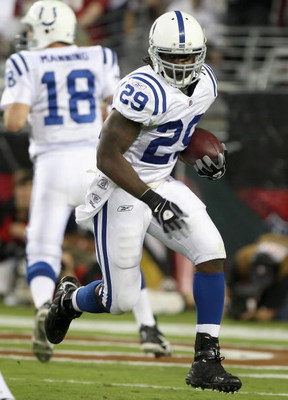 Now, before I get comments about placing Addai over Faulk, take a look at these two stat lines:
2,153 rushing yards, 19 rushing touchdowns
2,360 rushing yards, 22 rushing touchdowns
They are fairly close, aren't they? The first stat line comes from Addai's first two years. The second is Faulk's stats in the same time frame.
Their receiving numbers also match up well.
Even their third year has some parallels. Both were injured and neither made it to the 600 yard plateau.
Obviously it's too early to say if Addai can make Faulk's fourth year production (1,054 yards, seven touchdowns), but there's no denying why I gave Addai the edge—the 2006 playoffs.
Addai started the championship run with a 122-yard, one-touchdown performance against the Chiefs, and he ended it with 143 yards from scrimmage, including a team high 10 receptions.
In between, he scored the winning points in the AFC Championship game against New England.
With their careers eerily similar at the moment, it's Addai's playoff performance that inches him ahead of Faulk.
2. Eric Dickerson (1987-1991)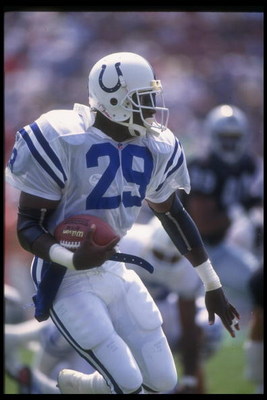 The Halloween trade that sent Dickerson from the Rams to the Colts in 1987 was a landmark event for the franchise's early years in Indianapolis.
For the first three seasons, it looked as if Indianapolis had inherited a lemon. The Colts were downright awful.
In fact, many thought the franchise was cursed after starting the 1986 season 0-13, only to win the last three games and lose out on the first pick and Vinny Testaverde.
Maybe we were really the lucky ones.
When Dickerson came to town, it sparked the franchise to their first division title in their new city. In 1988, Dickerson led the league in rushing with over 1,600 yards.
Ask any older Colt fan about Halloween of 1988.
On the one year anniversary of the Colts' acquisition of Dickerson, Dickerson torched the defending AFC Champion Denver Broncos for four touchdowns—in the first half.
That game showed the greatness of Dickerson. His unique running style stopped the Colts from being a laughing stock and for a little while, Colts fans had hope.
However, the hope didn't last long. Dickerson would top 1,000 yards one more time in 1989, but the drop off afterward was swift and steep.
Dickerson barely gained as many yards the next two years as he did in 1989.
Arguments with management, along with the wear of four seasons with over 350 carries, finally got to Dickerson.
By the time he left Indianapolis following a dismal 1-15 campaign in 1991, Dickerson had been suspended and left the town in disgrace.
Looking back, I hope most Colts fans remember a Halloween night in 1988 when Monday Night Football came to town instead of the Dickerson that left as an outcast three years later.
1. Edgerrin James (1999-2005)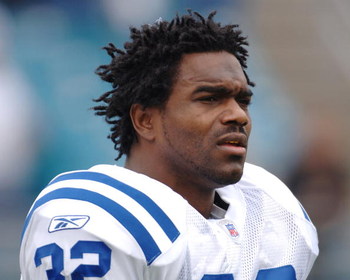 When I first did this list, I had James at No. 2 and Dickerson at No. 1. Dickerson was the lone Hall of Famer on the list.
Surely he had to be No. 1, right?
Well, just like Faulk, Dickerson's best days were with the Rams. If there was a rusher who really defined his career by his play in Indianapolis, it would be James.
When James left after the 2005 season, he took with him some impressive numbers.
He had 9,226 yards, best in Colts franchise history, for both Indianapolis and Baltimore.
He had 64 rushing touchdowns and over 350 receptions.
James was at first labeled a mistake. The Colts had a chance to take the more publicized Ricky Williams. Instead, the Colts took James.
It was definitely a smart choice.
James started his career by leading the league in rushing his first two seasons. Once paired with Peyton Manning and Marvin Harrison, the "triplets" started an impressive run of playoff appearances for the franchise.
In his third year, James was hurt. It would mark the only time he would not reach at least 900 yards with Indianapolis. Not surprisingly, it would also be the only time since 1998 that the Colts have missed the playoffs.
Lost in Manning's record setting 2004 season in which he passed for 49 touchdowns is the fact that James still had over 1,500 yards of rushing. Just as much as Manning, James was an important cog to the Colts' offense.
So important, in fact, that Colts' owner Jim Irsay presented James a Super Bowl ring, even though James had left the team in the offseason before.
That alone signifies why James is the best Colts back of all-time.
Keep Reading

Indianapolis Colts: Like this team?