"It probably isn't what it has been in years past. That's not to say that it's bad."
Ole Miss head coach Hugh Freeze served as "Captain Obvious" regarding the current state of SEC quarterback play on the SEC coaches teleconference on Nov. 25, 2015—the final week of the 2015 regular season.
Of course, he wasn't referring to his own program. All Rebel quarterback Chad Kelly did as a junior was finish with the SEC's third-most total yards in a single season in conference history with 4,542, behind former Texas A&M quarterback Johnny Manziel's 5,116 in 2012 and 4,873 in 2013.
If that perception is going to change, his new quarterback is going to play a significant role.
Shea Patterson, a 5-star pro-style prospect from Shreveport, Louisiana, enrolled early in Oxford to learn behind Kelly for a year before taking control of Freeze's offense.
The only other 5-star quarterback in the class of 2016—Jacob Eason from Lake Stevens, Washington—also enrolled early at an SEC program and will hope to jump-start a Georgia offense that's been too one-dimensional over the last two seasons.
"It's all been good," Eason said of his transition, according to quotes emailed by Georgia. "The big thing is balancing your free time with classes, weight room and learning the system. It's been a big transition, but I think it's been a good one."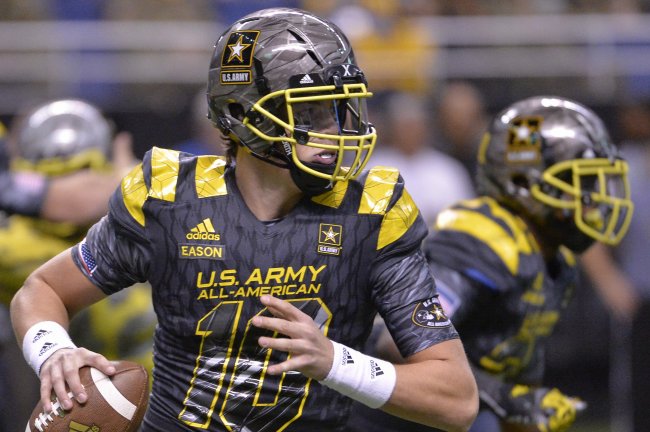 Darren Abate/Associated Press
Both quarterbacks will be successful at the college level, with Eason likely getting the chance to make the first impression thanks to Georgia's uncertainty at the position and Kelly's decision to come back at Ole Miss.
But what about long-term?
"From a college football standpoint, I think Shea Patterson is going to have a better career," said Bleacher Report national recruiting analyst Damon Sayles.
When Patterson assumes the roll of starting quarterback in Oxford once Kelly moves on, he will be inheriting a loaded offense that Freeze has already proven can produce video game numbers and will have unlimited potential at wide receiver.
Despite being unable to run between the tackles and take pressure off of quarterbacks for three years, the Rebels have finished with a top-five passing offense in the conference in each of Freeze's four years in town. With apologies to Kelly and former signal-caller Bo Wallace, Patterson is a different breed.
"I love everything about that kid and love the way he's helped be a leader in this class before he ever got here and now that he's already enrolled and going through workouts and things, everything he does continues to validate my opinion," Freeze said in quotes emailed by Ole Miss.
Plus, the fire in his belly impressed scouts on the recruiting trail.
"Patterson's competitive nature is so deep," said Sayles. "It runs ridiculous. He plays in the U.S. Army All-American Bowl and everybody's having fun, but he's one of the guys who has goals. 'I want to win MVP. I want to win the game. I want to throw for a certain amount of yards.' The competitive nature of him, you have to like it if you're an Ole Miss fan."
He isn't as much of a running threat as Kelly, but both Kelly and Wallace struggled with interceptions throughout their careers. What Patterson loses in athleticism as a dual-threat quarterback, he makes up for with arm strength, pinpoint accuracy and ability to throw receivers open.
The receivers he has to work with are scary.
Freeze reeled in Van Jefferson and Damarkus Lodge last year, both of whom were 4-star prospects. Jefferson redshirted in 2015, while Lodge saw action in six games in a backup role and caught a touchdown in the season opener.
On national signing day, Freeze added even more power to the wide receiver punch by signing Laquon Treadwell clone D.K. Metcalf, slot threat Tre Nixon and Starkville native A.J. Brown—all of whom were 4-star prospects.
An offense geared toward the quarterback, Freeze's track record of success, the weapons in Oxford and Patterson's ability to stretch the field vertically and sideline to sideline will not only make him a star, but could land him in New York City at some point as a Heisman Trophy finalist.
That's not to say that Eason won't have success too. Of course he will.
He's the most talented quarterback Georgia has had since Matt Stafford, and like Stafford, will be thrown into the fire at some point as a true freshman.
He also is more likely to follow Stafford's path to the pros, which included being picked first overall by the Detroit Lions in the 2009 NFL draft.
"Jacob Eason, when you look at him physically and see all of the measurables, he checks out so well as the better pro prospect," said Sayles. "When we are talking college football, Patterson is the better prospect. But when it comes to pro prospects, Eason is going to be the guy who everybody keeps an eye on."
He also will play in a system at Georgia that will take a ton of pressure off of his shoulders if all goes according to plan.
He'll have one more year of Nick Chubb in 2016 before Chubb decides whether to stay or go on to the NFL, will have Sony Michel lining up behind him in 2017 and 4-star prospect Elijah Holyfield enrolled early with Eason and will be with him for the long haul.
Pounding the rock and working off of play action was Georgia's identity under former head coach Mark Richt and will be its identity under first-year head coach and former Alabama defensive coordinator Kirby Smart.
The SEC has struggled in the quarterback department since 2013, when Wallace, AJ McCarron, Johnny Manziel, Aaron Murray, Zach Mettenberger, James Franklin, Nick Marshall and Connor Shaw all were bona fide studs for their respective schools.
Patterson and Eason will be leading the charge to return the position to prominence over the next few years and provide a solid foundation for the conference as others try to follow suit.
Quotes were obtained firsthand unless otherwise noted. Statistics are courtesy of cfbstats.com, and recruiting information is courtesy of 247Sports.
Barrett Sallee is the lead SEC college football writer and national college football video analyst for Bleacher Report as well as a host on Bleacher Report Radio on SiriusXM 83. Follow Barrett on Twitter @BarrettSallee.