For a Super Bowl matchup featuring two No. 1 seeds, the Carolina Panthers meeting the Denver Broncos still subverts expectations.
Denver scratched and clawed its way to a 12-4 finish, winning nine games by seven points or fewer. Most fans and pundits gave the No. 6-seed Pittsburgh Steelers a better chance at reaching the title game, and they might have if not for facing Denver without Antonio Brown and DeAngelo Williams.
Even though the Panthers entered the postseason with one loss to their name, they feasted on the NFC South, AFC South and NFC East. They made the most of a favorable schedule, but could they survive against two veritable title contenders in the Seattle Seahawks and Arizona Cardinals?
The final season records suggest everyone should have prepared for this matchup all along, but skepticism lingered around a subpar offense and a sudden powerhouse one year removed from a seven-win tally. Now they will face off for the NFL's grand prize.
Super Bowl 50: Carolina Panthers vs. Denver Broncos
When: Sunday, Feb. 7, at 6:30 p.m. ET
Where: Levi's Stadium, Santa Clara, California
TV: CBS
Spread: Carolina (-6)
Over/Under: 45
Super Bowl MVP Prop Bet
The NFL's top two passing defenses in terms of Football Outsiders' Defensive-adjusted Value Over Average (DVOA) have not steered the oddsmakers away from making both quarterbacks favorites to take home MVP honors:
Odds to Win Super Bowl 50 MVP

| | |
| --- | --- |
| Player | Odds |
| Cam Newton, QB, CAR | 5-7 |
| Peyton Manning, QB, DEN | 11-4 |
| Luke Kuechly, LB, CAR | 14-1 |
| Ted Ginn Jr., WR, CAR | 22-1 |
| C.J. Anderson, RB, DEN | 22-1 |
| Von Miller, LB, DEN | 22-1 |
| Greg Olsen, TE, CAR | 22-1 |
| Jonathan Stewart, RB, CAR | 22-1 |
| Demaryius Thomas, WR, DEN | 22-1 |
| Emmanuel Sanders, WR, DEN | 22-1 |
| Josh Norman, CB, CAR | 28-1 |
| Aqib Talib, CB, DEN | 28-1 |
| DeMarcus Ware, DE, DEN | 33-1 |
Odds Shark
As the spread continues to expand in Carolina's favor, Cam Newton is the sensible and comfortable favorite.
After collecting 45 total touchdowns during a regular season that will likely net him a more prestigious MVP designation, the Panthers passer completed 70 percent of his passes and averaged 9.92 yards per attempt against the Cardinals and Seahawks. Those top NFC adversaries respectively finished the season No. 3 and No. 4 in Football Outsiders' DVOA against the pass.
Shortly after stifling former teammate Tom Brady, Broncos cornerback Aqib Talib praised Newton to the Denver Post's Cameron Wolfe.
"He's probably the most dangerous quarterback in the NFL right now," Talib said.
Carolina's offensive line will prove the MVP to Newton attaining the Super Bowl MVP. Denver upset the favored New England Patriots by demolishing them in the trenches. Bothered all day by Von Miller and Co., Tom Brady completed less than half of his passes for the first time since Oct. 20, 2013.
ESPN Stats & Info noted Denver's dominant pass rush:
Tom Brady was hit a season-high 23 times Sunday. He hadn't taken more than 12 hits in a game this season prior to Sunday.

— ESPN Stats & Info (@ESPNStatsInfo) January 25, 2016
Yet New England spent the entire season repairing leaks up front. Carolina's offensive line, on the other hand, deserves credit for the team's breakout campaign. Per Pro Football Focus, both Super Bowl participants, particularly the Panthers, have provided much better protection in the playoffs:
Cam Newton has been sacked or knocked down just 3 times this postseason, Manning has been sacked or knocked down 7 times

— Pro Football Focus (@PFF) January 26, 2016
The Broncos once again need a swarming pass rush to reel off another upset. Without one, this game could turn into a carbon copy of 2014's Super Bowl embarrassment against Seattle. Such an outcome could divert the spotlight to the defense, which bodes well for star linebacker Luke Kuechly. Then again, who would have predicted Malcolm Smith standing out among Seattle's star-studded defense?
Carolina doesn't have many other offensive stars to derail the No. 1-ranked defense, but Greg Olsen offers a solid contrarian bet to Newton.
The star tight end has churned out two strong playoff performances, registering 12 combined catches for 190 yards and a score. In the AFC Championship Game, Rob Gronkowski proved the lone thorn in Denver's side, posting 144 yards and New England's lone touchdown through the air.
At first glance, Peyton Manning's elevated odds look like Vegas trying to steal money from fools. And it probably is. The Broncos simply need the debilitated veteran to avoid turnovers, which he has done this postseason after throwing 17 interceptions in 10 regular-season games. Why bet a quarterback from the underdogs hoping to ride a forceful defense to victory?
It's the flashy, irrational pick, but the flashy, irrational pick often wins out. A Broncos win could be enough to win him the hardware, even if he barely helps the cause. This is likely Manning's last Super Bowl appearance and perhaps the surefire Hall of Famer's final game altogether.
If Denver prevails, the narrative may prove too juicy not to bite. The quarterback often wins when there's no obvious alternative. Over the last dozen Super Bowls, eight quarterbacks have snatched up the distinction. The desire to create a fairy-tale ending will also fuel his candidacy, even if he participates in a 12-10 triumph.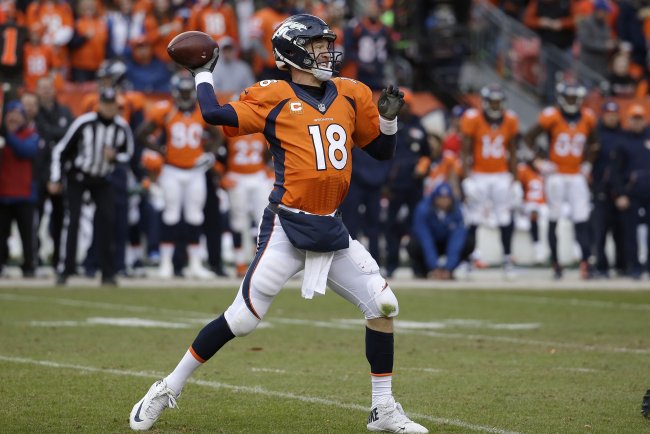 Chris Carlson/Associated Press
Nine years ago, Manning won the honor simply because of his name and position. During the Indianapolis Colts' 29-17 Super Bowl victory over the Chicago Bears, Joseph Addai accrued 143 total yards. Dominic Rhodes added 113 rushing yards and a score, and Kelvin Hayden returned a Rex Grossman interception 56 yards for six points.
Yet Manning was singled out for an underwhelming line, especially for his lofty standards, against a stingy defense:
Peyton Manning's Super Bowl XLI MVP Outing (2007)

| | | | | | |
| --- | --- | --- | --- | --- | --- |
| CMP/ATT | PASS YD | YPA | TD | INT | QB RTG |
| 25-38 | 247 | 6.5 | 1 | 1 | 81.8 |
ESPN.com
If the NFL gave out an AFC Championship Game trophy last weekend, would Manning's two touchdowns have forced him to make room on his cluttered mantle? Or would Miller have received his rightful recognition for his four quarterback hits, 2.5 sacks and two tackles for loss?
Chances are this becomes a moot argument anyway. Picking a Broncos victory, let alone pinpointing a standout performer, signifies a stretch. There's an obvious front-runner for a reason, but Kuechly and Olsen are the best alternatives to Newton.
Note: All betting information obtained from Odds Shark.