Two games will decide which teams compete in Super Bowl 50 on Feb. 7, and the matchups couldn't be any better.
The 2016 NFL playoffs featured nothing but lower seeds winning in the first round and then all favorites advancing a week later. What is left is the top two teams in the AFC along with the top two in the NFC, providing fans with tons of storylines to follow throughout the week into Sunday.
These close battles could go in a number of different ways, but here are predictions for what will happen on Championship Game Weekend.
New England Patriots at Denver Broncos
Everyone will obviously spend time discussing Tom Brady vs. Peyton Manning, but Manning is no longer the quarterback he was even a few years ago. He still has great awareness and instincts before and after the snap, but his arm strength is holding him back.
Manning struggled to move the football against a suspect Pittsburgh Steelers secondary and couldn't make it pay for staying in press coverage for much of the day. The New England Patriots have much more confidence in their secondary with players like Malcolm Butler leading the way, and Denver will have a hard time throwing the ball.
If running backs Ronnie Hillman and C.J. Anderson can't pick up big chunks of yards on the ground, the Broncos will struggle to score.
The other side of the ball will be the real storyline with Denver's No. 1 defense against Brady and the Patriots offense. While New England's group struggled toward the end of the regular season, a healthy Julian Edelman makes a big difference.
Pro Football Focus provided a look at the speed of plays when the receiver is in the lineup:
Tom Brady's time to throw average dropped from 2.55 seconds in games without Edelman down to 2.19 seconds in Saturday's game. Big change

— Pro Football Focus (@PFF) January 19, 2016
This might not seem like a lot, but the reality is this could help counter the Broncos pass rush like it did against the Kansas City Chiefs. Edelman missed the regular-season battle against Denver, and star tight end Rob Gronkowski got hurt during it. Yet Brady was still able to finish with three touchdowns and no interceptions.
He could have an even better performance this time around to advance to yet another Super Bowl.
Prediction: Patriots 24, Broncos 17
Arizona Cardinals at Carolina Panthers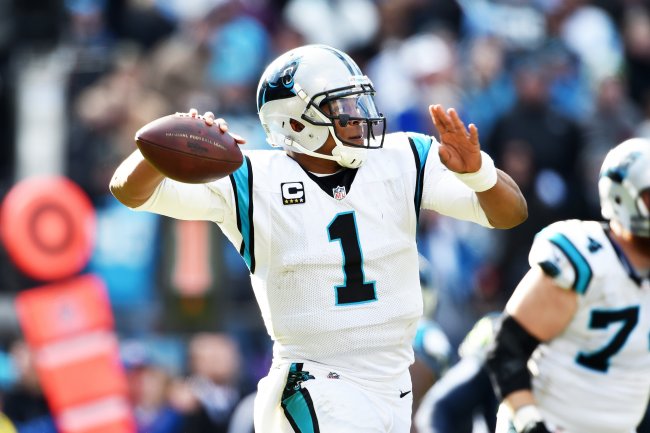 Ronald C. Modra/Sports Imagery/Getty Images
You would think the battle between two future Hall of Fame quarterbacks would be the higher-scoring battle, but the reality is the NFC features the two best offenses in the league, as noted by Chris Wesseling of NFL.com:
Cardinals-Panthers is also the first playoff game of the Super Bowl era featuring two teams that average 30+ points per game.

— Chris Wesseling (@ChrisWesseling) January 20, 2016
Additionally, Carson Palmer and Cam Newton represent a battle of former Heisman Trophy winners as well as No. 1 overall picks. Both quarterbacks took different routes to get to this point, but their talent is undeniable.
While Newton is the favorite to bring home the league's MVP award, Palmer has arguably been even better this season while spreading the ball around to his numerous targets. The problem is the veteran is coming off a below-average game against the Green Bay Packers in the divisional round.
Bleacher Report's Mike Freeman quoted a scout who said Palmer "looked nervous as hell" in the overtime win.
Cardinals head coach Bruce Arians admitted the quarterback was more hesitant than usual early last game but that it won't be a problem this time around, per Bob McManaman of AZCentral Sports:
Not to be conservative in the first half when you're picking your plays. And we talked about it. This was a game where he picked a lot of shorter completions early instead of going for 'em like we normally do. And I think that was part of, 'I don't want to screw this up.'

Now that we don't have to worry about doing that anymore, we can go back to being ourselves.
If Palmer plays to his ability, the Panthers could have a difficult time containing receivers Larry Fitzgerald, Michael Floyd, John Brown and others.
Newton will lead Carolina's offense with some big plays in the air and on the ground to keep things close, but the Cardinals might have too much firepower. They will have just enough to squeak by on the road to win the NFC title.
Prediction: Cardinals 31, Panthers 30
Follow Rob Goldberg on Twitter for year-round sports analysis.