Why Kevin Love Trade Was Blessing in Disguise for the Minnesota Timberwolves
August 31, 2014

Mark Duncan/Associated Press
The Minnesota Timberwolves have officially lost their three-time All-Star Kevin Love, but this trade may be a blessing in disguise
Last season, Love had a career year, scoring 26.1 points per game and ranking third in Player Efficiency Rating, according to Hollinger Stats, courtesy of ESPN.
Love might be a top-five scorer in the NBA, but he showed no defensive intensity and was unable to carry the Timberwolves to the playoffs during his six-year tenure.
Since Love was drafted in 2008, the Wolves' win percentage is well below 50 percent.  Their best season was last year with only 40 wins. 
To be fair, the Timberwolves' struggles were not entirely Love's fault.  Not only was his supporting cast very mediocre, but his team was also in a very tough conference.  Last season, if the Wolves were in the Eastern Conference, they would have clinched the eighth seed.    
Recently, Timberwolves' owner Glen Taylor had a few strong comments toward Love during an interview on 1500 ESPN Twin Cities radio.
"I think where maybe he got away with some stuff not playing defense on our team, I'm not sure that's how it's going to work in Cleveland," Taylor said.
In March, Tyson Chandler of the Dallas Mavericks also publicly criticized Love's defense:
Tyson Chandler's harsh (but true) analysis of Kevin Love: 'He can't play D' http://t.co/ezEeUKacBx

— Sports Illustrated (@SInow) March 6, 2014
Along with poor defense, Love has been known for demonstrating poor sportsmanship.  Many fans might remember when he was suspended two games in 2012 for stomping on Luis Scola's head.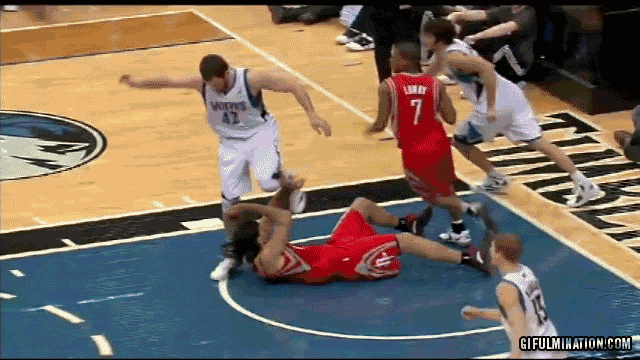 Even his response to Chandler's criticism was cringe-worthy:
Kevin Love says "F*** him" in response to Tyson Chandler's criticism of his defense: http://t.co/QfYV9pg2IR

— Dime Magazine (@DimeMag) March 7, 2014
However, the Chandler/Love exchange was later revealed to be a series of friendly jabs between the two players.  
When Love was on this team, the Timberwolves were riding the waves of mediocrity, but now they have a new identity.  
In return for Love, the Timberwolves received Andrew Wiggins, Anthony Bennett, Thaddeus Young and a promising future.
Even without logging a single minute in an NBA game, Wiggins has become a household name.  His offense may need some work, but his explosiveness and defensive intensity will allow him to be an immediate impact. 
Bennett struggled in his rookie year due to injuries, but he bounced back with an impressive summer, averaging 13.3 points and 7.8 rebounds per game in the Las Vegas Summer League, per NBA.com.  Most importantly, Bennett reportedly lost weight during the offseason:
Anthony Bennett has been working out in Cleveland the last couple months, hired personal chef. Says he's lost 15-20 lbs since April

— Josh Lewenberg (@JLew1050) July 12, 2014
The Timberwolves also added experience to their roster by bringing in Young, a seven-year veteran.  He's not an All-Star, but Young is a solid player coming off of a career year. The 26-year-old power forward averaged a personal-best 17.9 points per game while shooting slightly over 30 percent from three last season with the Philadelphia 76ers.  
The Timberwolves also have young talent in Zach LaVine, Shabazz Muhammad and Gorgui Dieng.  
Muhammad and Dieng saw limited time last season, but per 36 minutes, both players were very productive.
| | | |
| --- | --- | --- |
| Player | PPG | TRB |
| Muhammad | 17.8 | 6.6 |
| Dieng | 12.6 | 13.2 |
Many fans are especially excited about LaVine due to his elite athleticism.
He showcased his incredible leaping ability when he challenged Wiggins to a dunk contest via Twitter:
just accepted @GRIII challenge at the @PaniniAmerica shoot and now challenge @22wiggins to beat this! https://t.co/KBw6hO0Y11 #hoopsrookie

— Zach LaVine (@ZachLaVine) August 3, 2014
LaVine was drafted as a point guard, but due to his length and poor passing ability, he's probably better suited as a 2-guard.  Last season at UCLA, he only averaged 1.8 assists per game.  
Not to mention, the Timberwolves already have several proven players, such as Nikola Pekovic, Corey Brewer and Ricky Rubio (all of whom are under 29 years old). 
This team will probably adopt a fast-paced offense that will allow their young athletic players to flourish. Last season the Washington Wizards and the Toronto Raptors used their youth to their advantage by running an uptempo offense, and both teams made it to the playoffs.
Of course, a fast-paced offense may not suit Pekovic or the aging Martin very well.  With potential young replacements, such as Dieng and Muhammad on the roster, the Wolves may want to trade away some of their older assets.
Steve Kyler from Basketball Insiders weighed in on the possibility of a Pekovic trade, saying, "I wouldn't rule it out, because Gorgui Dieng looked really good this summer, but given what Pek is owed, there isn't a scenario that seems likely."  
The future of the Wolves may be exciting, but Love's departure does hurt them in the present.  The loss of their biggest offensive contributor will inevitably cost them a few wins in the upcoming season.
Remember, Wiggins and LaVine are only 19 years old and still very raw.  The development of the Wolves' prospects may be fun to watch, but it won't translate into victories for at least a few years.  
If all of their young talent can reach their full potential, the Timberwolves could be very dangerous two to three years down the road.
All stats are courtesy of Basketball-Reference.com unless otherwise noted
Follow me on Twitter: @SupermanJZ