Over at FantasyPros.com, Tim Wright was being ignored by fantasy owners to such a degree that he was at the very bottom of the site's cumulative average draft position rankings, which they curate from several fantasy sites around the web.
That's probably about to change.
According to reports, the New England Patriots are about to acquire the tight end in exchange for Logan Mankins. Jay Glazer of Fox Sports first reported the story:
Breaking: the Patriots have agreed to parameters of a trade to send Pro Bowl guard Logan Mankins to the Bucs for a pick and TE Tim Wright

— Jay Glazer (@JayGlazer) August 26, 2014
The question every fantasy owner is asking is easy enough to discern—what does this do for the fantasy values of Wright and Rob Gronkowski?
There are a few ways of looking at this. The first is that Bill Belichick thinks Wright can function in the versatile role that Aaron Hernandez once played for the team. Wright is a fairly athletic player at the position, and was perhaps better last season than some people realize.
Mike Clay of Pro Football Focus Fantasy passes along the following stat:
When QB and aDOT are factored in, only Jordan Cameron exceeded Tim Wright's catch rate last year (13% above expected) #Patriots

— Mike Clay (@MikeClayNFL) August 26, 2014
Meanwhile, Matt Miller of Bleacher Report broke down his previous season:
Tim Wright is a good pass-catching TE. 50+ catches last year in a dumpster-fire offense. Nice pick-up.

— Matt Miller (@nfldraftscout) August 26, 2014
Indeed, Wright finished last season with 54 receptions for 571 yards and five touchdowns. And just consider this little tidbit from ESPN Boston:
Jimmy Graham was the only tight end in the NFL that caught more touchdowns than Tim Wright in the final four weeks last season.

— ESPNBoston (@ESPNBoston) August 26, 2014
Plus, Daniel Jeremiah of NFL.com has been impressed with Wright thus far this summer:
Tim Wright was impressive when I attended Bucs practice. He can really stretch the field. Mankins will be a HUGE upgrade for Bucs interior.

— Daniel Jeremiah (@MoveTheSticks) August 26, 2014
If Wright has indeed been brought over to supplement Gronkowski and allow the team to utilize the two tight-end sets that they used to such great effect in 2011 and parts of 2012, the addition could have a huge positive effect on both Wright and Gronkowski's numbers. Heck, Tom Brady could see his value take a major bump, too.
Lord knows he was left frustrated more often than not with his receiving targets a year ago.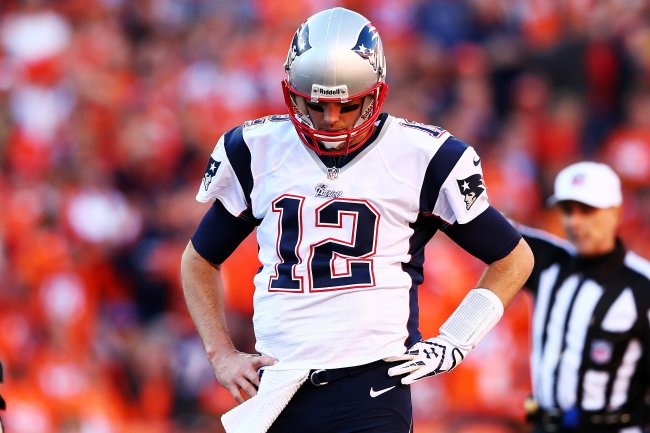 Elsa/Getty Images
But not everyone is going to buy the theory that Wright is now in New England to supplement Gronkowski. Sigmund Bloom of FootballGuys.com, for one, doesn't think people should expect Wright to replicate the role Hernandez once played for the team:
@PFF_Sam wright is nowhere near hernandez level of talent and we shouldn't assume BB is trying to recreate past offenses. moves on quickly

— Sigmund Bloom (@SigmundBloom) August 26, 2014
Wright isn't the talent that Hernandez was, no, but he is a fast player for a man his size and can create mismatches when paired against linebackers in coverage. One would imagine the Patriots will find unique ways to get him in space out in the passing game.
The other thing to remember is that a healthy Gronkowski does not mean Wright has no value. There are plenty of targets to go around in this offense, and Brady has shown an inclination to lean on his tight ends in the past. With a dearth of playmakers out wide, Wright could quickly become one of his favored targets.
That's his upside. His downside is obviously being a backup that doesn't have much fantasy value. It's possible that he was simply brought on for depth at the position and nothing more.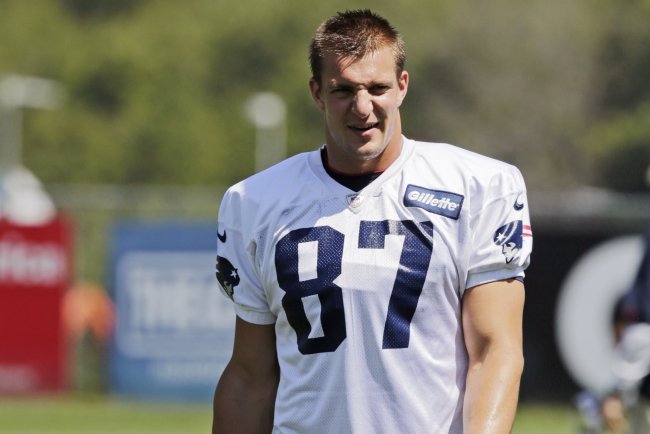 Charles Krupa/Associated Press
After all, many people seem to think that Wright's addition has much more to do with Gronkowski's injury history and his timetable for return. Ben Volin of the Boston Globe thinks the trade is a troubling sign about Gronk's recovery:
Yes, that he'll be coming back very slowly RT @ColbyGuarino: @BenVolin Think this trade says something about Gronk? I'm stunned.

— Ben Volin (@BenVolin) August 26, 2014
Gronk has always been a huge risk for owners taking a gamble of him in the third round of fantasy drafts, but this trade may suggest the risk is even higher than we suspected. Could Gronk miss several games to start the season?
It's certainly possible, but if you were drafting Gronk you were always taking that risk anyway. This trade should have little to no bearing on his fantasy value.
Indeed, Adam Schefter of ESPN said about as much:
Oft-asked question: NE-TB trade has to mean Pats are worried about Gronk, no? Answer: No. Gronk in good spot. This provides depth, options.

— Adam Schefter (@AdamSchefter) August 26, 2014
So there's that to consider.
There are fantasy implications for quite a few other players, however. Outside of Wright, perhaps no player benefits more than Doug Martin of the Tampa Bay Buccaneers. Evan Silva of Rotoworld certainly thinks so:
Even if Logan Mankins isn't the player he once was, really good news for Doug Martin. Top-4 run blocking guard last season per @PFF.

— Evan Silva (@evansilva) August 26, 2014
If Martin wasn't already a top-seven running back for you, he should be now. One of the major question marks for Martin and this Bucs offense was a lack of talent at guard. That concern has now been eradicated.
Wright's addition probably shouldn't lead to owners forecasting a bump in Brady's value, but it can't hurt him to have another target on offense. And for those owners taking a deep dive on rookie Austin Seferian-Jenkins in the later rounds, well, the starting role is all his now.
Still, keep in mind that he's at best the Bucs No. 3 option in the passing game behind Vincent Jackson and Mike Evans. And no owner should be drafting him or Wright as anything more than a late-round flier at TE2, namely in deeper leagues.
Yes, they both are a bit more valuable for fantasy owners than they were yesterday. Just don't get carried away, folks.