Sevilla's refusal to compromise threatens to sink Alberto Moreno's proposed transfer to Liverpool, so should the Reds turn to Freiburg left-back Christian Gunter as a fall-back option?
"There have been negotiations [with Liverpool for Moreno] eight or 10 days ago," Sevilla president Jose Castro said, per Phil Kirkbride at the Liverpool Echo. "But there has been no agreement and nor is there today."
Sevilla coach Emery on Alberto Moreno-#LFC: "I expect tomorrow he will play with us and I don't know if there is anything with Liverpool"

— Rob Harris (@RobHarris) August 11, 2014
To cover the hypothetical scenario of Moreno's deal collapsing and Liverpool targeting Gunter, here is a scouting report on the 21-year-old, 6'0", 176-pound German international.
Credit: Kicker.de
Gunter Positives
Christian Günter verlängert vorzeitig. http://t.co/Ys02aORh38 #SCF pic.twitter.com/uQkt3qLGX4

— SC Freiburg (@sc_freiburg) March 13, 2014
Gunter is determined, energetic, pacey and was Freiburg's No. 1 left-back last season.
He was third at the club in tackles (71) and tackles per game (2.4).
He tends to throw himself into challenges as illustrated when he immediately won back the ball to stop Eintracht Frankfurt launching a counter-attack.
Going in hard, Gunter easily beat out Wolfsburg right-back Patrick Ochs in a 50-50 contest.
Gunter won more tackles, aerial duels and clearances per 90 minutes than Moreno, according to Squawka.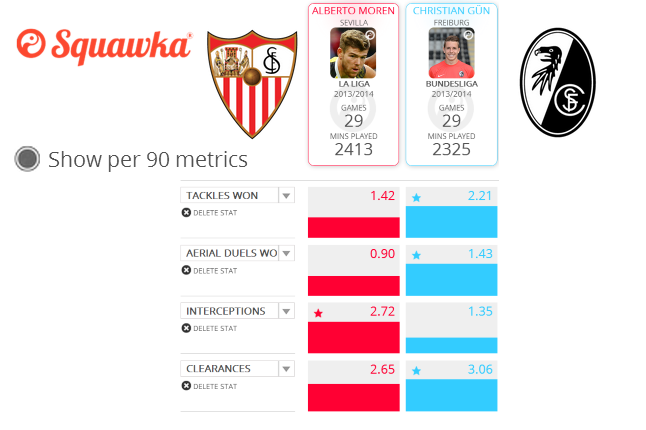 Credit: Squawka.com
Displaying pound-for-pound power, Gunter decked Wolfsburg's 6'6", 196-pound centre-back Naldo while completing an incisive pass to then-Freiburg (now Bochum) centre-forward Marco Terrazzino.
While Gunter only scored and created one goal in league play last season, he keeps opposing defences honest with deep runs, like against Hertha Berlin.
In addition, Gunter momentarily morphed into Gareth Bale only to be denied by then-Braunschweig (now Grasshopper) goalkeeper Daniel Davari.
Speaking of Bale, you think pace when his name enters your mind. During Matchday 29, Gunter's top speed was the second-fastest in the Bundesliga, per Sport1.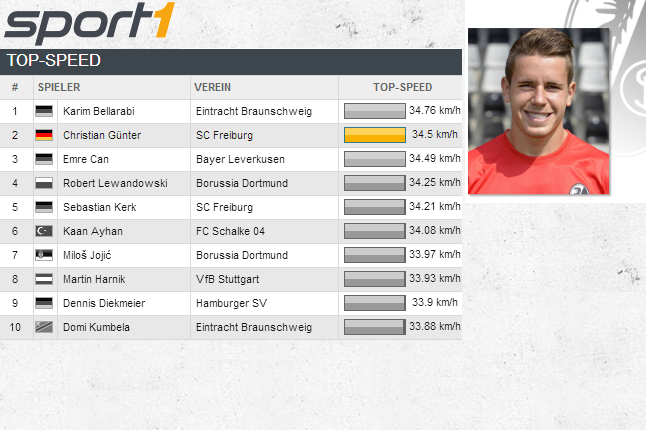 Credit: Sport1.de
Flashing set-piece prowess, Gunter's searing inswinging free-kick against Eintracht Braunschweig almost led to a goal for Freiburg.
Gunter Negatives
Like Moreno, Gunter's positioning is all over the place.
When he starts as a full-back in a back four, he is exposed as he has the mentality of a wing-back.
He would be more suited to playing in a 3-5-2 as a wing-back which gives him further attacking license and provides him an extra layer of defence.
Failing to get in front of Hamburg's Hertha Berlin loanee Per Skjelbred, Gunter was at fault when the Norwegian international poached a goal.
Showing naivety, Gunter allowed then-Borussia Dortmund (now Bayern Munich) centre-forward Robert Lewandowski to turn.
Gunter was out of position enabling Stuttgart centre-forward Vedad Ibisevic and right attacking midfielder Martin Harnik to score.
In the wrong place at the wrong time against Eintracht Frankfurt, Gunter scored an unfortunate own goal.
Bottom Line
Sevilla continue to dig their heels in over sale of Alberto Moreno to Liverpool #LFC http://t.co/rhVxxuwogo pic.twitter.com/GuegEXOUuz

— Liverpool Echo (@LivEchoLFC) August 11, 2014
Liverpool Echo back page August 1 2014 http://t.co/76SPvl5hPr #newspaper #news #frontpage #liverpool #liverpoolecho pic.twitter.com/2D6gAruoc9

— Liverpool Echo (@LivEchonews) August 1, 2014
Liverpool's deal to sign Sevilla Alberto Moreno has collapsed #LFC http://t.co/emC2vzgwJX pic.twitter.com/oVPl15XlG6

— Liverpool Echo (@LivEchoLFC) July 15, 2014
The Moreno transfer saga is taking a Mohamed Salah-like turn for the worse.
Not only has Iago Aspas told Alberto Moreno NOT to go to Liverpool, not even on holiday. http://t.co/7YRst4aUIe

— Mirror Football (@MirrorFootball) July 31, 2014
Send Aspas to Sevilla, tell him to put in a good word for us with Moreno... He tells him NOT to come #LFC pic.twitter.com/wOyulfTIEW

— SA YNWA (@SouthAfrYNWA) July 29, 2014
Therefore, Liverpool chief executive officer Ian Ayre and the Reds front office should consider Gunter.
Freiburg not only view Gunter as a vital first-team player, but also a saleable asset.
That was why the Bundesliga club extended his contract in March to maximise his transfer stock.
"Christian Gunter has made great developments," Freiburg sporting director Jochen Saier said, per FourFourTwo. "It has been gained not least because of his professional attitude and good mentality."
A member of Germany's next generation, Gunter made his international debut in a 0-0 draw against Poland, per Deutsche Welle: "Had a lively run into the box late on and overlapped nicely."
Average age of Germany's starting XI is 21.3 today against Poland. Crazy.

— Cristian Nyari (@Cnyari) May 13, 2014
12 - 12 players made their debut in the German national team today. Jogi Löw allowed 0.82 debuts/match in his 102 games before. Experiment.

— OptaFranz (@OptaFranz) May 13, 2014
Gunter, 21, is comparable to Moreno, 22:
Rising star with high upside and already an international.
Unpolished defending, but a

livewire

going forward.
Possesses the mentality of a wing-back which suits

Liverpool manager Brendan Rodgers' attacking philosophy.
Statistics via WhoScored