Ohio State Football: How Offense Will Change Without Carlos Hyde
August 13, 2014
During the 2012 and 2013 seasons, Carlos Hyde was the driving force in Ohio State's offense—piling up 2,689 total yards and 34 touchdowns. The bruising running back set a single-season school record by averaging 7.3 yards per carry last year, and he was leaned on heavily in close victories over Northwestern, Iowa and Michigan.
With Hyde now suiting up for the San Francisco 49ers, Urban Meyer and the Buckeyes are tasked with reshaping an offense that lost its most consistent producer.
How will Ohio State do that? What will the Buckeyes offense look like without Hyde in the backfield?
It Starts with Finding a Replacement
Thanks to Meyer's recruiting efforts, the Buckeyes are built to replace Hyde. A stable of running backs with five able candidates are vying for playing time in fall camp.
Ezekiel Elliott, the stud sophomore out of St. Louis, Missouri, is leading the charge.
The former 4-star prospect saw little action during his freshman season, but he made the most of his limited opportunities, rushing for 262 yards on just 30 carries (8.7 yards per rush) to complement three total touchdowns. He gained the trust of the coaching staff as the season wore on, which launched him into Ohio State's No. 1 running back spot this spring.
Elliott suffered a slight setback during the opening week of fall camp when he fractured his left wrist—an injury that required minor surgery. Miraculously, Elliott should be back at practice by week's end, although the coaching staff will limit his contact. A full return is expected by the Buckeyes' Week 1 matchup against Navy.
Behind Elliott are two running backs battling for the backup spot.
True freshman Curtis Samuel was leading that race when fall camp started, but Rod Smith, playing in his fifth and final season for the Buckeyes, has surged ahead after the first week of fall camp.
Bri'onte Dunn and Warren Ball, both of whom were 4-star recruits from Ohio State's 2012 recruiting class, give Meyer incredible depth in the backfield.
But none of Ohio State's current running backs have Hyde's blend of speed and power. With the additional loss of four senior starters along the offensive line, Meyer and the Buckeyes plan to shift their attack to the perimeter. 
That's where Ohio State's new offensive strength—speed—can dominate.
Finding the Edge
Coaches such as Meyer adjust their playbook toward the strengths of their best players. With Hyde and a veteran offensive line, Ohio State pounded the ball between the tackles. 
In 2014, the Buckeyes will spread things out to the perimeter, where loads of blazing receivers will have opportunities to make plays in space.
Meyer spoke about Ohio State's new identity during spring practice.
"It's going to be a different…we're going to have to lean on some perimeter ways of getting first downs and all that," Meyer said, according to Eric Seger of The Lantern. "Where, last year when you rushed for 300 yards a game, it's because [of] that offensive line. We have other weapons."
The Buckeyes' primary weapon, of course, is Braxton Miller.
Miller is entering his final season at Ohio State with a chance to shatter every school passing record.
His top priority, however, is getting healthy. After having shoulder surgery in February, Miller missed all of spring practice and has been limited this fall due to lingering soreness. The coaching staff is easing Miller back into full swing, which was the plan all along.
When he's back at full speed, he'll get to work with a diverse group of playmakers—headlined by Dontre Wilson.
The Buckeyes used Wilson mainly as a decoy in 2013, but the blazer out of DeSoto, Texas, is primed for a breakout sophomore season. Wilson is replacing Corey Brown in Ohio State's offense, who led the Buckeyes in receiving in each of the last two seasons.
Along with Wilson, Ohio State will stack the edges with receivers such as Devin Smith, Michael Thomas, Jalin Marshall, Corey Smith and Johnnie Dixon.
With all of those options, distribution will be key, according to co-offensive coordinator Ed Warinner, via Tim May of The Columbus Dispatch.
The way we gained yardage last year a lot of times was five guys and the tight end blocking, hand it off to the big boy (Hyde) and let him go. Now, we have more speed and more options on the perimeter, so distribution of the ball in different ways, hitting different areas of the field, can be a way to gain yards.
Getting the ball to the perimeter is one of Miller's greatest strengths as a passer. In two of of his best performances a season ago, the Buckeyes attacked Iowa and Penn State on the edges with great success.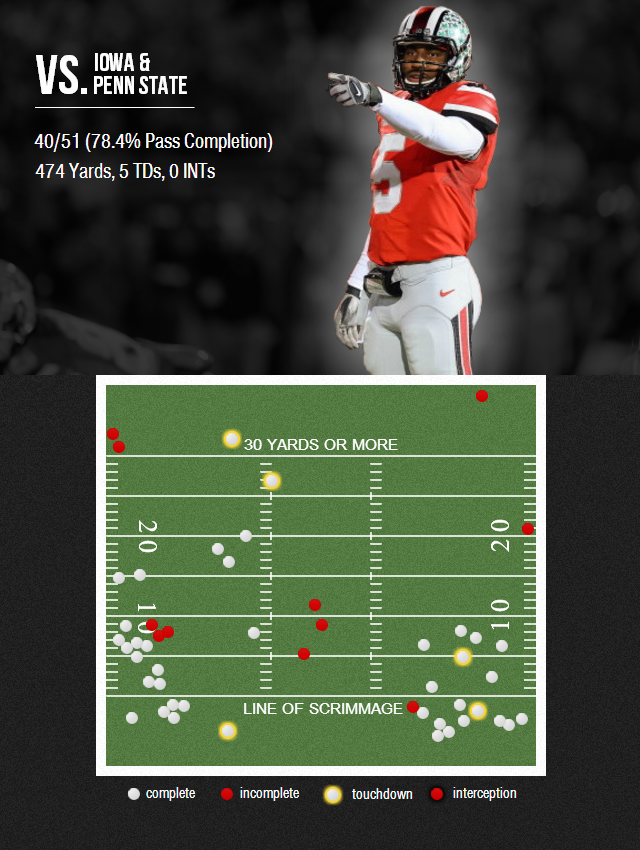 Credit: David Regimbal
Ohio State wants to implement this kind of attack in 2014.
"I've always been a perimeter (advocate) my whole career," Meyer said via May, "wanting to get great players the ball in their hands in space." 
All recruiting information via 247Sports. All stats via NCAA.com.
David Regimbal covers Ohio State football for Bleacher Report. 
Follow him on Twitter @davidreg412.