The Los Angeles Dodgers watched the MLB trade deadline come and go on Thursday afternoon, standing pat as David Price, Jon Lester and John Lackey all changed teams.
It wasn't a total surprise that no deal went down after general manager Ned Colletti announced the night before that his club would not part with the top prospects considered necessary to facilitate any major trade.
The only move that the Dodgers made was a minor one, acquiring infielder Darwin Barney from the Chicago Cubs on Monday in exchange for minor league pitcher Jonathan Martinez. Los Angeles promptly assigned Barney to its Triple-A affiliate.
Here are final grades for the Dodgers at the trade deadline.
Not Trading for Bullpen Help
Grade: C+
The Dodgers still have one of the best starting rotations in baseball with Clayton Kershaw, Zack Greinke and Hyun-Jin Ryu rounding out the top three. They did not necessarily need David Price, although he would have been an outstanding complement.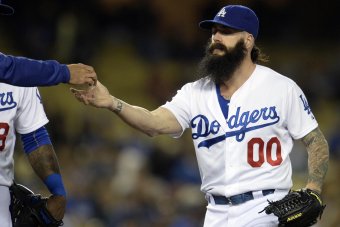 USA TODAY Sports
Instead, one of the more pressing needs was in the back end of the bullpen. Chris Perez and Brian Wilson both still have ERAs north of 5.00, and manager Don Mattingly has grown reluctant to use them in pressure situations. Most recently, he handed the ball to trusty southpaw J.P. Howell (1.21 ERA) with a three-run lead in the eighth inning on Tuesday night against the Atlanta Braves instead of preseason setup man Wilson.
The Dodgers were reportedly interested in San Diego Padres relief pitcher Joaquin Benoit, per Jon Heyman of CBSSports.com. The right-hander with a 1.88 ERA in 43 innings this season would have been an immediate upgrade and a less rickety bridge to closer Kenley Jansen.
Padres asking price from Dodgers for Joaquin Benoit was high as of Sunday.

— David Vassegh (@THEREAL_DV) July 31, 2014
Despite a late push from the Dodgers, per Joel Sherman of the New York Post, the deal did not get done, most likely because of San Diego's high asking price for Benoit. Now Los Angeles must continue to rely on Wilson and the equally shaky Perez as the primary right-handed options in the back end of the bullpen.
While the Dodgers have become accustomed to their top three starters going deep into games, Los Angeles can't afford to lean on them too heavily down the stretch. It's that time of the season when more pitchers report "dead arm," and the need for consistent relief is as important as ever.
The Dodgers could have used some but failed to address the issue.
Not Trading for a Starting Pitcher
Grade: B+
The Dodgers showed this week that not all of their plans involve throwing wads of cash at star players in order to woo them to Los Angeles.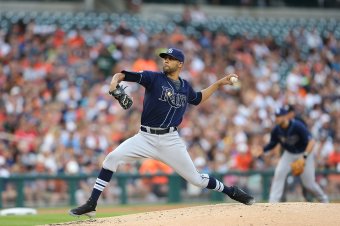 Leon Halip/Getty Images
Regarded as front-runners for David Price, the Dodgers refused to part with prized prospects Joc Pederson, Corey Seager and Julio Urias to acquire the 2012 Cy Young Award winner. Instead, Price went to Detroit, per Fox Sports' Ken Rosenthal, and it will be up to the Tigers to offer him the lucrative contract coming his way following the 2015 season.
With the trade deadline in the rearview mirror, the Dodgers can push forward knowing they still have one of the top three postseason rotations in baseball as well as a bright future with the prospects they kept.
The only downside to watching Price take his talents to the Motor City is that the Dodgers are still not assured a postseason berth. And in order to get there, they are going to have to rely on Josh Beckett and Dan Haren when their Big Three are not on the mound during the final two months of the regular season.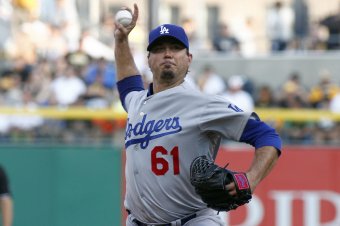 Justin K. Aller/Getty Images
It's no secret that Beckett and Haren have been recently showing signs of wear and tear.
Beckett, who was a contender for Comeback Player of the Year during the first three months of the season, needed 105 pitches to get through four-plus innings in his last start. As for Haren, the Dodgers decided to skip his latest turn in the rotation altogether after the veteran right-hander sputtered his way to an abysmal 9.47 ERA in four July starts.
Not Trading Away an Outfielder
Grade: C+
For the past few weeks, there was speculation around the league that the Dodgers were looking to move outfielder Matt Kemp.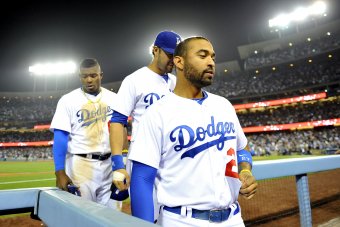 USA TODAY Sports
After all, Los Angeles had five outfielders for three spots, and Kemp—through his agent—had been the most disgruntled about the situation. He was no longer the Dodgers center fielder, banished to left field because of poor defense. Kemp's bat had cooled off as well.
Perhaps a team like the Boston Red Sox or Seattle Mariners would take a flier on the former MVP runner-up. That way, the Dodgers could begin clearing room for the eventual promotion of Joc Pederson—assuming the center field prospect was not dealt in exchange for David Price.
Then, last week, Mattingly decided to try something new: move Kemp to right field and allow the untouchable Yasiel Puig to roam free in center.
Since the switch, Kemp has taken off, looking much more comfortable in right field while batting .632 with three home runs and eight RBI in his last five games. The sudden burst of production led Colletti to dispel any trade rumors surrounding the outfielder on Wednesday night, per ESPN Los Angeles' Mark Saxon.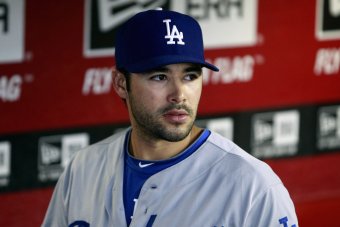 Ralph Freso/Getty Images
However, former All-Star and interim center fielder Andre Ethier has become a $15.5 million bench player in the process. Carl Crawford and Scott Van Slyke form the new left field platoon, one that Mattingly doesn't look like he's going to change considering the Dodgers are riding their first winning streak of more than three games.
Although Ethier is staying quiet for now, it would not be surprising to hear him kick up a fuss about going from everyday player to steady benchwarmer. His numbers (.247 average, four home runs, 37 RBI) definitely don't warrant consistent playing time, but then again neither did Kemp's before the All-Star break.
The Dodgers would have been better served to trade Ethier for a relief pitcher, agreeing to eat most—if not all—of what has become an egregious contract that will pay him $101 million over the next four seasons.
What's more, by keeping all five outfielders, the Dodgers ensured that they will not have room anytime soon for Pederson.
Overall Deadline Performance
Grade: B
Let's face it: The Dodgers were the best team in the National League before the trade deadline, and they are still the favorites to represent the Senior Circuit in the World Series this season.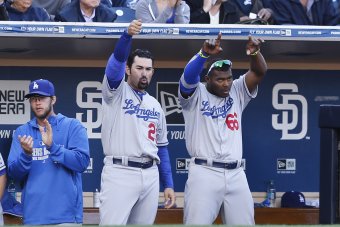 Lenny Ignelzi/Associated Press
In fact, they have underachieved this year. It took them four months to win more than three games in a row, yet they are still in first place in the NL West.
Colletti understands where his team currently sits and did not feel the need to make a deal. Of course, David Price would have been a flashy prize. But at what cost?
Teams really only need three starting pitchers in the postseason, and Los Angeles has Kershaw, Greinke and Ryu to fit that bill. Plus, the Dodgers kept all of their prized prospects, and Kemp may be returning to form at the perfect time.
The reason for the B grade, however, stems from the Dodgers' inability to address one of their real issues: the bullpen.
Pitching wins in the playoffs, and it's not just starting pitching. True contenders possess lockdown relievers who can navigate their way through those all-important seventh and eighth innings en route to the closer.
Regarding Brian Wilson, the Dodgers failed to realize that not many opponents "Fear the Beard" this season. The main fear for Los Angeles now is the thought of seven innings of Kershaw dominance frittered away by a bad inning out of the bullpen in October.
All stats courtesy of ESPN.com unless otherwise noted.