What We Learned from Dolphins QB Ryan Tannehill's 2013 Season
July 31, 2014

USA TODAY Sports
If the Miami Dolphins offense is going to go from a good offense to a great one, quarterback Ryan Tannehill will have to do the same. 
Tannehill was an afterthought in the 2012 rookie crop of quarterbacks, but he took a step forward in his second year and laid the groundwork for further improvement by establishing his strengths and weaknesses. Now, in order to take another step forward, he must improve on the areas where defenses will try to make him pay. 
Of course, his teammates can help him out significantly with better offensive line play and surer hands. His coaches can help him greatly with a more innovative style of play-calling on offense. What can Tannehill do, though? Where must he go from here?
To answer that question, we must first get a full understanding of where Tannehill has been. To do so, I've reviewed and charted each of Tannehill's dropbacks from the 2013 season to try to find trends in Tannehill's play. Here are the results, and my thoughts on what they mean for Tannehill's NFL future.
Route
Standard statistics only measure the result, providing a context-free, process-free lens through which our view of a quarterback is shaped. Removing the process from the equation, however, leaves out a very important factor that makes each offense—and subsequently, each quarterback—different.
On some routes, Tannehill was money. On others, he struggled. Here's a look at how Tannehill fared when throwing each kind of route last season.
Ryan Tannehill throws, by route (aimed passes only)
Route
Comp
Att
Comp %
Yds
YPA
TD
INT
Drop
Rate
Checkdown
16
18
88.9
123
6.83
0
0
1
95.1
Circle
6
6
100
40
6.67
0
0
0
94.4
Comeback
18
31
58.1
220
7.09
0
1
1
66.6
Corner
6
17
35.3
119
7
1
0
0
80.3
Cross
7
14
50
86
6.14
1
1
1
63.4
Curl-and-go
0
1
0
0
0
0
0
1
39.6
Drag
9
13
69.2
95
7.31
0
0
1
90.2
Fade
16
50
32
371
7.42
4
1
4
78
Flare
27
33
81.8
163
4.94
5
0
1
126.8
Freelance
5
7
71.4
48
6.86
2
0
0
129.8
Go
2
12
16.7
102
8.5
1
1
1
55.5
In
47
66
71.2
537
8.14
2
2
5
92.8
Out
49
75
65.3
389
5.19
1
0
3
82.6
Out-and-up
1
2
50
46
23
0
0
0
95.8
Pivot
9
13
69.2
68
5.23
0
1
1
49.5
Post
9
20
45
203
10.15
2
4
2
75.6
Screen (WR/TE)
21
22
95.5
82
3.73
2
0
0
112.5
Screen (RB)
13
14
92.9
80
5.71
0
0
1
90.5
Seam
8
22
36.4
189
8.59
1
2
1
45.5
Skinny post
1
3
33.3
21
7
0
0
1
59
Slant
34
43
79.1
370
8.6
1
0
2
110.3
Slant-and-go
0
1
0
0
0
0
0
0
39.6
Stick
22
25
88
207
8.28
0
0
0
101.2
Stop-and-go
0
1
0
0
0
0
0
0
39.6
Swing
3
4
75
18
4.5
0
0
0
83.3
Wheel
4
8
50
35
4.38
1
0
1
101.6
Source: Bleacher Report research
It would probably be in offensive coordinator Bill Lazor's best interest to keep the screen game as a prominent component of the offense—and with a more athletic offensive line, they could be even more effective on those plays.
It was surprising to see Tannehill's numbers on fades. He threw quite a few pretty ones last season but missed on several deep shots. Thirty of his 50 attempted fades traveled 20 yards or more through the air before reaching their intended target. Tannehill hit only seven of those attempts. He hit nine of the 20 attempted fades that traveled less than 20 yards through the air.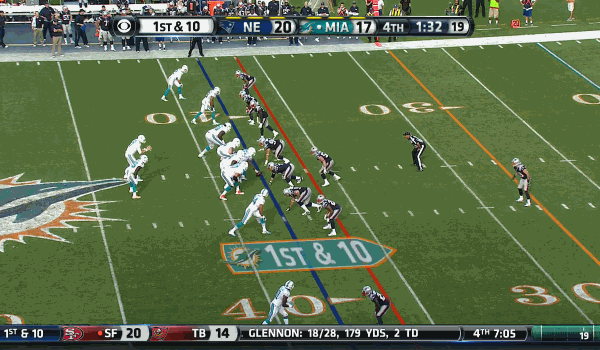 Source: NFL Game Rewind
In my opinion, one of Tannehill's best throws of the season was his fade route to wide receiver Rishard Matthews against the New England Patriots. Matthews made an incredible catch, but Tannehill could not have put this ball in a better spot—that is to say, in the one spot where only his receiver could make a play on the ball. 
Tannehill and Mike Wallace only connected on three of 23 attempted fades, with all but five of them traveling 20 yards or further downfield. There were two drops on those throws. 
Where they made up for it was on the hitch route. Defensive backs gave Wallace extra space at the line of scrimmage, to respect his speed. The off coverage allowed Wallace to get a free release and quickly turn to look for the ball as Tannehill made the throw. The defensive back could do nothing to stop the completion, only break on the ball as quickly as possible to make the tackle. They connected on 22 of 31 passes like these, with two drops.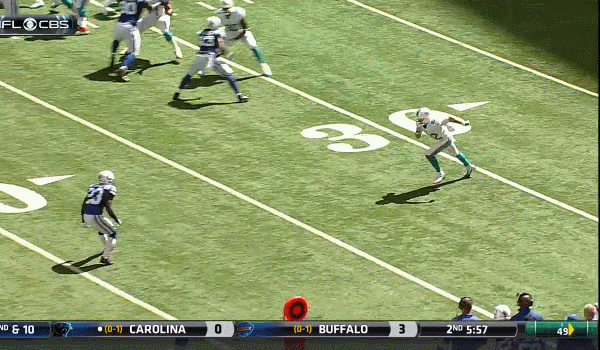 Source: NFL Game Rewind
When it comes to these routes, though, there were none more fun to watch than Tannehill throwing the comeback to Brian Hartline. Over their first two years together, the two have developed a symbiotic relationship. Tannehill knows that Hartline is going to be in the right place at the right time. He knows that Hartline has some of the best balance and sideline awareness of any receiver in the league, with an uncanny ability to walk the tightrope and tap both feet in bounds while making a difficult grab.
The two hit on 10 of 19 attempted comebacks this past season, but it could have been more. Tannehill was hit while throwing two of them, which caused them to falter. 
Tannehill's effectiveness on slants and in-routes is a positive sign for his developing rapport with his receivers. He his 12 of 14 attempted slants to Hartline and 11 of 17 attempted in-routes. With Wallace, Tannehill hit 11 of 13 attempted slants. He completed only four of eight attempted in-routes, but all four incompletions were dropped after hitting Wallace in the hands. 
His effectiveness on those routes also bodes well for second-round pick Jarvis Landry, who runs those routes very effectively. 
Pre-Snap Alignment
Some quarterbacks are only effective from the shotgun, due to their experience in a spread offense at college. On the contrary, Tannehill seemed to improve his efficiency when dropping back from under center. 
Here's a look at Tannehill's performance broken down by his pre-snap alignment.
Ryan Tannehill throws, by pre-snap alignment (aimed passes only)
QB alignment
Comp
Att
Comp %
Yds
YPA
TD
INT
Drop
Rate
Sk
Center
74
105
70.5
918
8.74
4
0
3
109.9
16
Shotgun
278
453
61.4
2942
6.49
20
17
29
79.4
41
Pistol
5
6
83.3
37
6.17
0
0
0
92.4
1
Source: Bleacher Report research
It should be noted that 57 of Tannehill's 132 dropbacks from center (43.2 percent) involved a play action, whereas only 44 of 524 total dropbacks from shotgun (8.4 percent) involved a play-action fake. Chalk that one up to the lack of mystery in Mike Sherman's offense.
Whether we will see more or less of Tannehill under center this year remains a question mark. Although Lazor will surely incorporate elements of Philadelphia Eagles head coach Chip Kelly's offense, the Dolphins' version is likely to look different in some ways.
According to early reports out of Dolphins camp, there will be more opportunities for Tannehill to run.
If true, that could mean an increased number of snaps from shotgun or the pistol (similar to shotgun, with the running back lined up behind the quarterback). Tannehill tucked the ball and ran beyond the line of scrimmage on 13 of his designed dropbacks, with his other 27 rushing attempts on designed runs.
Yards Downfield
One important thing to consider is how Tannehill threw short, intermediate and deep. 
Tannehill's accuracy and efficiency numbers dropped greatly when throwing outside of 10 yards downfield. Here's a look.
Ryan Tannehill throws, by yards traveled (aimed passes)
Yards downfield
Comp
Att
Comp %
Yds
YPA
TD
INT
Drop
Rate
Behind LOS
54
63
85.7
267
4.24
2
0
2
94.9
0-9 yds
203
278
73
1668
6
18
5
15
102
10-19 yds
85
157
54.1
1462
9.31
2
8
10
69
20-plus yds
13
60
21.7
500
8.33
2
4
5
45.1
Source: Bleacher Report research
Tannehill was deadly in the short area, with 18 touchdowns and only five interceptions on throws 0-9 yards downfield. Fifteen of those 18 touchdowns were thrown from inside the red zone, and only one of his 17 total interceptions from inside the opponent's 20-yard line. 
Perhaps it's the pessimist in me, but my attention was immediately drawn to the eight interceptions on throws from 10-19 yards downfield. He was hit while throwing two of them, but the other six were a result of bad reads (two into double coverage) and inaccurate throws.
Tannehill has a strong arm, but with Wallace on the field, the Dolphins should have been much more effective on long passes than they were. Specifically, Tannehill and Wallace only connected on six of 34 pass attempts that traveled 20 yards or more downfield. One went for a touchdown, two were dropped and three were intercepted.
What led to the missed connections? Sometimes, it was Tannehill overthrowing or underthrowing his receiver. Sometimes, it was Wallace being bumped off his route or double-covered.
That connection should improve with more innovation from Lazor's offense. Those vertical routes by Wallace were almost exclusively fade routes and go-routes, which combined for 27 of the 34 attempts to Wallace. More rapport should help, as well, with another year for the two to work together and forge a bond like the one Tannehill has already built with Hartline.
If that connection doesn't take a step forward in creating more big plays, the Dolphins may (rightly) begin to wonder whether they falsely invested their money in Wallace.
Protection
Of course, we couldn't possibly talk about Tannehill's 2013 season without mentioning the woeful offensive line play. Tannehill was sacked 58 times, more than any other quarterback in the NFL. 
How does the blame get distributed for those sacks? Let's take a look.
Sacks allowed
Player
Games
Sacks allowed
RT Tyson Clabo
16
12
LT Bryant McKinnie
10
11
LT/RT Jonathan Martin
7
6
RG John Jerry
16
6
RB Daniel Thomas
15
5
LG Nate Garner
6
4
LG Richie Incognito
8
4
RB Lamar Miller
16
4
QB Ryan Tannehill
16
4
TE Dion Sims
5
2
Source: Bleacher Report research
The main culprits were right tackle Tyson Clabo (12 sacks) and left tackle Bryant McKinnie (11 sacks). Tannehill was sacked as a result of one of his offensive tackles in 14 of 16 games and was sacked as a result of each of his offensive tackels in four games. If Branden Albert and Ja'Wuan James are competent, they will be a huge upgrade over McKinnie and Clabo.
There's a good deal of doubt in the new offensive line, constructed in one offseason with the goal of not destroying this team's playoff hopes as last year's group did. Even if they're able to do so, they must get some help from the running backs, who did not fare well in pass protection last season (five sacks allowed by Daniel Thomas, four sacks allowed by Lamar Miller).
Not only must they protect better, but Tannehill must get rid of the ball sooner. Too often, he held on waiting for someone to come open.
That being said, the average time to be sacked is indication that his line wasn't doing its job. On average, Tannehill had 3.13 seconds before being sacked, and he had three seconds or less on 32 of his 58 sacks. He—or any quarterback being protected by a competent offensive line—should be getting three seconds to get rid of the ball. Anything less than that should be seen as a failure in pass protection. 
Big Picture Takeaway
After cutting through all the numbers to inspect every result and thesis possible, there's one main takeaway left to express.
Sherman's offense was noteworthy for how predictable it was. One example is the aforementioned play-action percentages (43.2 percent from under center, 8.4 percent from shotgun). Another example: There were times where the Dolphins went with a silent snap count, but if Tannehill was vocal, he would shout, "Go!" before every pass, and "Go! Go!" before every run.
One more example: 112 of 139 targets to Wallace were on the right side of the field, while 92 of 129 targets to Brian Hartline were on the left side of the field. The fact that those two receivers were practically isolated on their side of the field made it way too easy for coaches to pick and choose where their defenders would line up and roll coverage a particular direction on any given play. 
The offense was overloaded with limitation and predictability, yet Tannehill improved dramatically from his performance in 2012 to 2013. 
Introducing Lazor to the mix will do one of two things: It will either overload Tannehill to the point where his head is swimming after playing in Sherman's offense since college, or it will allow Tannehill to expand his game in ways he only dreamed of over the past several seasons. 
Tannehill is a strong-armed, accurate quarterback and has the skill set to succeed in a variety of situations. As long as the Dolphins continue to play to his strengths while he continues expanding those strengths, the offense should continue to improve with its new look.