New York City FC unveiled former Chelsea midfielder Frank Lampard on Thursday as the newest addition to the Big Apple.
The England international signed a two-year designated player contract with NYCFC, per MLSSoccer.com. Lampard is the second big-name acquisition for the club after David Villa joined in June, per the team's official website.
1 - Frank Lampard made the most apps (429), scored the most goals (147) & provided the most assists (90) for Chelsea in the PL. Welcome.

— OptaJack (@OptaJack) July 24, 2014
Lampard is 36 years old, and the ageing player is no longer at the top of his game. However, this signing is still beneficial for everyone involved. For the England international, he remains a star as part of one of the fastest growing leagues in the world.
He is also set to make around $150,000 a week, per Sports Illustrated, which would make him the highest-paid player in MLS. Lampard will also reside in one of the most vibrant cities on the planet, which probably enticed him to move across the pond.
Frank Lampard: "I want to carry on challenging myself. I want to be that leader on and off the pitch."

— New York City FC (@NYCFC) July 24, 2014
Frank: "I'm coming to a great city and I want to show that I can play great football and be a great personality in the locker room."

— New York City FC (@NYCFC) July 24, 2014
Frank: "I've been watching games in the #MLS for a long time back home. It's a great opportunity and a great challenge for me."

— New York City FC (@NYCFC) July 24, 2014
Frank: "I will fight to make #NYCFC a club that New Yorkers will be proud of."

— New York City FC (@NYCFC) July 24, 2014
NYCFC benefits in many ways as well. The profile of the club is raised significantly with the addition of Lampard. Even with a two-year contract, this will still grab the attention of the casual fan and could hook them on both the team and MLS.
If Lampard leaves at the end of his contract, other players might be drawn to NYCFC if the team is successful and is well managed. The two years that the midfielder spends in New York could pay dividends for many seasons to come.
.@CReynaNYCFC: "Simply said he's one of the greatest players in world history."

— New York City FC (@NYCFC) July 24, 2014
.@CReynaNYCFC: "He's a professional. A leader. He ticked all the boxes in terms of the qualities to help grow our team."

— New York City FC (@NYCFC) July 24, 2014
MLS is also a beneficiary. The new TV deal with FOX, ESPN and Univision through 2022 will produce wider exposure and better ratings for the league. Lampard is a well-known name and the average fan could be inclined to watch more MLS because of his reputation.
Matchday revenue would also increase in any city that Lampard visits. Fans used to clamber for seats in order to watch David Beckham when he was playing for the Los Angeles Galaxy, and that is sure to happen again with Lampard.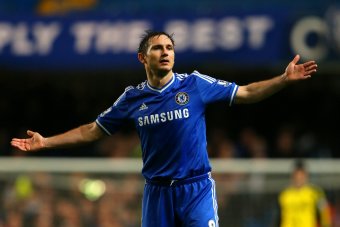 Ian Walton/Getty Images
The quality of play on the pitch has improved since Beckham arrived. It's been pointed out that the "Beckham Experiment" failed, but a lot has changed in seven years. This might be another step towards building a stronger MLS.
Players from Europe talk positively about their careers in MLS, and this is why they're interested in playing in the U.S. and Canada. Word of mouth is powerful and it's been a major catalyst for the league. The salaries are good and the standard of living high. The level of soccer is also challenging.
The only factor that can stop this move from succeeding is Lampard getting an injury. Even if he starts to dip in form, his critics will keep watching him to see if his slump continues. The neutrals will still pay attention because of the name of the player.
It doesn't matter if Lampard is 36, if he's slowed down or will only be around for a couple of seasons. This is a terrific addition for NYCFC and MLS, which should pay off down the road.
As for the player, he remains in the spotlight, lives in a spirited city and continues his career. This day could be notable as another leap ahead for soccer in North America.