Emmanuel Mudiay is taking an original route to the NBA, but his path could become more common if his plan works.
The Texas high school point guard was the No. 2 overall prospect in the 2014 class, according to 247 Sports. He was set to play for Larry Brown at SMU, but he has instead decided to forego college and sign with Guangdong in China, according to Adrian Wojnarowski of Yahoo Sports:
Emmanuel Mudiay's one-year deal with Guangdong of the China Basketball Association will pay him $1.2M, source tells Yahoo Sports.

— Adrian Wojnarowski (@WojYahooNBA) July 22, 2014
Gary Parrish of CBS Sports reported that this decision was due to eligibility concerns, but the player denied this in a statement to Luke Winn of Sports Illustrated:
I was excited about going to SMU and playing college basketball for coach Brown and his staff and preparing for the NBA. But I was tired of seeing my mom struggle. And after sitting down with coach [Larry] Brown and my family, we decided that the best way for me to provide for my mom was to forgo college and pursue professional basketball opportunities. I am grateful for Prime Prep coach [Ray] Forsett for developing me into the player and man that I am, and I am also grateful for coach Brown's guidance and his support. This has nothing to do with my eligibility in any way.
Whether there is any truth to the eligibility issues, the financial trouble that Mudiay is going through is something that many top players out of high school can relate with these days. Until the NCAA starts paying athletes, going to Europe or Asia to play basketball professionally seems like a reasonable alternative.
Broadcaster Dan Dakich joked about the player having a choice:
So Emmanuel Mudiay wasn't "forced to go to college " to pursue a pro career..wow.. I was led to believe HS kids had no options! .. Silly

— Dan Dakich (@dandakich) July 22, 2014
The question is whether this becomes a decision that others will make in the future. For this reason, there will be a lot of eyes on Mudiay over the next year and beyond.
On the plus side, the guard is already getting a great deal of guaranteed money regardless of how he performs. Wojnarowski also reports that he has taken out an insurance policy to protect him in case of an injury:
For China season, Mudiay has taken out significant insurance policies to protect future earnings against injury, source tells Yahoo.

— Adrian Wojnarowski (@WojYahooNBA) July 22, 2014
While the exposure will not be great compared to those playing for major college programs, ESPN's Fran Fraschilla points out that scouts will still travel to see an athlete of this ability:
There are scouts on every NBA team dreading that trip to China to see Mudiay this season. But, they will be there! Lol

— Fran Fraschilla (@franfraschilla) July 22, 2014
If Mudiay can have a successful season in China, become an early pick in the 2015 NBA draft and turn that into a quality NBA career, there will certainly be plenty of future high school stars attempting to follow this route.
Unfortunately, that first part will not be easy. ESPN's Jeff Goodman breaks down some of the problems young players deal with overseas:
Overseas basketball is no joke. Most teams/coaches do not have patience. Mudiay will need to produce quickly or it could be a rough year.

— Jeff Goodman (@GoodmanESPN) July 22, 2014
Doug Gottlieb of CBS Sports argues that he would at least have been better off in Europe:
Big mistake by Mudiay signing in China—took most money,needs high level competition/coaching - ess money/role in Europe would help his game

— Doug Gottlieb (@GottliebShow) July 22, 2014
Of course, the last high-profile player to choose European basketball over college, Brandon Jennings, struggled as well. According to 247 Sports, he was the No. 1 prospect in the 2008 class before signing on to play for Lottomatica Roma in Italy.
In his one season, Jennings struggled to get playing time and managed to average just 7.6 points and 1.6 assists per game while shooting 26.8 percent from beyond the arc, according to Euroleague.net. The point guard fell to the 10th pick in the 2009 draft before turning things around with a solid start to his NBA career.
During his time abroad, Jennings explained, "I've gotten paid on time once this year. They treat me like I'm a little kid. They don't see me as a man. If you get on a good team, you might not play a lot. Some nights you'll play a lot; some nights you won't play at all. That's just how it is," via Ray Glier of The New York Times.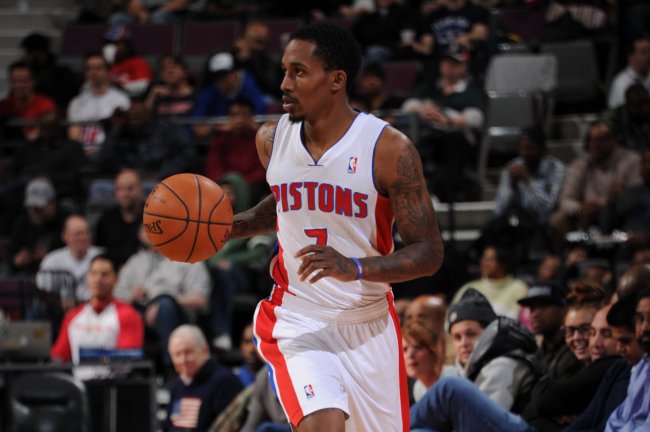 Allen Einstein/Getty Images
The fact that Jennings has averaged at least 15 points per game in each of his five years in the NBA proves that missing college did not ruin his career. However, it is clear he did not enjoy his time there.

Which is the best path to the NBA for a high school star?
This is what makes Mudiay such an important case. Jennings has been a bit of a mixed bag, but the latest example arguably has even more talent coming out of high school. He has a developed game with the size (6'5") to get into the lane and finish at or above the rim. No matter what he does in China, he can help an NBA team in a hurry.
If Mudiay can maintain his draft status while making seven figures in the process, future stars could end up doing the same. It certainly would seem more appealing for a young player who wants to get paid and does not want to go to class (hint: all of them).
Even those that do not have eligibility issues can see this as a better option.
That being said, a poor season that sees Mudiay possibly fall out of the lottery could make sure that no one follows this trend for a long time.
Either way, this is something that a lot of people will keep an eye on for the next few months.
Follow Rob Goldberg on Twitter for the latest breaking news and analysis.