Updates from Thursday, July 24
Mike Priefer spoke about his three-game suspension Thursday (via Matt Vensel of the Minneapolis Star-Tribune):
In this regard, in this situation, with my comment, I failed. I didn't just go below the bar. I went way below the bar. I made a mistake. I was wrong. I brought a lot of undue attention to the Minnesota Vikings organization and brought an unwanted distraction, and I apologize. The apology that I spoke about, that I put out on Friday, I want to reiterate that in a very humble and sincere manner. ...

... The biggest thing I regret is I brought a lot of bad publicity to the Minnesota Vikings and I felt like I let my family down.
Original Text
Mike Priefer, special teams coordinator for the Minnesota Vikings, will reportedly face a three-game suspension, which could be reduced to two games, per Master Tesfatsion of the Star Tribune in Minneapolis:
Mike Priefer will be suspended 3 gms,per source.Will apologize & receive sensitivity training.Can be reduced to 2 gms at #Vikings discretion

— Master Tesfatsion (@MasterStrib) July 18, 2014
The suspension comes following an independent investigation into Priefer after an article former Vikings punter Chris Kluwe wrote for Deadspin in January of this year. Kluwe alleged that the coach made homophobic remarks. The team then began an independent investigation to determine the veracity of his claims.
The Vikings confirmed the length of Priefer's suspension after posting the results of the investigation to their website.
Priefer issued a statement that read:
I owe an apology to many people—the Wilf family, the Minnesota Vikings organization and fans, my family, the LGBT community, Chris Kluwe and anyone else that I offended with my insensitive remark. I regret what has occurred and what I said. I am extremely sorry but I will learn from this situation and will work on educating others to create more tolerance and respect.
To summarize the investigation, investigators found that Priefer did make a homophobic comment to Kluwe but couldn't confirm him saying anything else homophobic—thus leading to the suspension.
Kluwe reacted to the statement with a lengthy string of tweets. Here are some of the more notable ones:
A page and a half. The NSA is wildly applauding the Vikings' definition of "open and transparent" right now.

— Chris Kluwe (@ChrisWarcraft) July 19, 2014
Sure I gave my strength coach a hard time. Once. I made a joke about the Sandusky case, because he was a big Penn State guy.

— Chris Kluwe (@ChrisWarcraft) July 19, 2014
Bet you didn't hear about that one in the news. We can do this all day, Vikings. Special teams hears *everything*.

— Chris Kluwe (@ChrisWarcraft) July 19, 2014
But we'll save all that for the trial. It'll be more fun that way.

— Chris Kluwe (@ChrisWarcraft) July 19, 2014
Also interesting how so many are willing to follow the Vikings' false lead with the leak about me, and not the admission of Priefer's guilt.

— Chris Kluwe (@ChrisWarcraft) July 19, 2014
Along with suspending Priefer, Minnesota will make donations to LGBT causes:
#Vikings will also donate to LGBT causes.Wilfs have done so prior to Kluwe's allegations.Their support mentioned in Deadspin letter

— Master Tesfatsion (@MasterStrib) July 18, 2014
Many fans wondered if Priefer would face punishment once he was retained on the Vikings staff after the hiring of Mike Zimmer.
"It's been one of those things, I come to work every morning, I'm excited about the direction of this football team," Priefer said in June, per Fox Sports North's Brian Hall. "I really like our coaching staff. I'm excited about our new players. I'm excited about the guys we retained, that came back. So, my focus has been totally on football."
The Vikings had so far refused to release the results of the investigation, which Kluwe's laywer, Clayton Halunen, said could lead to a potential lawsuit, per ESPN.com's Ben Goessling.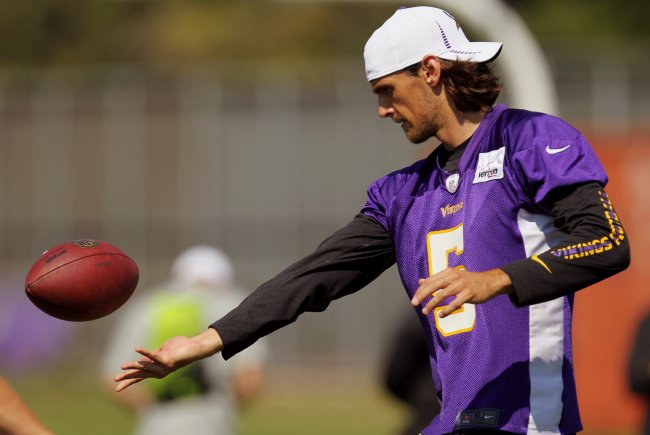 Genevieve Ross/Associated Press
The investigators also found that Kluwe's allegation that he was released by the Vikings in May of 2013 because of his same-sex marriage advocacy couldn't be supported. Instead, they believe that Minnesota cut the punter because of his declining performance and the financial savings of drafting and starting a rookie punter instead of the eight-year veteran.
Although Minnesota has handed down the suspension, Tesfatsion reported that Kluwe and Halunen will continue with legal action:
Just got off the phone with with Kluwe's attorney, Clayton Halunen. They still plan to sue despite Priefer suspension #Vikings

— Master Tesfatsion (@MasterStrib) July 19, 2014
They believe Kluwe can receive $10 million in damages, per Tom Pelissero of USA Today:
Kluwe will sue #Vikings next week. His attorney says they believe they can get $10 million in damages.

— Tom Pelissero (@TomPelissero) July 19, 2014
According to Matt Vensel of the Star Tribune, Kluwe and his lawyer had been arguing that Priefer should serve a suspension of at least four games:
Halunen also said he and Kluwe wanted Mike Priefer to be suspended for at least four games. Sounds like it will be for a little less.

— Matt Vensel (@mattvensel) July 18, 2014
Bleacher Report's Mike Freeman felt that the Vikings' suspension of Priefer at the very least provided Kluwe with vindication:
So, based on reports from Vikings writers, Chris Kluwe has been completely vindicated.

— mike freeman (@mikefreemanNFL) July 19, 2014
Priefer's suspension does close one door from this saga. But if Kluwe does pursue a lawsuit against the Vikings, then this situation will drag on for weeks, months and possibly years.