There are only two games left at the 2014 FIFA World Cup. The third-place clash between Netherlands and Brazil is a chance for the host nation to recover some pride following the 7-1 drubbing at the hands of Germany in the semi-final.
But that game will ultimately be upstaged by the final between Argentina and the Germans. The former will relish the chance to capture the Jules Rimet Trophy on Brazilian soil.
Here are the latest match odds, courtesy of OddsShark.com. The odds are followed by analysis, beginning with the final.
Germany vs. Argentina
Match Odds For 2014 FIFA World Cup Final

| | | | | | |
| --- | --- | --- | --- | --- | --- |
| Match | Date | Time | Germany Win | Argentina Win | Draw |
| Germany vs. Argentina | Sunday, July 13 | 8 p.m. BST / 3 p.m. ET | 11-10 / +110 | 5-2 / +250 | 23-10 / +230 |
OddsShark.com
The latest match odds for the final favour Germany. That's understandable, considering the nation's stunning exploits at the semi-final stage.
Germany were a model of scoring efficiency and nuanced technical guile when they dismantled Brazil. They rightly earned plaudits for the speed and style of their play.
As it has been for most of this competition, midfield strength was the key to the Germans' dominance:
The truth is Brazil aren't great. But Germany are fantastic. Their midfield has so much talent. Kroos and Khedira were a class apart tonight

— John Cross (@johncrossmirror) July 9, 2014
No team at this World Cup can match Germany's reserves of midfield talent. You'd be brave to bet Argentina will be the first to control Sami Khedira, Toni Kroos and company.
Having begun the tournament with a 4-0 thumping of Portugal in Group G, Germany's seven-goal semi-final salvo cemented their position as the tournament's best attacking force.
In all honesty though, that distinction should belong to Argentina. They entered the competition armed with a quartet of enviable forward talent.
Lionel Messi has inevitably been the headlining act. The pocket-edition maestro has turned on the magic to baffle defences en route to the final.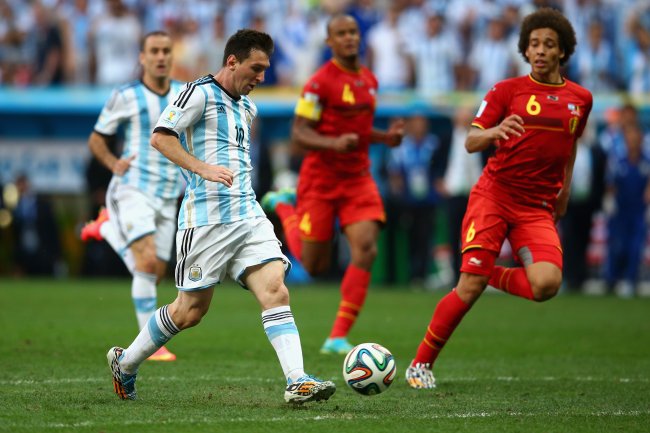 Julian Finney/Getty Images
Unfortunately, Messi hasn't exactly received able support from Gonzalo Higuain, Angel Di Maria and Sergio Aguero. The latter pair have had their tournament disrupted by injury, while Higuain has been inconsistent.
But Messi will certainly need the help of his prestigious teammates if he is going to be decisive in Sunday's final at Brazil's iconic Maracana Stadium.
Brazil vs. Netherlands
Match Odds For Brazil vs. Netherlands

| | | | | | |
| --- | --- | --- | --- | --- | --- |
| Match | Date | Time | Brazil Win | Netherlands Win | Draw |
| Brazil vs. Netherlands | Saturday, June 12 | 9 p.m. BST / 4 p.m. ET | 5-4 / +125 | 2-1 / +200 | 14-5 / +280 |
OddsShark.com
In what can only be an ode to home advantage, the odds currently slightly favour Brazil to win the third-place play-off. But despite what the numbers say, it's a brave bet picking the humiliated five-time winners.
The semi-final revealed what this version of Brazil is. It is a workmanlike squad lacking any of the trademark swagger and flair many rightly associate with Brazilian football.
The hosts were comprehensively beaten at their own game by the Germans:
That's spoiled the party. This is incredible. Germany are teaching Brazil how to play Samba soccer. 4-0.

— John Cross (@johncrossmirror) July 8, 2014
After such an annihilation, it's incredible to think Brazil are being fancied to even win a sack race. Unless, of course, we're talking about the inevitable fate of cautious manager Luiz Felipe Scolari.
The man who managed Brazil to a World Cup victory in 2002 will almost certainly pay the price for the diabolical semi-final capitulation:
Reports coming out saying Scolari will be fired. In other news summer is warmer than winter

— Jan Aage Fjortoft (@JanAageFjortoft) July 9, 2014
However, perhaps it isn't just Brazil's wounded pride that is tempting the oddsmakers. After all, the Netherlands were pretty dire in their own semi-final.
Louis van Gaal's team stumbled and bumbled through a tame 0-0 stalemate against Argentina before losing on penalties. However, given the way the Brazil defence parted so generously for German attacks, Dutch forward Arjen Robben could run riot in Saturday's play-off.
He has been the leading light for Van Gaal's team at this tournament. The FC Bayern Munich ace even came close to ending the semi-final misery. He'll certainly fancy his chances of tormenting Brazil.
The tournament's final two games could well be tight affairs. Neither Brazil or the Dutch will risk too much or overly exert themselves. Only a flurry of national pride from the hosts will spur this game to life.
The final will be cagey for different reasons. Veterans of the big stage, the Germans know how to bide their time. Meanwhile, a steady pace appears to be the only speed this Argentina team knows.