You thought the Seattle Seahawks' dismantling of the Denver Broncos during the Super Bowl was a blowout. You thought the San Antonio Spurs crushed the Miami Heat in the NBA Finals.
So what did you think of Germany's performance in the World Cup semi-final against Brazil Tuesday?
Germany eviscerated the hosts to the tune of 7-1, but it was the stretch from 23 minutes to 29 minutes that was absolutely astounding.
Germany poured in four goals in six minutes and absolutely sucked the energy out of the entire stadium. In fact, they sucked the energy out of the entire country of Brazil.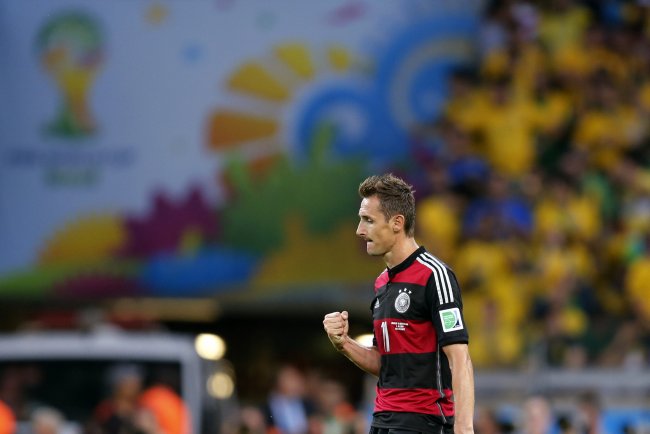 Frank Augstein/Associated Press
We are now down to three remaining teams, and an updated World Cup bracket can be found below and at ESPN FC.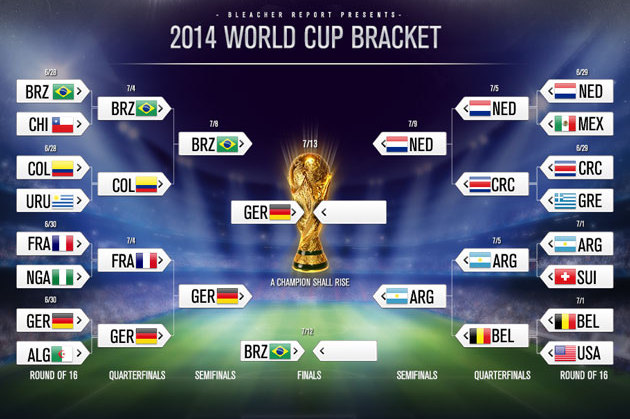 Bleacher Report
The goal that started that incredible stretch out for Germany came off the foot of Miroslav Klose, which gave him the all-time World Cup record for goals scored. FIFA World Cup's official Twitter page congratulated the German superstar:
GOAL: #BRA 0-2 #GER Miroslav Klose scores his record #worldcup goal #BRAGER – http://t.co/MHoqZFxAb1 pic.twitter.com/LzHCdzmcbT

— FIFAWorldCup (@FIFAWorldCup) July 8, 2014
Klose commented on his mindset for this World Cup before the game, via ESPN FC:
One strike is not enough for me. I need to add more. I've got brutal mind, always prepare for everything. I don't take any offence [when not starting], I know that I can always help the team, in whatever way. I am ready, you already saw that against Ghana.
Clearly, Brazil missed the injured Neymar and the suspended Thiago Silva, but pinning the result of this match on those absences would be completely unfair to the German side.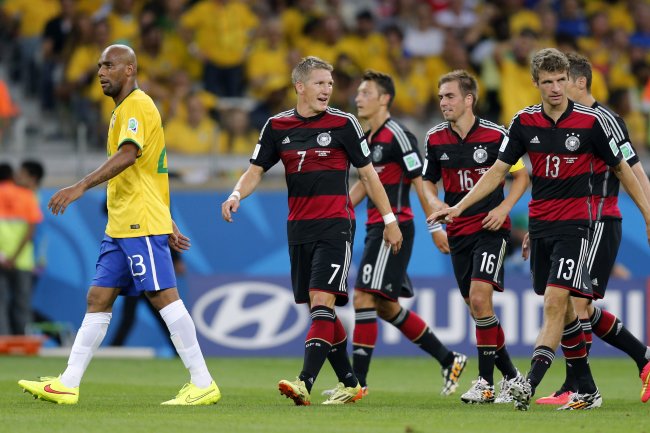 Frank Augstein/Associated Press
Germany were absolutely ruthless in the first half and never backed off the attack. They controlled the ball, took advantage of just about every single goal-scoring opportunity and showed why they are one of the most dominant teams in the world.
Not even the brilliant Neymar could have done much to stop them on Tuesday.
Given the 5-0 lead at half-time, Germany sat back for much of the second half and received some excellent goalkeeping from Manuel Neuer. Just for good measure, they added another two goals in the second half even when they were sitting back defensively, while Oscar scored the lone goal for Brazil when the game was well in hand at 90 minutes.
Dario Lopez-Mills/Associated Press
Any time a blowout on such a significant stage occurs in any sport, it's always interesting to put it in historical perspective. Paul Carr of ESPN and ESPN Stats & Info did just that during the first-half spurt from the German side:
29 minutes is the earliest in a #WorldCup game that any team has ever scored five goals.

— Paul Carr (@PCarrESPN) July 8, 2014
As of 5-0, #GER is now the all-time top scoring in #WorldCup history with 221 goals. It trailed #BRA by 4 entering the match. #BRAvsGER

— ESPN Stats & Info (@ESPNStatsInfo) July 8, 2014
The flip side of the German elation, of course, was the shock and disappointment from the Brazilian fans. To lose a match like this is one thing, but to do it in front of your own supporters on this stage makes the result sting all the more.
Bleacher Report noted that there were plenty of tears flowing, while Sam Borden of The New York Times pointed out that some Brazilian fans were doing their best Miami Heat fans impersonation:
VIDEO: After conceding 5 goals in the first 30' vs. Germany, every Brazilian fan is crying http://t.co/6Pq42TzVPS pic.twitter.com/WT9twqwJRM

— Bleacher Report (@BleacherReport) July 8, 2014
I never thought I'd say this: Brazilian fans are leaving, before halftime, of a World Cup semifinal in their home country. It's stunning.

— Sam Borden (@SamBorden) July 8, 2014
Perhaps the only way to deal with a blowout like this is with a sense of humor, as Jordan Brenner of ESPN and Bleacher Report UK tried to do:
This never would have happened if Brazil had put Landon Donovan on the roster.

— Jordan Brenner (@JordanBrenner) July 8, 2014
#bra vs. #ger in flag form. [image @MirrorJohnny] pic.twitter.com/bHN9DNpmq8

— Bleacher Report UK (@br_uk) July 8, 2014
The goals for the German side came from Thomas Mueller (11 minutes), Klose (23 minutes), Toni Kroos (24 and 26 minutes), Sami Khedira (29 minutes) and Andre Schurrle (69 and 79 minutes).
While they got their names in the box score, it was an absolute team effort from the opening minute. The midfielders and offense were unstoppable in the first half, and Neuer and the rest of the defense held their ground after intermission.
Even USA coach and former German national team player Jurgen Klinsmann weighed in:
GERMANY WRITING WORLD CUP HISTORY TODAY !!! HUGE HUGE COMPLIMENT !!! SO PROUD OF THEM !!

— Jürgen Klinsmann (@J_Klinsmann) July 8, 2014
Next up for the dominant Germans is a date in the World Cup final against the winner of Wednesday's showdown between Netherlands and Argentina.
It's often easy to get caught up in the moment after a performance like we saw from Germany Tuesday and assume they are going to win the entire thing, but they have been completely ruthless and efficient throughout the entire World Cup.
In early matches, such as those against the United States, France and Algeria, the defense came to play and shut down the opposing attack.
Then there was the match with Portugal when the offense came out and poured in four goals (to go along with the shutout of Portugal's attack).
The final will not be nearly as easy as Tuesday's game with Brazil was, but the Germans have to be considered the favorites at this point.
It would take some serious magic from Lionel Messi or Arjen Robben to exploit Germany's stout defense, which means we could be in store for a defensive battle.
After all, it's nearly impossible to imagine Argentina or Netherlands coming out as disorganized on the defensive end as Brazil did Tuesday.
Follow me on Twitter: