In the end, when the frenzy of free agency subsides and the biggest stars once believed to be "on the market" return, inevitably, to their former teams, we'll wonder why we ever believed Carmelo Anthony when he said he was out for more than money.
Carmelo: "At this point in my career I'm not concerned about the money." Knicks can offer more than any other team: five years, $129 million

— Frank Isola (@FisolaNYDN) April 17, 2014
As a starting point, we should never begrudge athletes for maximizing their earning power. Their careers are short, injuries can make them even shorter and we'd never be so critical of employees in another profession for trying to collect as much cash as possible.
What we can do, though, is continue to roll our eyes when athletes say they want to win, that money doesn't matter, and then conduct themselves in a way that says money does, in fact, matter very much.
For Anthony, a whirlwind tour of teams offering a better shot at contention than his New York Knicks is nearing its end. He was transported by limo, wined and dined, pitched on the formation of new Big Threes and offered everything a competitive NBA player could want.
He was even provided visual aids, just in case he couldn't quite picture how he'd look in different duds.
Well look what just popped up at the United Center... #Melo #Bulls pic.twitter.com/GlhNwYuA67

— Steve Lippo (@SteveLippo) July 1, 2014
Rockets show Carmelo Anthony what he'd look like holding the Larry O'Brien trophy. pic.twitter.com/xs2WpkxBOf

— RealGM (@RealGM) July 2, 2014
But in visiting the Houston Rockets, Dallas Mavericks, Los Angeles Lakers and Chicago Bulls, he was never once offered a five-year deal worth $129 million, which is why it's starting to look like he'll return to the one team that can give him such a gargantuan financial commitment:
Pessimism among some of Melo's suitors, I'm told, is undoubtedly rising about having any hope of getting Melo away from Knicks

— Marc Stein (@ESPNSteinLine) July 3, 2014
Now, Anthony could prove us all wrong if he suddenly decides to take $17 million per year from the Bulls. But even then, we'd still know it was never only about winning for Melo.
The Bulls would give him a much better shot at reaching the NBA Finals than any other team currently on his radar, but taking up every cent of available cap space to sign with them doesn't square with team success being Melo's sole priority.
If it were, he'd already be locked into a verbal agreement with the Miami Heat or San Antonio Spurs for a dirt-cheap rate. And really, the fact that neither of those scenarios ever felt remotely possible suggests that, deep down, we all knew Anthony wasn't serious when he said money didn't matter.
The rest of the NBA seems to be catching on as well, per K.C. Johnson of the Chicago Tribune: "Plenty of speculation exists throughout the league that Anthony, despite publicly saying he would take a pay cut to play for a winner, still desires a maximum or near-maximum offer."
Despite that intuition, Phil Jackson did some of his best subtextual needling in recent weeks, repeatedly bringing up Melo's commitment to take a pay cut in order to build a winner in New York.
Per Ohm Youngmisuk of ESPNNewYork.com, Jackson said:
When I take his word, he's the one who opened that up, that it wasn't about the money. So I challenged him on that, because I wanted our fans to see he's a team player, that he was going to do what's best to get our team ahead farther and faster.
That's a play on Melo's pride, one Jackson hopes will make Anthony feel like he's going back on his word if he insists on the max from the Knicks.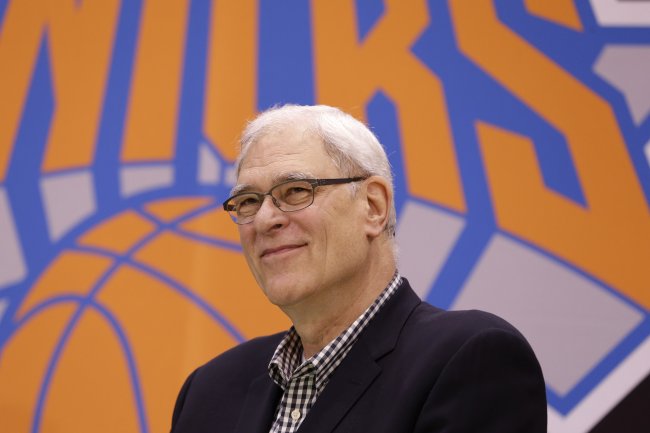 Seth Wenig/Associated Press
Of course, even Jackson realizes how unlikely keeping Anthony for less than $129 million is. In virtually the same breath, he also mentioned the NBA's changing financial landscape—one that could soon make $129 million look like chump change.
Per Youngmisuk, Jackson continued:
But you know, that's not going to be an issue. I think there's gonna be things happening in the league in the near future in the NBA that's gonna grow this league, and monetarily it's not going to be an issue for us to do it.
He's referring to the impending renegotiation of the NBA's national broadcast rights, which will happen after the 2016-17 season. With player salaries tied to league revenue, they could spike dramatically after a new TV deal is signed.
Maybe we've got Melo all wrong. Maybe he'll end up believing Jackson has the power and vision to reshape the Knicks and take less money to return to New York. If that happens, we'll owe Anthony an apology.
But the signs aren't pointing that way.
They're pointing the way they've been pointing all along. Anthony, despite his very clear comments to the contrary, wants to be paid.
And the Knicks are in the best position to pay him.
That's fine. We can't fairly call Anthony greedy for cashing in—if that's what he ultimately does. It's possible Jackson will also lure Pau Gasol as a complementary piece, and who knows what other useful free agents might be drawn to New York if Melo returns?
If Knicks retain Melo, as so many expect, they've actually got two very peruasive Pau Gasol recruiters: @PhilJackson11 and @josemcalderon8

— Marc Stein (@ESPNSteinLine) July 3, 2014
If that's how things play out, maybe Anthony will get his money and a shot at contention in the weak East all at once.
The Knicks still have the appeal of their big market, and Jackson's presence can only help their attractiveness. And, perhaps most importantly, they've shown a willingness to spend wildly—a willingness that re-signing Anthony would only reinforce.
And if we've learned one thing from all of this, it's that players—good ones, especially—tend to end up on teams that are willing to pay them as much money as possible.