Thursday evening's crucial Group G fixture between Germany and the USA could be severely affected by the wet conditions in Recife.
Updates from Thursday, June 26
SportsCenter reports that officials will test the Arena Pernambuco turf at 4 p.m. British Summer Time (11 a.m. Eastern Time), an hour before Germany and the United States are scheduled to kick off:
Referees will kick a ball around on pitch in Recife at 11 a.m. ET, an hour before kick, to judge if field is playable. (via @JeremySchaap)

— SportsCenter (@SportsCenter) June 26, 2014
For The Win's Mike Foss is adamant the game will go ahead as planned, and it will only be cancelled if the pitch is "unplayable." ESPN's Jeff Carlisle stated that FIFA officials confirm the match is currently ready to be played:
The game will absolutely be played as scheduled, even in a half empty stadium. Unless pitch is unplayable, we're getting a 12 ET kickoff.

— Mike Foss (@themikefoss) June 26, 2014
FIFA official tells me that as things stand now, game is set to be played as scheduled. #usmnt

— Jeff Carlisle (@JeffreyCarlisle) June 26, 2014
However, L.A. Galaxy reporter Adam Serrano tweeted the following image, which shows a clearly sodden pitch:
Via @ZDFsport: photos of the rain soaked field in Recife ahead of #USAvGER. Looks damp. #USA #GER pic.twitter.com/M6WFB0Rm4k

— Adam Serrano (@LAGalaxyInsider) June 26, 2014
Jeremy Schaap reports that Team USA will have to perform without the support of their closest loved ones:
Agent @RichardMotzkin tells ESPN US team family and friends have decided not to attempt trip to stadium. Too treacherous.

— Jeremy Schaap (@JeremySchaap) June 26, 2014
Original Text
Germany and USA are tied on four points apiece as things stand, with Die Mannschaft currently leading the race for top spot, but Grant Wahl of Sports Illustrated and ESPN's Taylor Twellman divulge just how extreme the weather has become:
Epic rainstorm & traffic jam in Recife. Just went shin-deep in water. Stadium far out of town. Just hoping our bus makes it to game.

— Grant Wahl (@GrantWahl) June 26, 2014
Not kidding Recife is under water. Will be extremely difficult for everyone to get to stadium hour outside the city. #USAvsGER

— Taylor Twellman (@TaylorTwellman) June 26, 2014
Major flooding on our route through Recife to USA-Germany pic.twitter.com/m42I6b2D59

— Grant Wahl (@GrantWahl) June 26, 2014
The BBC's Ben Smith describes Recife's current state as "torrential," and while temperatures may not necessarily be an issue for the game, a lot depends on how the venue is affected between now and kick-off:
Torrential rain in Recife. Streets like rivers. #USAvsGER kicks off in three and a half hours. pic.twitter.com/FedrQnDcW2

— Ben Smith (@BenSmithBBC) June 26, 2014
With only a few hours until kickoff, fans are indeed becoming desperate in their ploy to get to the match, too, as Smith shows:
Dozens of US fans abandoning vehicles and walking through torrential rain to stadium in Recife. 17 miles from here. pic.twitter.com/9rJdlMYrKg

— Ben Smith (@BenSmithBBC) June 26, 2014
Stan Collymore, meanwhile, states that there is "two feet of water" to wade through, adding his verdict that, were the game being played in the United Kingdom, interest of fan safety would see the match abandoned:
2 feet of water on the streets of Recife. Hammered it down all morning. @talkSPORT #GER v #USA LIVE 5pm. pic.twitter.com/xhIzLRdFOM

— Stan Collymore (@StanCollymore) June 26, 2014
If #GER v #USA were in UK, game would be called off 100% as the risk to fans travelling is enormous. Never seen extensive flooding like it.

— Stan Collymore (@StanCollymore) June 26, 2014
Recife has already been subject to rain in recent days, but conditions have taken a pretty sudden turn for the worse and are bound to affect Thursday's meeting.
AccuWeather.com meteorologist Eric Leister writes:
A surge of tropical moisture has caused the weather to turn increasingly wet around Recife as spotty showers on Tuesday gave way to a steadier rain by Thursday morning. ... Occasional rain and drizzle will persist right through the match.

"With all the rain that has fallen in the last day or two, field conditions will be muddy and wet for the match Thursday afternoon, which could slow down play," stated AccuWeather.com Meteorologist Rob Miller.
AccuWeather.com provides hourly updates on the conditions in Recife, showing just how the water levels have steadily climbed on Thursday: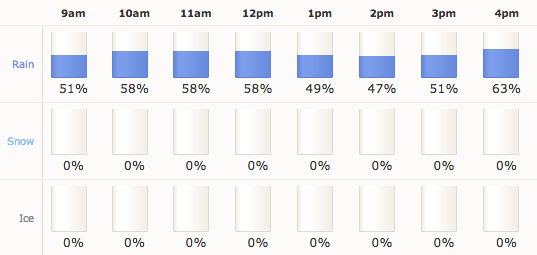 Credit: AccuWeather
Brazil-based journalists were active in sharing their experiences following the downturn, with the BBC's James Menendez claiming no less than six inches had fallen. Ken Early of the Irish Times also displayed the current scenes:
Torrential rain in #Recife ahead of #GERUSA - six inches of water in the streets pic.twitter.com/AqqjIDxC44

— James Menendez (@jamesmenendez) June 26, 2014
it's rainy season in recife pic.twitter.com/XMuypxEIe4

— Ken Early (@kenearlys) June 26, 2014
Thursday's match will undoubtedly be influenced as a result of the downpour, but The Telegraph's Mark Ogden insists there is no talk as of yet concerning a potential postponement:
No suggestion #ger-#usa game in doubt as yet, but two months rain overnight in Recife, so good chance the pitch will be a problem.

— Mark Ogden (@MOgdenTelegraph) June 26, 2014
If play does go ahead as expected on a boggy pitch, it will likely prove a great leveller, reducing both teams to a war of attrition. A draw would see both Germany and the USA advance.
Joachim Loew's pass-heavy tactics may be at more of a disadvantage due to the turf undoubtedly now being a lot slower to play on.
Portugal and Ghana each hold hopes of progressing to the round of 16 and meet in the group's other closing fixture, but both currently sit three points away from Germany and the United States.
They will hope the extreme conditions lead to a heavy defeat—ideally for the USA—opening the door for the winners of their own match to qualify for the last 16.