At first glance, it's hard to understand why the New York Knicks would take on more long-term cash while also dealing away Tyson Chandler in a multiplayer exchange with the Dallas Mavericks.
But as will be the case with every Knicks move over the next few weeks, this deal makes much more sense when we remember that Carmelo Anthony is the prism through which we must view it.
First, the proposed exchange, per Adrian Wojnarowski of Yahoo Sports:
The New York Knicks have reached an agreement in principle to send Tyson Chandler and Raymond Felton to the Dallas Mavericks, league sources told Yahoo Sports.

As part of the trade, the Knicks will receive center Sam Dalembert and guards Jose Calderon, Shane Larkin and Wayne Ellington and the Mavericks' two second-round picks in Thursday's NBA draft – the 34th and 51st overall selections, sources said.
The deal was confirmed as official shortly after Woj's initial report:
New York, Dallas have reached agreement in principle on trade, league sources tell Yahoo Sports.

— Adrian Wojnarowski (@WojYahooNBA) June 25, 2014
If we look at this trade without considering the Melo angle, it's not really all that interesting. The Knicks give up a center who, when healthy, is still a valuable rim protector. They also surrender a point guard who spent the better part of last season drawing the ire of every human being in New York for his conditioning and subpar play.
Calderon comes to New York as the principal asset, a defensively invisible point guard who is on the short list of the league's very best pure shooters. He's on a team-friendly deal that will pay him $7 million per season over the next three years.
In normal circumstances, that would be a perfectly fine price, but the Knicks' willingness to take on long-term money is odd.
There are sweeteners from the Mavs, though. Larkin is a promising talent, Dalembert is appealing because his deal can be bought out for $1.8 million next year and Ellington is a cheap rotation piece. Toss in a couple of picks coming from Dallas, and the Knicks are getting a decent return for an aging big and an unwanted small.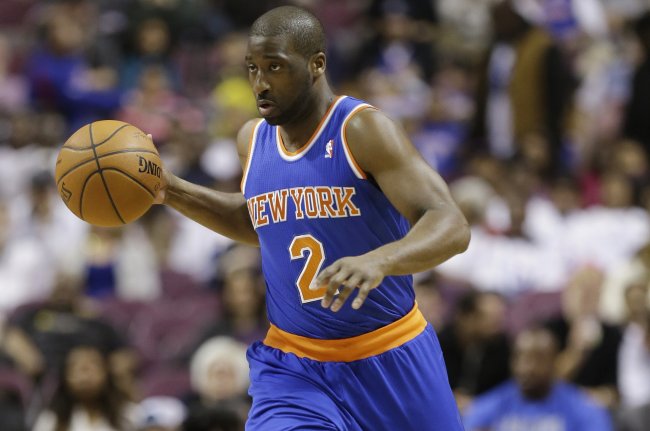 Carlos Osorio/Associated Press
Really, there's no clear winner here. The trade makes sense for both parties.
Phil Jackson: 'We have added players with this move that will fit right into our system while maintaining future flexibility.'

— Adam Zagoria (@AdamZagoria) June 26, 2014
But the Anthony angle adds another layer, and it's a fascinating one.
Chandler was a Melo favorite and, when physically able, offered rare value as an interior presence. Now, the Knicks have nobody to protect the paint. As fine a point guard as Calderon is, you'd have to assume Anthony would rather have played alongside Chandler.
So, why send off a defensive anchor, an Anthony favorite and a player with an expiring contract (these all describe Chandler, by the way) for more long-term money, a good-but-not-great guard in Calderon and modest savings this coming season?
The draft picks help, but there's something else happening here.
Mark Deeks of ShamSports.com has a theory, and it's tied directly to Anthony:
If Melo's going, you want to be able to potentially take players back in sign&trades. If you cannot get under the apron, you cannot do that.

— Mark Deeks (@MarkDeeksNBA) June 25, 2014
They can only get players in S&T if they finish under the apron, circa $81 mil. So yes. MT @Littleidiot72 Knicks goal less salary next year?

— Mark Deeks (@MarkDeeksNBA) June 25, 2014
I know. I'm saying you cannot take those that would be S&T. Like, say, Parsons. RT @SomeGuy3283 but you can get guys that are under contract

— Mark Deeks (@MarkDeeksNBA) June 25, 2014
If Deeks is right, the Knicks are doing something they haven't done in the past few years: They're facing reality.
Trying to get under the apron indicates that they know Anthony is going to leave as a free agent and that they'd like to get something in return for him via a sign-and-trade deal. It's complicated, but the basic idea is that New York cannot take back a player (like Chandler Parsons, for example) in such an exchange if its cap figure is over $81 million.
This deal with Dallas gets the Knicks down from $91 million in committed salaries next year to around $86 million, which puts them closer to the territory they want to reach. And if there's another salary dump brewing, as Chris Herring of the Wall Street Journal reports, the Knicks could close that gap even more.
I'm hearing the Knicks are trying to move Dalembert and Larkin in a separate deal, according to a person familiar with the matter.

— Chris Herring (@HerringWSJ) June 25, 2014
Perhaps they'll ship out Iman Shumpert for a pick as well, which would very nearly get the Knicks where they want to be to maximize their return on an Anthony sign-and-trade.
That's one way to look at what's going on with the Knicks, and it makes a lot of sense.
Yes, Calderon can shoot the ball.
In Jose Calderon, the Knicks may get one of the best shooting point guards in the NBA. His defense is another story pic.twitter.com/js3bylC44c

— Kirk Goldsberry (@kirkgoldsberry) June 25, 2014
And sure, maybe he gives New York an intriguing inside track on another free agent in the summer of 2015.
One more tidbit: Knicks are hopeful that Calderon will help them recruit Marc Gasol in 2015. Potential fringe benefit to deal.

— Howard Beck (@HowardBeck) June 25, 2014
But if this was a deal designed to appease Anthony enough in the short term to get him to re-sign, it's hard to see how that goal was achieved.
Whatever Calderon gives the Knicks on offense (which will be plenty), he'll give back nearly all of it on the other end. And with some horrifying combination of Andrea Bargnani and Amar'e Stoudemire "protecting" the rim behind him, the Knicks will be weak at the point of attack and in the lane.
That's a disastrous defensive combination, especially if Dalembert is going to be bought out as logic dictates.
"At this point in my career, it's about winning," Anthony told ESPN.com's Ian Begley back in April. "Nothing else even matters."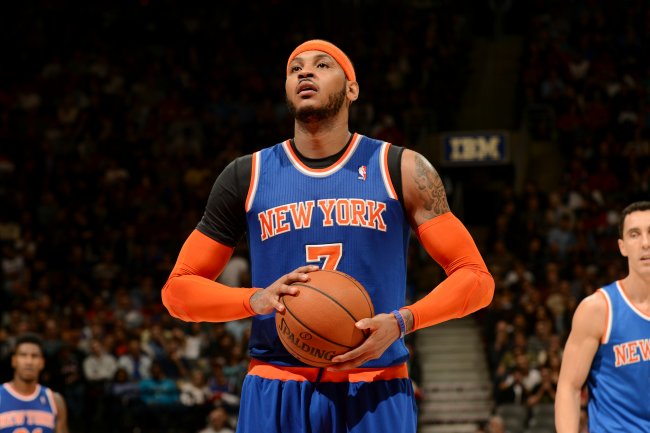 Ron Turenne/Getty Images
Ultimately, Anthony is unlikely to view this move as one that helps the Knicks win. As such, it won't give him any greater incentive to re-sign with New York—unless there are two or three more subsequent trades yet to be completed.
So, the only logical way to view this trade is to see it as the Knicks doing the best they can to capitalize on Anthony's inevitable exit.
It might sting a few Knicks fans to hear that, but at the same time, they should be encouraged by the fact that their team is finally accepting reality on reality's terms.
*All salary information via ShamSports.com.