What Brandon Flowers Can Bring to San Diego Chargers
June 24, 2014

Getty Images
The San Diego Chargers agreed to a one-year deal with former Kansas City Chiefs cornerback Brandon Flowers. For five seasons, Flowers was one of the better cover cornerbacks in the NFL but struggled in 2013.
He is one of the more fascinating additions of this whole offseason because of his history in the league and the reasons for why he was ultimately released.
Flowers and former teammate Brandon Carr formed a combination at the cornerback position that could rival the best duos in the NFL at the time. Although they were less celebrated than Leon Hall and Jonathan Joseph in Cincinnati and much less celebrated than Antonio Cromartie and Darrelle Revis for the New York Jets, they were still able to intimidate opposing teams' quarterbacks.
When Flowers and Carr were at their best, Flowers played on the left side of the defense and Carr played on the right. They didn't need to move around the field because both felt comfortable facing any kind of receiver.
Ultimately, the Chiefs were forced to choose which player they wanted to keep.
In September 2011, that decision was made, and Flowers signed a five-year contract extension that guaranteed him $22 million and gave him the opportunity to earn $50 million. That season would be Carr's last one in Kansas City. He signed a $50 million contract that guaranteed him over $25 million with the Dallas Cowboys.
Flowers was cheaper than Carr, and after Carr's first season in Dallas, it appeared that the Chiefs had made the right choice.
Flowers was one of the best cornerbacks in the NFL during the 2012 season. Using Pre Snap Reads' cornerback analysis, which is the only method that assesses cornerback play on every single snap in coverage, Flowers finished that season with an 82.2 percent success rate on 253 qualifying man coverage snaps.
For comparison's sake, here are other raw coverage numbers for cornerbacks:
Player
Season
Success Rate
Darrelle Revis
2011
60.2 percent
Joe Haden
2012
73.6 percent
Patrick Peterson
2012
62.9 percent
Casey Hayward
2012
75 percent
Champ Bailey
2012
81.2 percent
Johnathan Joseph
2012
74.8 percent
Brandon Flowers
2012
82.2 percent
Stephon Gilmore
2012
76.2 percent
Leon Hall
2012
85 percent
Richard Sherman
2012
81 percent
Darrelle Revis
2013
81.9 percent
Richard Sherman
2013
78.2 percent
Patrick Peterson
2013
69.6 percent
Joe Haden
2013
62.8 percent
www.presnapreads.com
These raw numbers don't tell the whole story, though. Usage is vitally important. Some cornerbacks played with more safety help and a better pass rush than others, while other cornerbacks were asked to move around the field to follow the opposition's best receiver.
Flowers wasn't asked to move around the field during the 2012 season. He stayed at left cornerback, even after Carr departed in free agency. This meant that even though Flowers was playing brilliant coverage, he was generally playing with the aid of the sideline and wasn't following the opposition's best receivers around the field.
This was reflected in his individual matchups from that season.
Rank
Wide Receiver
Failed Coverages
Failed Coverage %
1
Devery Henderson
4/10
40%
2
Greg Little
2/5
40%
3
Rod Streater
2/5
40%
4
AJ Green
4/11
36%
5
Stevie Johnson
2/6
33%
6
Mike Williams
3/10
30%
7
Donnie Avery
3/12
25%
8
Jacob Tamme
1/4
25%
9
Josh Gordon
2/9
22%
10
Eric Decker
3/16
19%
11
Denarius Moore
1/6
16%
12
Reggie Wayne
1/6
16%
13
Demaryius Thomas
4/27
15%
14
Mike Wallace
1/8
12.5%
15
Torrey Smith
1/8
12.5%
16
Malcolm Floyd
2/15
13%
17
Marques Colston
1/9
11%
18
Darrius Heyward-Bey
1/11
9%
19
Lance Moore
0/4
0%
20
Robert Meachem
0//6
0%
21
Jacoby Jones
0/8
0%
www.presnapreads.com
Flowers faced some very good receivers, but teams always had the option to attack other areas of the defense with their best players because he wouldn't follow them around the field. Stanford Routt had been signed to fill Carr's spot on the other side of the defense, but he proved incapable of being even an adequate starter.
Romeo Crennel was Kansas City's head coach during the 2012 season, and he had been the team's defensive coordinator the previous year. Crennel was happy to leave Flowers where he was in order to get the most out of him individually.
When Andy Reid took over the franchise ahead of last season, Bob Sutton became the team's defensive coordinator.
Sutton had spent the previous 13 seasons with the New York Jets, where he filled various roles on the defensive side of the ball. Crucially, Sutton had watched Revis establish his reputation as a shutdown cornerback while moving around the field for the Jets.
One of Sutton's first major moves in Kansas City saw him move Flowers around the field. During the first week of the regular season, he covered the Jaguars' best receiver, Cecil Shorts. During Week 2, he followed Dez Bryant around the field.
Flowers had 60 opportunities to line up across from Bryant when the Chiefs played the Dallas Cowboys last year. He did line up across from him on 53 of those 60 opportunities. On the day, Bryant destroyed Flowers. He outmuscled him and took advantage of multiple mental errors.
That was Flowers' worst display of the season, but it wasn't an abnormality either.
He was no longer playing with the control and effectiveness that had permeated through his previous seasons in the NFL. Flowers looked uncomfortable in the slot but also when he lined up outside. He wasn't helped by some horrendous safety play, and it's also very important to note that he wasn't fully healthy last season.
Although there is a saying that suggests the NFL is a "What have you done for me lately?" business, it would be unfair to Flowers and the Chargers to solely base projections on what happened during the 2013 season.
Flowers has five years of quality play that preceded his one notably poor season. At 28 years of age, there is no reason to think his poor season in 2013 is a signal of impending physical decline. It also seems very unlikely that Flowers' new team will ask him to do what Sutton did, and he should be fully healthy next year.
While Flowers isn't versatile in terms of where he lines up on the field, he shouldn't be limited to one specific scheme moving forward. When healthy, he proved that he has exceptional footwork and high-end speed with above-average awareness.
Theoretically, those traits should allow him to carry out a variety of assignments when lined up outside.
Just as important is his tackling ability. Even during last season, Flowers was one of the better run defenders at the cornerback positions in the NFL. Unlike Asante Samuel or Antonio Cromartie, Flowers doesn't shy away from making contact with ball-carriers.
Footwork
There are two types of press man coverage that defensive backs in the NFL currently employ. One is aggressive, physical coverage that looks to disrupt the route timing of receivers early in routes and take away their position on the football later in routes. Richard Sherman plays this way.
The other is less aggressive and more reliant on awareness, mirroring ability and ball skills. This coverage style doesn't look to aggressively disrupt receivers at the line of scrimmage; instead, it focuses on mirroring the movement of the receiver through the route before attacking the football at the catch point. Darrelle Revis plays this way.
Both styles need exceptional footwork to be completely effective.
Those who are aggressive with their coverage need to create constant balance with their footwork to avoid committing penalties down the field, while those who mirror receivers need precise and quick feet to stick with receivers in space.
Flowers falls into the second category of cornerback, and during the 2012 season, it could have been argued that he had the best footwork of any defensive back playing this style. Of course, that is because Revis was injured for most of that season, but being second to the best cornerback over most of the last seven seasons shouldn't be considered a negative.
This was the kind of play that Flowers routinely made during the 2012 season.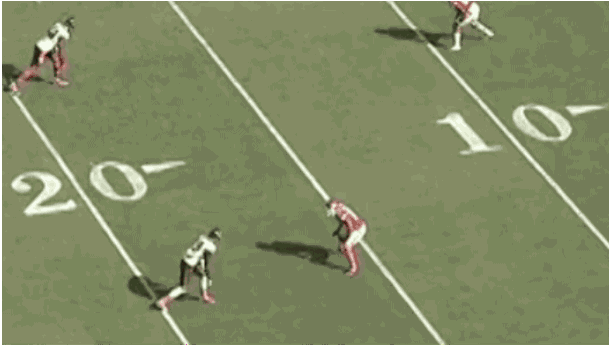 NFL.com
It doesn't look like anything spectacular, but when you watch Flowers' footwork closely you see his ability to recover against a perfectly timed route from Mike Williams. Williams turns inside as soon as Flowers' right foot goes toward the sideline.
When Flowers' right foot goes toward the sideline, he begins to turn to run downfield with the receiver. Most cornerbacks in this situation are forced to turn their back on the receiver if they take this step at this point of the play.
However, Flowers is able to twist his planted foot and contort his hips to turn with Williams inside. Williams never creates any separation from Flowers because the cornerback's footwork is so quick and precise.
Williams is a very good athlete, but his athleticism is more about long speed, good size, leaping ability and good quickness for an outside receiver. When Flowers' footwork was at its best, those kind of receivers really struggled to get away from him because he had the quickness advantage.
In 2013, that advantage disappeared because he was a step slower, but also because he faced different types of receivers in the slot.
Playing in the slot in in the NFL is essentially its own position. Unlike being an outside cornerback, the slot cornerback doesn't have the sideline to work with, so he has to be quick enough to react both inside and outside without favoring the inside to close off space to the sideline.
Furthermore, slot receivers generally carry very different skill sets to outside receivers. In the AFC West, Flowers was forced to cover the best slot receiver in the NFL twice last year.
Wes Welker is one of the toughest receivers in the NFL to cover. Even at this stage of his career, he is still one of the quickest receivers in the NFL and understands how to create separation with his route running.
Flowers excelled in previous years against bigger receivers outside because he never had to overcommit to any particular route. He had better footwork than those receivers so he could afford to read their movements before reacting. Without a sideline to aid him against quicker receivers, this was no longer something he could rely on.
This double move from Welker against Flowers perfectly illustrates the difference between playing slot cornerback and outside cornerback. 
NFL.com
Flowers overplays Welker's first movement because he is concerned about the quicker receiver running a slant route. When Welker turns quickly to break back outside toward the sideline, there is a huge amount of space for Manning to throw the ball into—and Flowers is left behind.
If Welker had lined up outside and Flowers had played the same route in the same way, Manning would have had a tougher throw because the sideline would have closed off the space. Welker doesn't ultimately get the first down, but that's not because of Flowers' coverage.
Speed
Flowers had issues with both of his knees entering last season and missed three games during the regular season because those issues lingered.
Straight-line speed is generally an overvalued aspect of cornerback play. The importance of 40 times is overblown because cornerbacks never run 40 yards in a straight line without turning or flipping their hips. With that said, cornerbacks who line up outside do need to be fast enough to run with receivers.
In 2012, Flowers could easily run down the sideline or seam with most of the receivers he faced. Against the fastest receiver in the league, he was also able to stay in a good position even if it required a lot more effort.
Mike Wallace is a flawed receiver. He doesn't run particularly good routes and can't be relied upon at the catch point. Yet, in spite of that, there isn't a cornerback in the NFL who can comfortably cover Wallace.
Wallace's straight-line speed is the changing factor. Nobody can play press coverage against Wallace without safety help over the top because of his speed. Those who play off coverage with no safety help are generally still overly concerned with the deep ball because Wallace can erase space so quickly.
NFL.com
On this play, Flowers isn't playing 10 yards off the line of scrimmage, but he is anticipating the deep route from the very start. He never really squares his shoulders to Wallace, but he also doesn't completely abandon the underneath routes to sprint down the field.
Once Wallace commits to running down the seam, Flowers breaks into a full sprint to stick by his side. Wallace is clearly faster than Flowers, but Flowers isn't allowing him to escape.
After running with Wallace for over roughly 40 yards, Flowers is in position to attack the football on an accurate throw. Byron Leftwich, who was in for Ben Roethlisberger, overthrows Wallace so badly that the receiver has no chance to catch the ball, but that doesn't negate the impressive coverage from Flowers.
With a throw that led Wallace further across the field or more time for the route to develop, Wallace likely would have pulled away from Flowers. That doesn't reflect poorly on Flowers, because there isn't a cornerback in the league who could have expected to play this as well as he did.
Because cornerbacks always play in space, knee issues can be fatal. Having any tightness in the knee or inflammation that affects movement can have a major impact on that player's ability to cover.
When the San Diego Chargers and Chiefs met in Week 12 of the 2013 season, Flowers gave up a 60-yard touchdown reception because of his lack of speed. Against the Chargers, you'd expect a slowed Flowers would give up a big play to Keenan Allen, but instead it was tight end Ladarius Green.
NFL.com
Green is a good athlete at the tight end position. He is definitely the kind of player who could play receiver full time. He is not the kind of athlete who should be running away from Flowers with ease, though.
Awareness
The Chiefs didn't solely cut Flowers because of his on-field play in 2013. Part of the decision will undoubtedly have focused on his bloated salary, while another part will have focused on his fit with Sutton's philosophy.
Sutton wants big athletes at the cornerback position. Flowers is officially listed at 5'9" and 187 pounds. The only cornerback who is currently on the Chiefs roster, Chris Owens, who compares to Flowers is a veteran slot cornerback.
Player
Size
Sean Smith
6'3", 218 lbs
Vernon Kearney
6'2", 185 lbs
Marcus Cooper
6'1", 192 lbs
DeMarcus Van Dyke
6'1", 187 lbs
Ron Parker
6'0", 206 lbs
Phillip Gaines
6'0", 193 lbs
Kevin Rutland
6'0", 193 lbs
David Van Dyke
6'0", 185 lbs
Justin Rogers
5'11", 181 lbs
Chris Owens
5'9", 180 lbs
NFL.com, Ourlads.com
Theoretically, having big athletes at the cornerback position in a defense that primarily plays man coverage should make the defense better. However, the best cover cornerbacks in the NFL aren't good because they are big and athletic.
The best cornerbacks in the NFL are technically sound and have excellent awareness.
It's not so straightforward that bigger is better in the NFL. Carrying a smaller frame generally allows defensive backs to be quicker. Being quicker at that position generally allows the defense to be more flexible in how they attack the offense.
Having a cornerback who can play press man coverage, off-man coverage and carry out different assignments in zone coverage is as valuable as having a cornerback who can line up in different spots on the field.
Flowers can't line up in different spots, but his awareness allows him to be an above-average zone defender with the intelligence to be effective in off-man coverage. In press man situations, his ball skills are very impressive.
NFL.com
The 28-year-old veteran has 17 interceptions in his career and 91 official pass deflections. That means he averages 2.8 interceptions per season and 15.2 pass deflections per season. In 2013, he had career lows in interceptions and pass deflections. If you erase 2013 from his career, he averages 3.2 interceptions and 16.6 pass deflections per season.
Tackling
Tackling is an often overlooked aspect of cornerback play. It's easy to focus on the coverage and ignore how a defender tracks down opponents in space or stands up to bigger running backs. Playing inside puts more pressure on defensive backs to not only make more tackles, but to also be more consistent with beating blockers in space.
As much as Flowers may have struggled in coverage last year, he continued to be a very reliable run defender.
Flowers has averaged 62.3 tackles per season during his time in the NFL. Last year, he had 68 tackles in just 13 regular-season starts. Despite being undersized in the eyes of some, Flowers plays the game with an aggression that allows him to be physical against bigger receivers and running backs.
According to Pro Football Focus (subscription required), Flowers missed just four tackles last year and was one of the most efficient tacklers at the cornerback position across the NFL.
Fit with the San Diego Chargers
Because the Chargers drafted Jason Verrett in the first round of this year's draft, it's very unlikely that Flowers will ever play over the slot for extended periods in John Pagano's defense. Verrett is currently dealing with a shoulder injury, but he is a prototypical inside cornerback who should immediately thrive in the NFL.
In an ideal world, Verrett will also pick up the professional game quick enough to start across from Flowers on the outside. Regardless, Flowers will immediately be the Chargers' best cover corner.
The Chargers should allow Flowers to play press coverage, but unlike Sutton in Kansas City, there should be more variety to their coverage schemes. Flowers should expect to get more, and better, safety help from Eric Weddle and Marcus Gilchrist—or Jahleel Addae, who impressed as a rookie.
This was an ideal signing for both the Chargers and Flowers.