With Bryan Ruiz's club, Fulham, relegated to the Championship, should a Premier League team give the 28-year-old, 6'2", 174-pound Costa Rican international another chance?
To address that question, this article grades Ruiz's performance against Italy at the 2014 FIFA World Cup.
It will also provide a scouting report on his season with Fulham and his loan spell at PSV Eindhoven.
Ruiz vs. Italy Grade: A+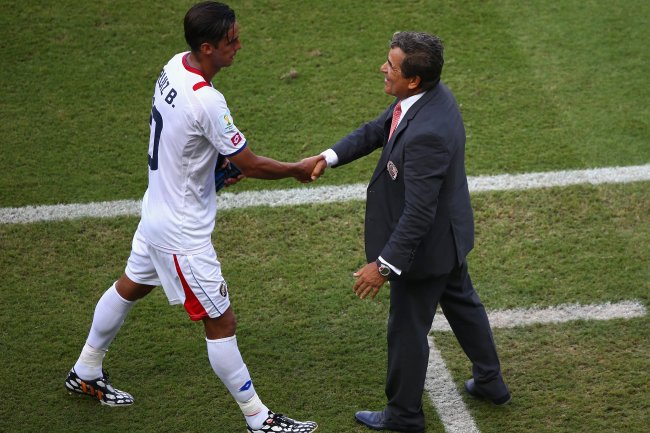 Michael Steele/Getty Images
Ruiz has bought into Costa Rica national team manager Jorge Luis Pinto.
"We know that Italy is a very difficult opponent," Pinto said, per David Hytner at the Guardian. "But we are confident that we will be able to repeat our performance [3-1 win over Uruguay]."
Mourinho, "I think that Italy will win against Costa Rica. Costa Rica already had a big surprise, it's difficult to have a second surprise."

— Raffaele (@ItalianoCalcio) June 19, 2014
Pinto was vindicated by Ruiz.
Getting to Costa Rica left-back Junior Diaz's cross, Ruiz directs the ball past Italian goalkeeper Gianluigi Buffon for the only goal of the game:
#crc 1-0 #ita - Bryan Ruiz scores just moments after Costa Rica denied a clear penalty https://t.co/q7KjzUXjNt

— Bleacher Report UK (@br_uk) June 20, 2014
Aqui está Bryan Ruiz, o @budweiserfc #ManOfTheMatch da #CRC com seu troféu! #ITACRC pic.twitter.com/tegYAnDcUp

— Copa do Mundo FIFA (@fifaworldcup_pt) June 20, 2014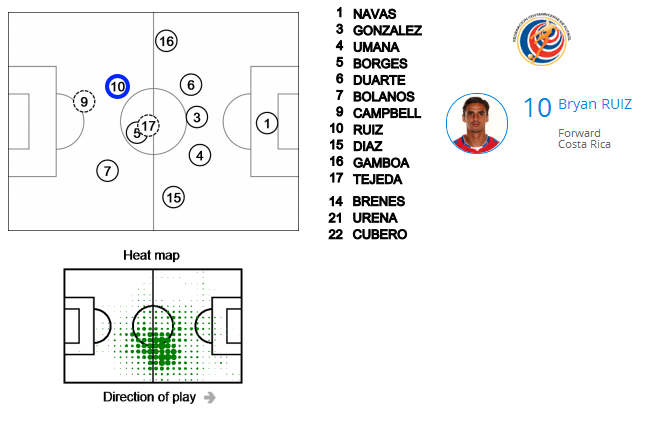 FIFA.com
Playing behind Costa Rica centre-forward Joel Campbell, Ruiz outperformed Italian centre-forward Mario Balotelli.
If we beat Costa Rica i want a kiss,obviously on the cheek, from the UK Queen.😂😂😂.

— Mario Balotelli (@FinallyMario) June 19, 2014
Bryan Ruiz

Mario

Balotelli

Goals
1
0
Shots
2
3
Shots On Target
2
1
Assists
0
0
Key Passes
2
0
Another aspect of Ruiz's game that you liked was his passing, as he completed 90 percent of his passes, per Squawka.com.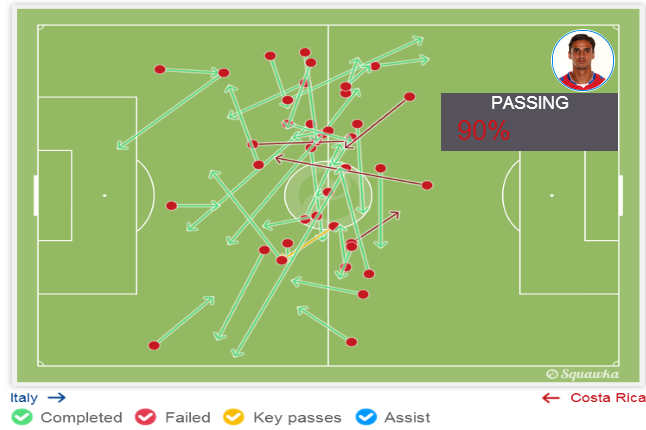 Squawka.com
The general criticism of Ruiz is him not coming up big in important moments.
Like Hernan Medford's winner for Costa Rica against Sweden at the 1990 World Cup, Ruiz's goal has propelled Costa Rica into the second round of the World Cup:
FT: #crc 1-0 #ita - Costa Rica through to the last 16, and they did it in style. pic.twitter.com/is19YCHhrc

— Bleacher Report UK (@br_uk) June 20, 2014
Bryan Ruiz en la portada de The Times de Londres de mañana sábado pic.twitter.com/XeKyuJh2Bm

— La Nación (@nacion) June 20, 2014
Ruiz Fulham/PSV Eindhoven Positives
Ruiz is a smart and rangy footballer, who can play as a No. 9, a No. 10 and a No. 11.
He delivers first-rate left-footed crosses with then-Fulham (now Monaco) centre-forward Dimitar Berbatov and then-Fulham (now Aston Villa) centre-back Philippe Senderos, cashing in during Fulham's 4-1 win over Crystal Palace.
Crafty, dependable and experienced, Ruiz outperformed PSV young gun Zakaria Bakkali, who hit a brick wall after scoring a hat-trick against NEC Nijmegen.
League Only

Bryan Ruiz

Zakaria

Bakkali

Goals
5
3
Shots Per Goal
5.4
6.3
Assists
2
0
Key Passes Per Game
1.0
0.8
Dribbles Per Game
1.4
1.5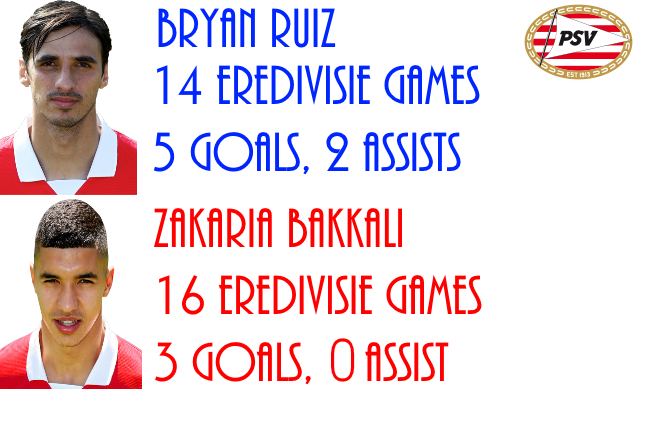 WhoScored.com
Ruiz possesses world-class technique.
After side-stepping NEC central midfielder Ryan Koolwijk, Ruiz nutmegs NEC utility player Navarone Foor and accelerates away.
Pivoting away from a tackle, Ruiz takes Ajax left-back Nicolai Boilesen out of position and dinks the ball to PSV centre-forward Jurgen Locadia.
With languid Dimitar Berbatov-like movement, Ruiz dawdles into the NEC penalty box and casually slots the ball past NEC goalkeeper Karl-Johan Johnsson.
Ruiz Fulham/PSV Eindhoven Negatives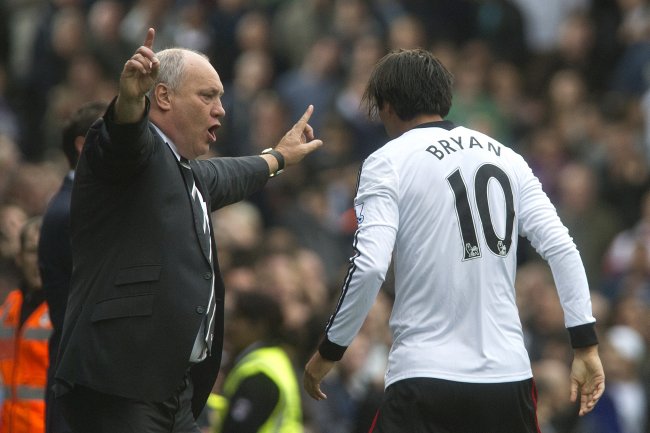 Bogdan Maran/Associated Press
Fulham invested £10.6 million in Ruiz, per BBC Sport, primarily based on his 24-goal haul during the 2009-10 Eredivisie season for Twente. Only then-Ajax (now Liverpool) deep-lying forward Luis Suarez scored more (35).
Since then, Ruiz scored eight goals and registered 13 assists in 68 Premier League games for Fulham. His 21 total Premier League goals have cost Fulham around £504,762 per goal.
In comparison, Liverpool invested £22.7 million in Suarez, per BBC Sport. Suarez's 92 total Premier League goals (69 goals, 23 assists) equate to £246,739 per goal.
Ruiz's skill level is comparable to Suarez. But the two are separated by Suarez's Michael Jordan-like competitive drive:
Only Luis Suarez. From this to this in one month.... pic.twitter.com/wafVUlzh72

— MostarLFC (@MostarLFC) June 19, 2014
Ruiz is content floating in and out of games, while Suarez spends every minute of the game thinking: "What do I need to do to impact the game so my team can win."
Beating England was especially sweet for Luis Suarez. http://t.co/wRTB5LpIkK #WorldCup #URU pic.twitter.com/Ci0fLipHhy

— Bleacher Report UK (@br_uk) June 20, 2014
Bottom Line
Toda Costa Rica celebra el cabezazo letal de Bryan Ruiz. pic.twitter.com/GU9RrRcb9Y

— Diario Diez (@DiarioDiez) June 20, 2014
Ruiz scored a career-defining goal against Italy at the World Cup.
In two World Cup games for Costa Rica, Ruiz has started in wins over a Suarez-less Uruguay and Italy.
A Premier League club should give Ruiz a shot because he is technically brilliant. If a team is built around him, he can rectify his reputation in the Premier League.
Statistics via WhoScored.com