After last night's marathon Game 5, are the Los Angeles Kings going to have anything left for their Stanley Cup celebration on Monday? Of course they are.
This is becoming a regular occurrence for the franchise, having secured its second Stanley Cup Final victory in three years.
Los Angeles Mayor Eric Garcetti tweeted out his happiness at the Stanley Cup's return to the city:
Welcome home, Stanley. We missed you.

— Eric Garcetti (@ericgarcetti) June 14, 2014
He also released a statement ahead of the event, per BuzzFeed's Hunter Schwarz:
Mayor Garcetti's statement on Kings win. Parade to be held in downtown Los Angeles Monday. pic.twitter.com/lxFX8tRzq9

— Hunter Schwarz (@hunterschwarz) June 14, 2014
Alec Martinez will be the man of the hour.
The 26-year-old defenseman scored the game-winner in the 3-2 double-overtime victory over the New York Rangers. He pounced on a rebound from Tyler Toffoli's shot, beating the Rangers to the puck and firing into a largely open goal.
After the game, Martinez sounded nothing like somebody who just won his team the Stanley Cup.
"Fortunately, the rebound came to me and I was able to put it in," he said, per The Associated Press, via ESPN.com. "The New York Rangers are a hell of a hockey team. We knew it was going to be a tough series."
More than likely, he won't be as restrained at the team's parade on Monday.
Martinez and his teammates have thoroughly deserved this, having played the full 21 games through the first three rounds and then three overtime games in the Stanley Cup Final, two of which went into double overtime.
Weather Forecast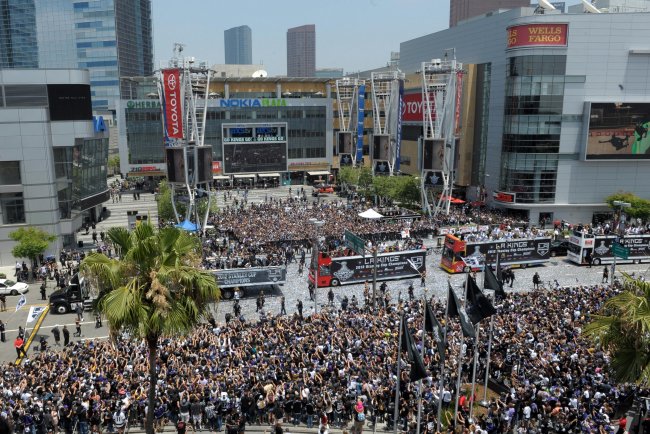 USA TODAY Sports
Will it quite literally rain on the Kings' parade? One can imagine few fates more ironic than that.
According to The Weather Channel, that seems only a remote possibility. The forecast is calling for a zero percent chance of precipitation with a high of 73 and a low of 58.
Nobody wants to have a parade when it's cold and wet, so it's good that rain shouldn't even be a threat on Monday. Having the temperature hovering around the 70s also means that the fans lining Figueroa Avenue won't be miserable dealing with the heat.
It's as if the hockey gods wanted to smile down on the Kings one more time in 2014.
How to Watch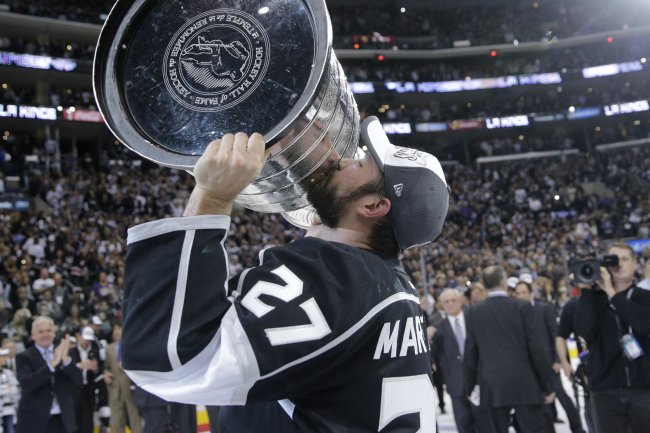 Jae C. Hong/Associated Press
The parade and celebrations will be shown live on Fox Sports West, with coverage beginning at 11 a.m. PT. Fans can also watch live coverage of the event on FoxSportsWest.com.
For those who won't be able to watch the parade live, Fox Sports West will be running a replay on Monday night and then two replays on Tuesday. The network will also be showing replays from the Kings' three Game 7s and Game 5 of the Stanley Cup Final throughout the week.
Parade Route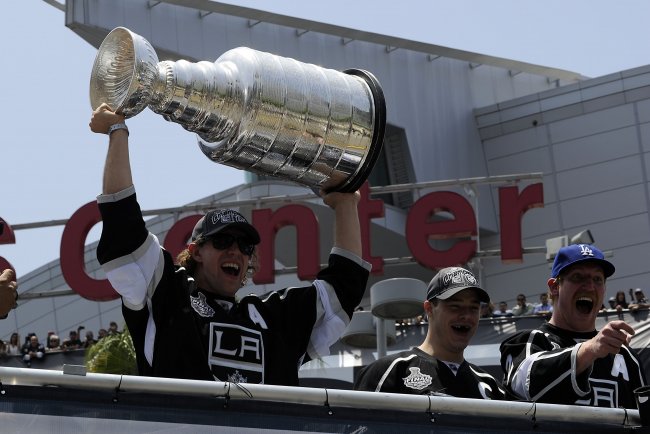 Evan Gole/Getty Images
According to Mike Bresnahan of the Los Angeles Times, the parade will begin at Figueroa and 5th Street and culminate at Staples Center, and last between 30-45 minutes as it snakes itself a mile through the L.A. Live complex.
Of course, there will be the prerequisite open-top buses with players and coaches lifting the Stanley Cup as conquering heroes. No parade is complete without double-decker buses.
Once the parade is over, a championship rally will begin at Staples Center beginning at 1 p.m. PT. The doors will open at 11:30 a.m. PT, and season-ticket holders can watch the parade from inside if they so choose.