The 2014 World Cup Opening Ceremony in Brazil was a whirlwind of bright colors, dancers, music and, well, people on stilts dressed as walking trees. It was vibrant, bright and energetic.
Would you have expected anything else?
While part of the fun of any opening ceremony is the snarky tweets that accompany it—and we'll get to those—let's start with Ben Smith of the BBC, who broke down the the representation present in the beginning portions of the proceedings:
#WorldCup opening ceremony is meant to be a tribute to Brazil's 'greatest treasures' - nature, people & football. pic.twitter.com/qpNiejERIW

— Ben Smith (@BenSmithBBC) June 12, 2014
Squawka Football also passed around some images:
Opening ceremony in full swing. pic.twitter.com/3gt8Nw91kt

— Squawka Football (@Squawka) June 12, 2014
Nobody cares but here's a photo of the opening ceremony. #WorldCup pic.twitter.com/xgdsdUAecQ

— Squawka Football (@Squawka) June 12, 2014
We care, Squawka! We really care!
Nature was indeed very much present, with folks in costumes representing trees, droplets of water and various shrubbery. Miguel Delaney of ESPN had his own take on it:
This is a bit The Lord of the Rings.

— Miguel Delaney (@MiguelDelaney) June 12, 2014
Jonathan Wilson of The Blizzard tried to analyze it all seriously but couldn't quite pull off the trick:
Roots spreading out, earth's crust formed, something about genetically modified tender stem broccoli needing stilts to walk.

— Jonathan Wilson (@jonawils) June 12, 2014
Over-sized traditional Brazilian musical instruments, one of which has a woman's torso and head, plus a trebuchet primed to launch an olive

— Jonathan Wilson (@jonawils) June 12, 2014
Dan Levy of Bleacher Report didn't attempt seriousness:
Opening ceremonies are what I assume peyote is like.

— Dan Levy (@DanLevyThinks) June 12, 2014
And then came the main event, as Bleacher Report tweeted:
.@JLo, @pitbull & Claudia Leitte at the #WorldCup Opening Ceremony pic.twitter.com/ezSYrjxGjQ

— Bleacher Report (@BleacherReport) June 12, 2014
But disaster nearly struck as Jennifer Lopez tried to emerge to the stage above! Oh, the horror! The shame! The...oh, never mind, she made it up there with an assist from Pitbull, according to Fox Soccer Trax:
Looks like an elevator malfunction but J Lo bravely steps out of that underground hole. Pitbull very gentlemanly there.

— FOX Soccer Trax (@FOXSoccerTrax) June 12, 2014
Phew.
And in many ways, that was the Opening Ceremony in a nutshell. It was a short, quick tribute to Brazil's natural beauty, its people, its music and its love of footy. Let's take a look at a few more images of the proceedings.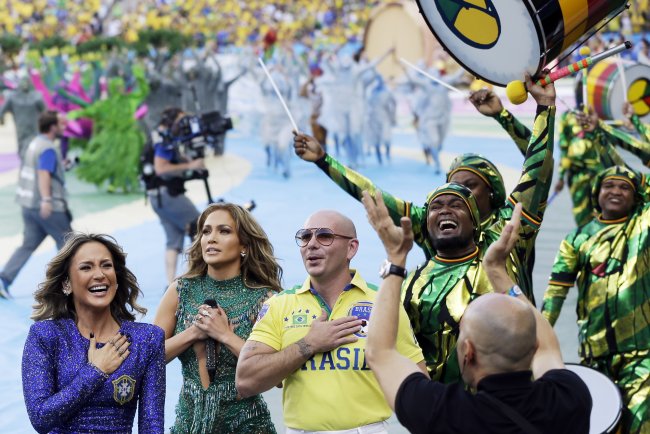 Andre Penner/Associated Press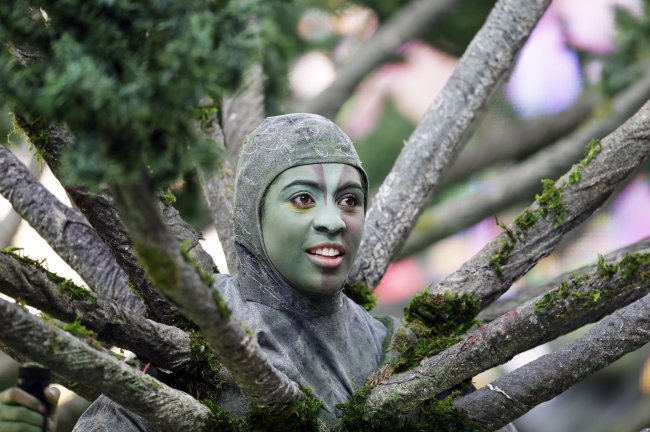 Andre Penner/Associated Press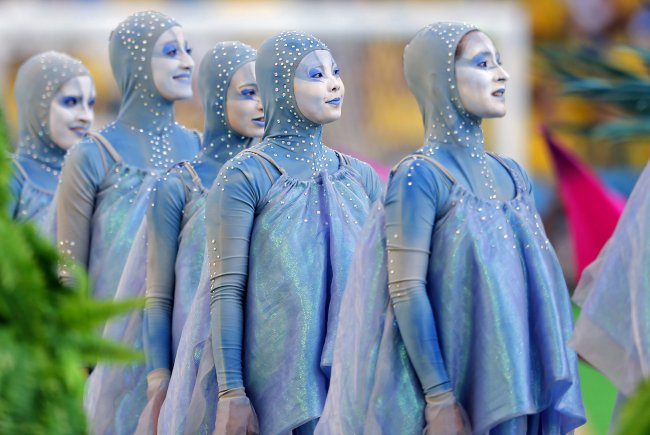 Frank Augstein/Associated Press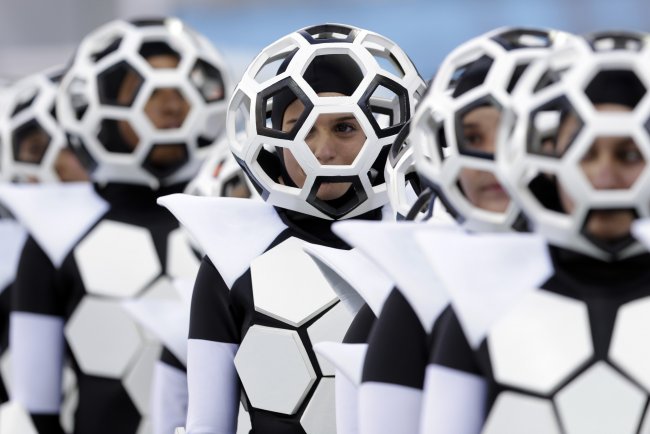 Andre Penner/Associated Press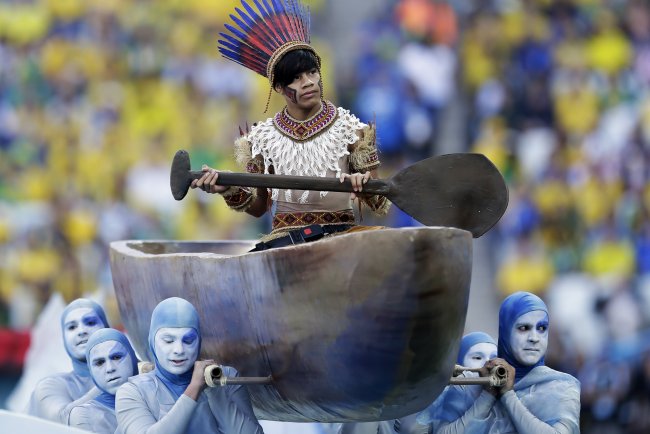 Andre Penner/Associated Press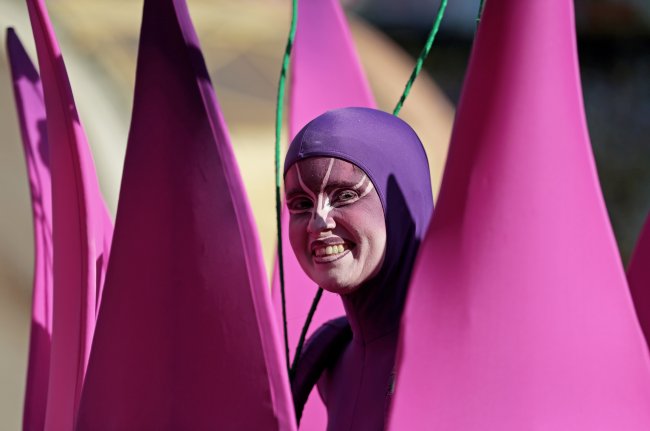 Ivan Sekretarev/Associated Press
Of course, one would guess the national team would provide a more telling representation of the country with their play on the pitch, but the Opening Ceremony had its moments nonetheless.
Mashable shared a particularly cool one:
A Brazilian paraplegic makes the opening #WorldCup kick using an exoskeleton suit. Our story: http://t.co/D1hwCR0wFk pic.twitter.com/wmg23fS3HI

— Mashable (@mashable) June 12, 2014
That's incredibly cool.
What was probably a bit less cool? Being the particular Croatian contingent in the stands, as photographed by Brian Straus of Sports Illustrated:
Surrounded.... pic.twitter.com/BK11Yh2Stk

— Brian Straus (@BrianStraus) June 12, 2014
But hey, that's what the World Cup is all about.
The hope for Brazil, of course, will be that their beloved national team can give them reason to carry over this excitement throughout the tournament once they take the pitch. The Opening Ceremony had dancers, costumes, vivid colors and, well, Pitbull. The Brazilian national team has Neymar, Hulk, Oscar, David Luiz and Thiago Silva.
What do you think will be the better show?
My money's on the latter.