Breaking Down How Lance Stephenson's Antics Will Affect His Free Agency
June 7, 2014

Ron Hoskins/Getty Images
The Indiana Pacers lost the Eastern Conference Finals in embarrassing fashion.
Not only did they suffer a 25-point loss to the Miami Heat in the final game, but the major storyline was not the matchup—instead it was the antics of Lance Stephenson that grabbed the spotlight. The story of a great season by the Pacers was hijacked by Stephenson trying to get in LeBron James' head.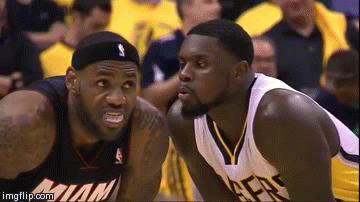 Those things just seemed like immature but harmless tactics, until Stephenson's immaturity became dangerous when he clotheslined Norris Cole.
This isn't the first time Lance has displayed his frustration on the court. During a clip (seen below) from a high school documentary by BornReady.TV, Lance is shown throwing a basketball at an opponent and attempting to fight him over a blocked shot.
Lance Stephenson may have played his last game with the Indiana Pacers, as he becomes a free agent this summer.
There are positives to Lance Stephenson that would make him appear due for a big contract. He started 78 games while shooting 49.1 percent from the field. Stephenson led the NBA this season in triple-doubles. He also is a great defender.
Many people think that Stephenson's talent outweighs his antics. Jalen Rose, on if Lance Stephenson is worth being re-signed by the Pacers, said, "Anytime you are going at some of the best to do it, you earn respect and you earn value in the league. That's more than any newspaper hype, more than any commentator."
But Stephenson has always been able to ball. This is not the first time that his play could become overshadowed by his personality, either. His issues go further than basketball and date back to his high school days.
Lance Stephenson was not only one of the Nation's top recruits in high school, he had also become the all-time leading scorer in the State of New York.
Despite his immense talent, all of his top-choice schools were dropping him from their recruiting boards, until he had to settle for Cincinnati. Nothing against the Bearcats, but when you are one of the best players in the country, you'd expect to be choosing a school, not waiting for a school to choose you.
Jim McIsaac/Getty Images
First it was his attitude. According to the Daily News, one Big East coach said, "With Lance Stephenson, it's always 'Me, me, me.'"
Schools didn't even know if he was going to be eligible to play.
"A reality television series. A recruiting-trip rendezvous to a sneaker company warehouse. A high school transcript," the Daily News said. "All three have been sources of consternation for college coaches recruiting Stephenson."
The worst offense in high school was a sexual assault case. Stephenson was accused of groping a 17-year-old girl near his high school. He agreed to a plea deal and did not have to serve any jail time.
Stephenson had a good year at Cincinnati, but because of his troubles, he was drafted in the second round of the 2010 NBA Draft.
His controversial past didn't matter anymore, though. His dream of making it to the NBA had come true, and he had a great opportunity to turn everything around.
"I am just happy. This day came fast. There is a lot of relief," Lance said according to Ohm Youngmisuk from ESPNNewYork.com. "I've wanted to be in the NBA since I was a little boy. I'm very motivated. Can't even explain how motivated I am."
Not motivated enough to stay out of trouble, unfortunately. Just two months after being drafted by the Pacers, Stephenson was arrested on assault, menacing and harassment charges according to ESPN.
According to the article, Stephenson pushed his girlfriend down the stairs when she had arrived home. The worst part was what came after.  "A criminal complaint provided Monday by the Brooklyn district attorney's office said that as Williams lay at the bottom of the stairs, Stephenson picked up her head and slammed it on the bottom step."
Stephenson was on a very slippery slope coming into the league. Now as he reaches his first free agency, he is coming off of his best season performance-wise, but his worst as a teammate.

Andy Lyons/Getty Images
Lance Stephenson just does not sound like a good teammate. Plain and simple.
Roy Hibbert went on a rant earlier in the season about how some players on the Pacers are selfish. Gregg Doyel of CBS Sports then went on a rant about how the player Hibbert was talking about was Lance Stephenson.
During one game, Lance Stephenson had to be separated from a confrontation with the team's starting point guard, George Hill.
Also in practice, Stephenson got into a fist fight with their new teammate Evan Turner.
The last remark came after the Pacers lost the Eastern Conference Finals, during team leader Paul George's post-game press conference. George was asked, "Do you want to see No. 1 [Stephenson] by your side next season?"
"I mean, I don't know," said George. "That's for Larry [Bird], Kevin [Pritchard], for them to decide."
The uncertainty in George's answer and his issues with other teammates lead one to believe that Stephenson could be looking for a new home next season.
Lance Stephenson's talent will once again have to make a basketball program turn a blind eye to his character issues. But if history truly does repeat itself, someone will take the chance on him.