If Sevilla left-back Alberto Moreno's proposed move to Liverpool, per the Liverpool Echo, collapses then one suggested transfer alternative is Schalke's Sead Kolasinac.
To cover that hypothetical, here is a scouting report on the 20-year-old Bosnia and Herzegovina international.
Sead KOLASINAC in the new @adidas training shirt. Beautiful. #Kolasinac #Rusilac pic.twitter.com/lu7bjieoQs

— BHDragons (@BH_Dragons) June 2, 2014
Positives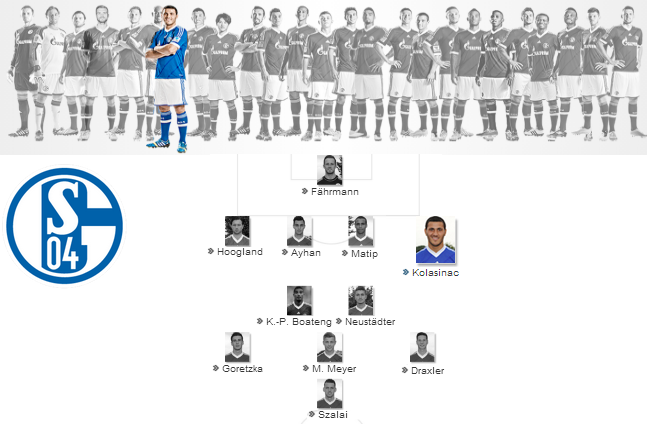 Source: Kicker.de and Schalke04.de.
Kolasinac is a 6'0", 181-pound left-back, who beat out Christian Fuchs for an extended run in the first team.
Bild say Tranquillo Barnetta and Christian Fuchs will be shown the door to make way for more youth players.

— Schalke UK news (@Schalke_UK) May 25, 2014
Further leeway was given to Kolasinac when Dennis Aogo, who interchanged from midfield to left-back, tore his medial collateral and cruciate ligaments in his right knee, per Schalke's official website.
In Kolasinac's second season at Schalke, he showed immense promise.
He is an aggressive, buff, heftily built defender who makes bone-jarring tackles.
League Only
Alberto Moreno

Sead

Kolasinac

Tackles Per Game
1.8
2.9
Fouls Per Game
1.0
1.5
Tackles Per Foul
1.7
2.0
Interceptions Per Game
2.5
1.7
Auf schalke04.de: Interview mit Sead #Kolasinac vor dem @FIFAWorldCup. #S04 #S04inBrazil http://t.co/tfbXMYWfeO pic.twitter.com/a0i1847uIT

— FC Schalke 04 (@s04) May 23, 2014
Kolasinac works hard, such as sliding in to clear the ball against Hamburg and cutting off eight passes against Augsburg, per Squawka.com.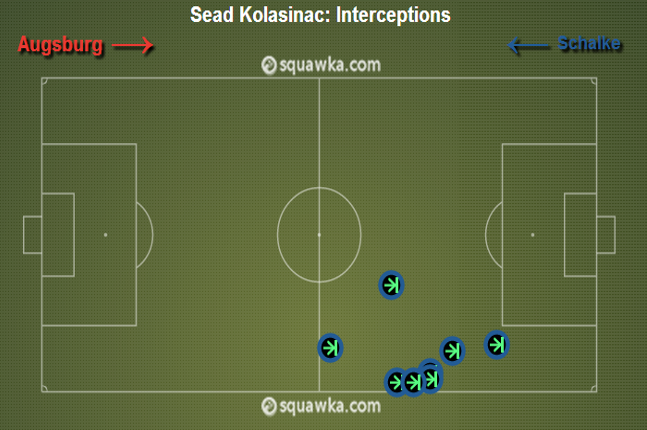 Source: Squawka.com.
Going forward, Kolasinac is uptempo, indefatigable and acts as Schalke's Duracell bunny, thus emulating Fuchs.
Kolasinac carved up Augsburg's defence with a surging run and played in Schalke centre-forward Klaas-Jan Huntelaar for a goal.
Kolasinac shrugged off a challenge from Hannover 96 centre-back Marcelo Guedes, created separation, took Hannover centre-back Andre Hoffmann out of the play and set up Schalke right attacking midfielder Jefferson Farfan for a tap-in.
While Kolasinac did not score a goal in the Bundesliga, his powerful instep shot swerved past Eintracht Frankfurt goalkeeper Kevin Trapp and crashed into the post.
Negatives
Kolasinac's frenetic approach to defending exposes him to being caught out when he fails to win the ball.

The entire left flank was opened up when he missed a tackle on Borussia Dortmund utility player Kevin Grosskreutz, who got off a pass to Dortmund left attacking midfielder Marco Reus, one of the best players in the Bundesliga.
Against Augsburg, Kolasinac missed six tackles, per Squawka.com.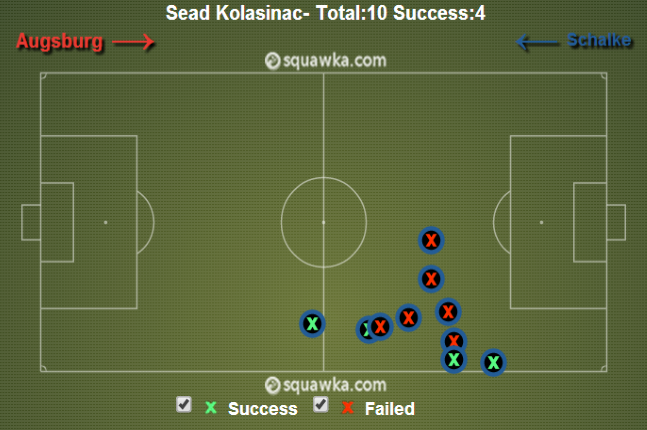 Source: Squawka.com.
One moment of hesitation meant Kolasinac failed to close down then-Eintracht Frankfurt (now Wolfsburg) right-back Sebastian Jung, whose cross to then-Eintracht Frankfurt loanee Joselu led to a goal.
These errors in judgement would explain the German media not rating Kolasinac highly, in particular on the Bundesliga player rankings of Bild and Kicker.
Publication

Bundesliga

Player Ranking

Bild

129
Kicker
115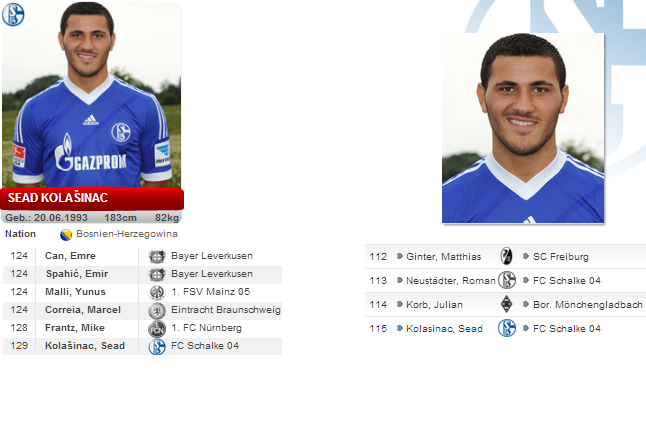 Source: Bild.de and Kicker.de.
Bottom Line
Kolasinac is a belligerent, high-motored, proactive left-back who has elite upside.
If Liverpool manager Brendan Rodgers and the front office fail to secure the signing of Moreno, then targeting Kolasinac is a viable alternative.
Meeting in Liverpool for Alberto Moreno transfer http://t.co/INUbGNMmnQ

— MARCA in English (@MARCAinENGLISH) June 3, 2014
Quintero: Sevilla president José Castro and sports director Monchi will travel to Liverpool this week to finalize the sale of Alberto Moreno

— Petter Veland (@PetterVeland) June 3, 2014
Statistics via WhoScored.com
Follow Allan on Twitter and Google+: @allanjianga, +allanjiang