Should Arsenal manager Arsene Wenger attempt to steer Jean-Armel Kana-Biyik's career back on track by signing the talented but troubled centre-back from Rennes?
To cover that hypothetical, here is a scouting report on Kana-Biyik, a 24-year-old French-born Cameroonian international.
1/4 # CdF #SRFCLOSC. J-A Kana-Biyik : « on part en tant qu'outsider » http://t.co/haT2KqX8dn pic.twitter.com/JF0h6A5fYm

— Stade Rennais F.C. (@staderennais) March 26, 2014
Positives
Kana-Biyik is a 6'0", 198-pound centre-back.
He mainly started alongside Sylvain Armand, the former Paris Saint-Germain stalwart.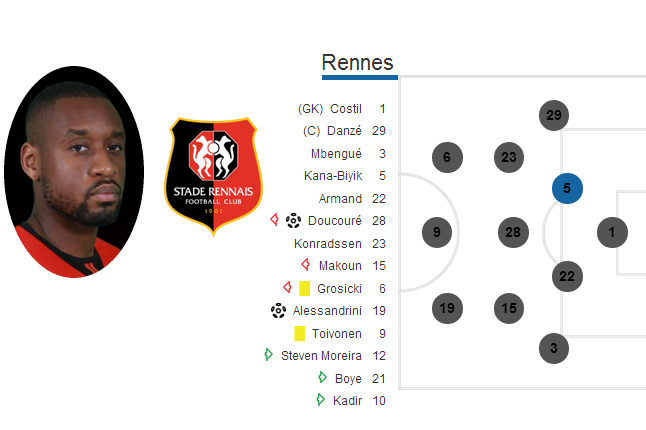 Source: UEFA.com.
Compo #SRFC. R. Alessandrini est laissé au repos. Peu de turnover avant la demie ! #SRFCASM pic.twitter.com/x2CFpyV9DP

— Stade Rennais F.C. (@staderennais) April 12, 2014
Per Mertesacker is six inches taller than Kana-Biyik, yet they are both 198 pounds.
Kana-Biyik is a burly, powerful and tenacious defender, as is evident when he forcefully beat Bordeaux's 6'4" centre-back Lamine Sane to a header.
While Kana-Biyik is substantially heavier, he is still more efficient at winning headers than Koscielny.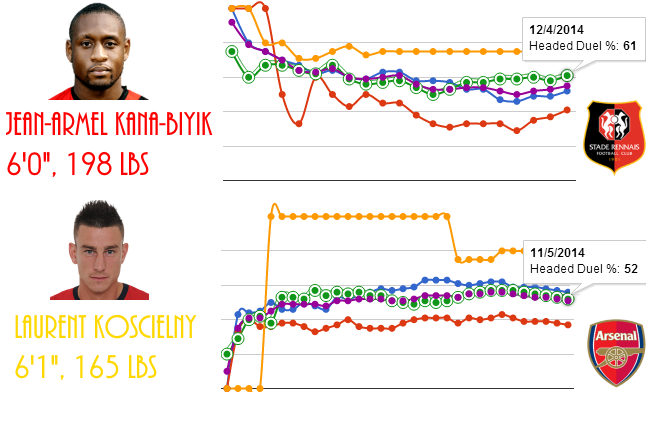 Source: Squawka.com.
League Only
Jean-Armel

Kana

-Biyik
Laurent

Koscielny

Tackles Per Game
1.6
1.7
Fouls Per Game
0.8
0.9
Tackles Per Foul
2
1.8
Interceptions Per Game
1.2
2.8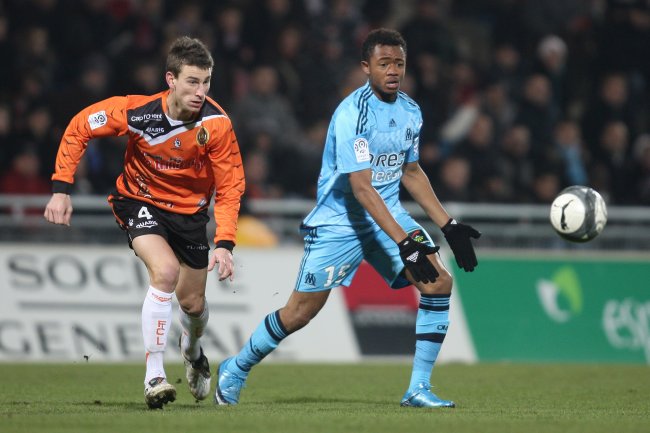 David Vincent/Associated Press
"We identified him [Koscielny] as a very strong centre-half," Wenger said in 2010, per BBC Sport. "He has shown he is mentally strong, he's a fighter and a very strong competitor."
Wenger could describe Kana-Biyik in the same manner.
Technically, Kana-Biyik is comfortable in possession.
He completed 85.4 percent of his passes, which was 10.5 percent higher than Koscielny's output during his last season at Lorient.
Koscielny has since upped his pass-completion percentage to 93.5, so you would project Kana-Biyik to complete 90-95 percent of his passes if he was inserted into Arsenal's set-up.
On the ball, Kana-Biyik can play out of defence, like when he galloped deep into Lille's defensive half, dragged three players toward him and then played in Rennes left-forward Wesley Said.
Negatives
League Only
Jean-Armel

Kana

-Biyik
Laurent

Koscielny

(

Lorient

; 2009-10)
Tackles Per Game
1.6
2.3
Fouls Per Game
0.8
1.0
Tackles Per Foul
2
2.3
Interceptions Per Game
1.2
4.5
Koscielny was bossing from the back at Lorient, whereas Kana-Biyik has been steadily declining in defensive productivity, having once averaged 2.5 tackles and 2.6 interceptions per game during the 2010-11 season.
Mangane & Kana Biyik of Rennes made more Interceptions & won more Aerial Duels (65%) than any centre-half pairing http://bit.ly/jPYOXW

— WhoScored.com (@WhoScored) June 8, 2011
Has Kana-Biyik compensated by being more secure at the back? No.
Kana-Biyik commits farcical errors, which raises a red flag.
He hacked down Sochaux left winger Roy Contout, who was covered by Rennes right-back Romain Danze, to concede a cheap penalty.
Kana-Biyik imprudently followed through on Nice central attacking midfielder Valentin Eysseric to give away a pointless penalty.
Valenciennes central midfielder Tongo Hamed Doumbia did not complete his shooting motion after being clipped by Kana-Biyik, who gambled thinking he would get away with an unscrupulous nudge from behind.
It was a foolhardy choice, because Kana-Biyik knew any contact as the last man would result in a red card and a penalty awarded to Valenciennes.
This was not the first time Kana-Biyik was caught attempting an underhanded tactic.
He could not believe an innocuous trip on Nice centre-forward Dario Cvitanich would yield a second yellow card, leading to another sending off.
Bottom Line
Kana-Biyik's regression in form and lack of discipline mean Rennes could offload him in the summer transfer window.
#Football: Cameroon international Jean-Armel Kana-Biyik is suspended by Rennes after confrontations with supporters - http://t.co/c9FHShYyMr

— BBC Africa (@BBCAfrica) May 9, 2014
So today was a final Home game for Féret, Boye, Oliveira, probably Alessandrini... Makoun, Pitroipa, Kana-Biyik, Kadir also on the way out

— Bastien L. (@Puchkin_B) May 10, 2014
Kana-Biyik could be permanently replaced by promising 20-year-old 6'5" centre-back Cedric Hountondji.
C. Hountondji : " Fier de signer au Stade " #SRFC http://t.co/DrwJgOI3JL pic.twitter.com/66VzOeNSzW

— Stade Rennais F.C. (@staderennais) December 2, 2013
J25. #SRFCMHSC : Romain Danzé de retour dans le 11 ! pic.twitter.com/UOp57kNgoQ

— Stade Rennais F.C. (@staderennais) February 15, 2014
Kana-Biyik is 24 years of age, is great in possession, has outstanding physical attributes and was once a highly rated prospect.
L'Equipe reporting that #Roma have stepped up their interest in #Rennes centre back Jean-Armel Kana Biyik. AC Milan also keen. #SerieA

— Just Football (@JustFootball) August 8, 2012
Jean-Armel Kana-Biyik: "Milan have followed me for more than 2 years, but there's nothing official for now. We will see what happens".

— AC Milan News (@Milanello) July 14, 2012
Wenger could turn Kana-Biyik's career around, whose transfer stock has depreciated like former Rennes player Yann M'Vila, but character problems will be a stumbling block.
Have heard from two seperate, reliable sources that Wenger has ended interest in Yann M'Vila due to players behaviour in last few months

— Matt Spiro (@mattspiro) June 26, 2012
Statistics via WhoScored.com