There's a lot of blame to be handed out after the Indiana Pacers' late-season collapse was wrapped up by a 25-point loss to the Miami Heat in Game 6 of the Eastern Conference Finals.
You can point to Paul George for failing to carry his team like a true superstar might. You can look at Roy Hibbert for declining rapidly and becoming a lumbering liability on both ends of the court. You can blame Lance Stephenson for his childish antics. You can shake your head at the ineffectiveness of the team's lackluster bench.
There's enough blame to go around, after all.
Frank Vogel deserves a slice of scapegoat pie as well, thanks to his inability to design effective offensive sets or keep his team playing at its full capabilities during the portion of the season that actually mattered.
But that won't result in him looking for work during the offseason, per Yahoo Sports' Adrian Wojnarowski:
The Indiana Pacers intend to bring back Frank Vogel as coach, league sources tell Yahoo Sports.

— Adrian Wojnarowski (@WojYahooNBA) May 31, 2014
Either decision the team made would be understandable, though retaining him for another year is the right call.
After all, firing Vogel would be tantamount to forgetting about the stellar first half of the season, overlooking that the team was so good it could become inept and still earn the No. 1 seed in the Eastern Conference. Even though he undoubtedly has his shortcomings, the head coach still built a stellar defense in Indiana and kept his troops motivated throughout the season.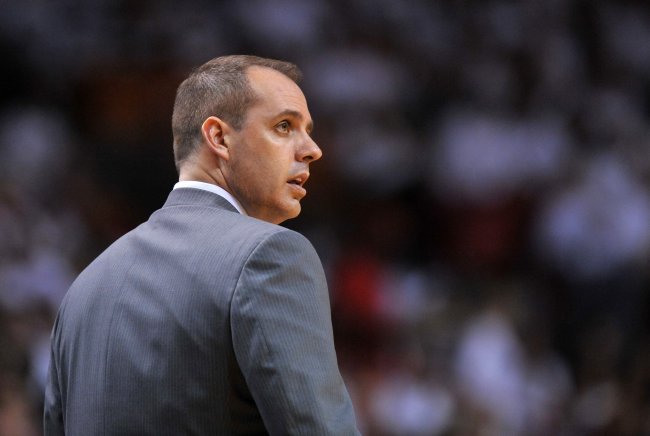 USA TODAY Sports
It should say something that the Pacers were 3-0 in elimination games this postseason before running into the Miami buzz saw. Granted, two of those contests came against the middling Atlanta Hawks, but it was still an impressive way to go up against adversity.
Further evidence has surfaced of Vogel's job potentially being safe all along, via Chris Mannix of Sports Illustrated:
Even during uneven Atlanta series the Pacers never seriously considered replacing Frank Vogel, source said. Was never considered the problem

— Chris Mannix (@ChrisMannixSI) May 31, 2014
Publicly, Pacers GM @PacersKev threw support behind Vogel while Larry Bird privately told people Vogel wasn't going anywhere.

— Chris Mannix (@ChrisMannixSI) May 31, 2014
You can also count Erik Spoelstra among the supporters of his coaching adversary.
Spoelstra says it would be "ridiculous" for there to be speculation about Vogel's future. "Look, they weren't anybody before (him)."

— Ethan J. Skolnick (@EthanJSkolnick) May 31, 2014
As Bleacher Report's Sean Hojnacki wrote after Game 6, "While the team could still decide to go in a different direction, a new coach would hardly act as a panacea since the roster clearly needs tweaking."
Is retaining Vogel a good decision?
That's the root of the Pacers' problems, and trying to find a new coach could more easily make things worse than it could improve them. It's a better alternative to seek out an offensively minded assistant coach who can inject some creativity into Indiana's stagnant half-court sets while milking something out of the struggling second unit.
The Pacers have plenty of decisions to make throughout the 2014 offseason. Apparently, none of them will center around Vogel, and that's good news for the organization.