Updates from Thursday, July 24
Bundesliga Live's Twitter feed has the latest on Ribery:
'Franck #Ribery could return in the #TelekomCup on Saturday,' reveals@FCBayernEN head coach #Guardiola pic.twitter.com/Trf5IiWGrD

— Bundesliga Live (@BL_Live_EN) July 24, 2014
Updates from Tuesday, July 15
Bayern Munich's official Twitter account reports on the next step of Franck Ribery's recovery:
Welcome back, Franck! #Ribéry is completing a fitness course at Säbener Straße. pic.twitter.com/DDwT0znILQ

— FC Bayern English (@FCBayernEN) July 15, 2014
Updates from Wednesday, July 8
Franck Ribery will be fit to enjoy a full preseason, according to Bayern Munich sporting director Matthias Sammer.
Sammer said the following of Ribery, per Bayern's official Twitter:
#Sammer on #Ribéry: "He's doing okay in terms of his back. He will start back here 15th July. He might even be able to dive right in."

— FC Bayern English (@FCBayernEN) July 9, 2014
Updates from Saturday, June 14
Nick Ames of The Guardian has the latest on Ribery:
The France winger Franck Ribéry has said that he refused to take a cortisone injection recommended by Les Bleus' medical staff during his fight to be fit for the World Cup.

Ribéry, who was ruled out of the tournament with a back injury, spoke after Kevin Le Gall, the French national team doctor, told journalists in Brazil that the Bayern Munich player was afraid of needles and, as a result, had not been offered that form of treatment.

The 31-year-old told the German news agency, SID: "I'm not afraid of injections. But I didn't want to have a cortisone injection from the French doctor. I know it's not good."
Updates from Friday, June 13
Reuters reports (via Yahoo! Sports) reports that Ribery's World Cup absence may not be due to the severity of his injury:
"He (Ribery) was evidently told not to be treated by Mueller-Wohlfahrt," said a statement issued through the lawyers of the German doctor, who is at the finals in Brazil for his country's national team.

"He (Mueller-Wohlfahrt) assumes that had he (Ribery) been treated there would have been the possibility for him to play at the World Cup."

France team doctor Franck Le Gall had said on Thursday that Ribery played as a substitute in the German Cup final on May 17 with pain-killing injections despite having suffered from back trouble for several weeks.
Le Gall responded to the criticism with thoughts of his own as well:
"Franck belongs to a club whose method of treatment for all ailments, whatever they might be, is based on injections," Le Gall said in a strong indictment of the Bundesliga champions.

"He (Ribery) had suffered from lumbago for several weeks. Despite that, he was lined up for the German Cup final," Le Gall told a news conference at France's World Cup base.

"We could have chosen to inject him, which we didn't. At a certain moment he'd had enough of (injections), so we didn't do that because he's afraid of jabs."
Updates from Friday, June 6
Eurosport reported terrible news regarding Franck Ribery on Friday:
BREAKING: Franck Ribery has been ruled OUT of the World Cup by injury, @EurosportCom_FR is reporting.

— Eurosport.com EN (@EurosportCom_EN) June 6, 2014
The Guardian confirmed the report:
Didier Deschamps confirms Franck Ribéry is out of the World Cup …

— Guardian sport (@guardian_sport) June 6, 2014
Updates from Thursday, June 5
Jonathan Johnson of ESPN provides an update on Ribery's injury:
Franck Ribery update: Did not train with France team today. Involvement vs. Jamaica (Sunday) uncertain. No Jamaica, no World Cup. #EDF #WC14

— Jonathan Johnson (@Jon_LeGossip) June 5, 2014
Updates from Wednesday, June 4
Ribery may still miss the World Cup, despite being named in France's final 23-man squad by manager Didier Deschamps.
Johnson provides details:
Didier Deschamps says that he has "no reason to think that Franck Ribery will not be on the plane for Brazil next Monday." #EDF #WC14

— Jonathan Johnson (@Jon_LeGossip) June 4, 2014
The Daily Mail's John Drayton adds:
Frank Ribery remains a huge doubt for France ahead of the World Cup, but if he doesn't make it Samir Nasri won't be considered as a replacement.

The Bayern Munich midfielder was named in the 23-man squad to travel to Brazil on Monday but there is uncertainty as to whether he will recover from an ongoing back problem. ...

... The French Football Federation are reported to have set a deadline of Friday for Ribery to prove his fitness, but are likely to give the player as long as he needs.
Updates from Sunday, June 1
Jerome Pugmire of The Associated Press gives us an update on Ribery's status:
TV reports on France 2 television speculating that Franck Ribery may be ruled out of the World Cup with injury. Nothing official on this yet

— Jerome Pugmire (@jeromepugmire) June 1, 2014
Tom Williams of Agence France-Presse passes along more details:
Didier Deschamps says France are hopeful Franck Ribery will be fit to face Jamaica next Sunday. "No change to the 23." (via @Leclubliza)

— Tom Williams (@tomwfootball) June 1, 2014
Updates from Saturday, May 31
FIFA.com has the latest:
French playmaker Franck Ribery will be fit to play in the 2014 FIFA World Cup Brazil™, French Football Federation president Noel Le Graet said. The 31-year-old Bayern Munich star, a veteran of the Germany 2006 final when France lost to Italy on penalties, has been unable to train with the rest of the squad since joining them last week because of back pain.

However, Le Graet said that Ribery had been given the all clear after he underwent tests in a hospital in Paris on Saturday and is due to travel to Nice where the French squad is preparing for a friendly with Paraguay on Sunday. "The French team is counting on Ribery," said Le Graet, who was speaking after the annual general meeting of the federation in Paris. "He will resume training very soon. The medical examinations he underwent showed that there is no threat of his missing the World Cup."
Original Text
It's been announced that Franck Ribery will play no part in France's friendly against Paraguay on Sunday evening, Les Bleus' penultimate warm-up fixture before next month's World Cup.
Goal.com's Robin Bairner revealed that the winger will instead be assessed for a back injury, and Didier Deschamps may be wise not to risk arguably his most important player ahead of the Brazilian competition:
There'll be no Franck #Ribery for #France against #Paraguay on Sunday night. He's being checked over a back injury in Paris. #EDF

— Robin Bairner (@RBairner) May 31, 2014
Ribery will be as eager as anyone to ensure he's at 100 percent fitness for the tournament after proclaiming that this will be his last World Cup.
Speaking to French radio station RTL (h/t FIFA.com), he said, "It will be my last World Cup. We have to go there to achieve something, to try to win the World Cup, quite simply."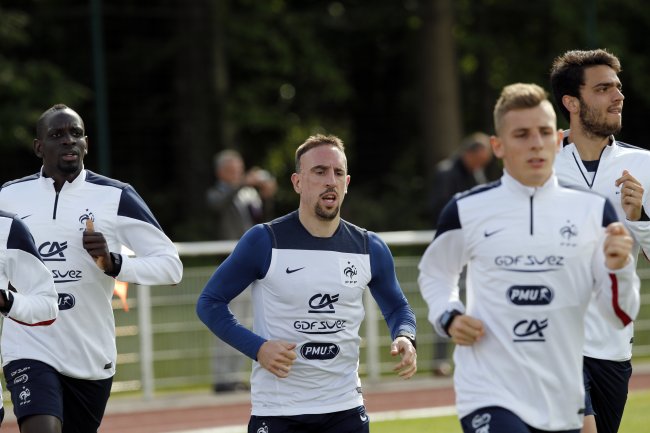 Christophe Ena/Associated Press
After the test of Paraguay, France take on Jamaica on June 8 before heading to Brazil, where they will take on Ecuador, Honduras and Switzerland in Group E.
Without Ribery in this weekend's line-up, Deschamps will look to the likes of Antoine Griezmann, Mathieu Valbuena or Loic Remy to take his place out wide.