Henrik Lundqvist looked human in Game 5 of the Eastern Conference Final, and as a result he was yanked in the second period of a game his team pulled even but eventually would hand back to the Montreal Canadiens.
Heading into the contest, Lundqvist was the leader in every major goaltending category, so the poor performance was surprising to say the least. Cam Talbot allowed two goals on eight shots, but it wasn't surprising considering how cold he was.
After the Blueshirts pulled within one to enter the third, many wondered if Lundqvist would come back into the game.
John Buccigross of ESPN offered this tweet, and it was met with a response from someone very familiar with Lundqvist.
@Buccigross He was pulled game 6 vs Philly and came back with huge game 7.

— Martin Biron (@martybiron43) May 28, 2014
Talbot played the final 20 minutes of the game, and despite the loss, Alain Vigneault made the right decision.
Even though it was a one-goal game, there was no way Lundqvist should have been put back in. He clearly was having an off night, even though the Rangers played a terrible defensive game, and putting him in a situation to surrender more goals would have made no sense.
The decision to pull Lundqvist was wise, and it should be looked at as a move that is two-pronged in nature.
After Lundqvist was pulled, the Rangers fought back and scored three goals to tie the game. Rick Nash and Chris Kreider were hard on the puck, and they did a lot of good things that should help them be successful in Game 6.
If the Rangers could have kept the game tied heading into the third period, Game 5 could have ended very differently.
It goes without saying that they didn't accomplish that, but the fact that they rebounded after Lundqvist was pulled is encouraging. Even when the Canadiens exposed Talbot, who was very cold, the Rangers continued to play with passion and fire.
Vigneault said he pulled Lundqvist for a momentum shift, to grab his players' attention. Never considered going back to him in the third

— Katie Strang (@KatieStrangESPN) May 28, 2014
The Rangers didn't go out with a whimper or with their tails between their legs; instead, they went down fighting. This shows that the move had the desired effect, and it clearly sent a message to the team.
Did Alain Vigneault make the right move by pulling Lundqvist?
Had the Blueshirts not responded to the benching of Lundqvist, it would be fair to say that there would be some cause for concern.
Ultimately, the Canadiens played their best game of the series, and it came during a situation in which their backs were against the wall. The series, and the Prince of Wales Trophy, now shifts to New York for Game 6 on Thursday, May 29, and Lundqvist will be in a familiar position.
As stated above, once Lundqvist was pulled, he checked out of the game. The ending of the game will make it a lot easier for him to forget the performance, but nonetheless he is in a familiar position.
In Game 6 of this year's Eastern Conference Quarterfinals, Lundqvist was pulled against the Philadelphia Flyers. In that game, Lundqvist allowed five goals on 23 shots, and three of those were on the power play.
It was a night that Lundqvist wanted to forget, and he did just that in a Game 7 that was played 24 hours later. Lundqvist was phenomenal in that game, and he stopped 26 of 27 shots to make sure the Blueshirts advanced to the next round.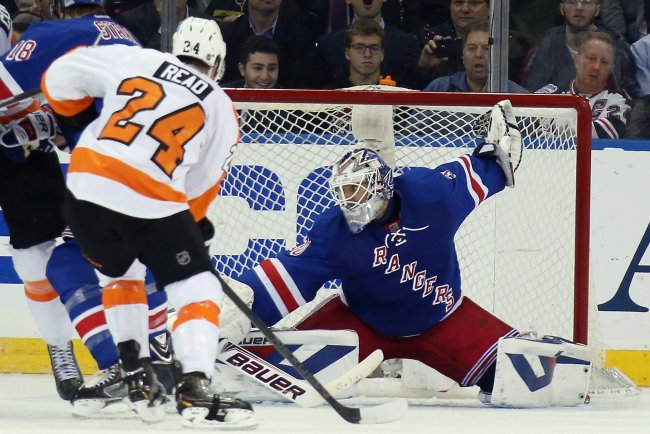 Bruce Bennett/Getty Images
This time, Lundqvist will be in a situation where the next game is only a day away, but the point still remains. Lundqvist and the Rangers also bounced back after a terrible Game 4 performance against the Pittsburgh Penguins in the Eastern Conference Semifinals, and the rest is history.
The common denominator in all of this is that Lundqvist and the Rangers have a history this year of bouncing back after bad playoff games. They will be heading home for Game 6, and the pressure will be on the Canadiens to force one more game.
The Rangers want to finish things off, but they will be heading into the game with a series lead as the home team. They will also be heading into the game with a fresh Lundqvist, and that could be the big difference-maker.
At this point the Rangers have a 3-2 series lead. What is more likely: a Lundqvist rebound in Game 6, or back-to-back wins for Dustin Tokarski?
It is easy to lean toward Lundqvist because he has a history of bouncing back. It is also worth mentioning that Tokarski had his worst game of the series. Derek Stepan's tying goal in the first period was weak, and he gave up a bad goal to Nash that kick-started the Rangers' comeback.
He made some saves late, but positionally he was all over the place, especially on Chris Kreider's tying goal in the second period.
Ultimately, the old adage remains that the fourth game is the toughest to win. The Rangers know firsthand what it is like to be down 3-1 and to win a series. Montreal is feeling good about itself, but they could be in for a letdown after expending tons of energy in a very emotional Game 5.
Game 6 is going to be Montreal's most important of the series, but the pulling of Lundqvist in Game 5 is a move that made sense, and it gives the Rangers the best chance to punch their Stanley Cup ticket.
#Rangers are 14-2 in 16 all-time best-of-seven playoff series when leading after Game 5. They've won 10 of those series in Game 6.

— Seth Rothman (@RothmanHockey) May 28, 2014
History appears to be on the Blueshirts' side, but we will all see what happens as soon as the puck drops for Game 6 on Thursday, May 29, at 8:00 p.m. Anything can happen, but history is on the Rangers' side.
Stats via NHL.com unless noted.