Conventional wisdom suggests that New York Knicks president Phil Jackson will pursue a coach willing and able to implement his famed Triangle offense.
But former Knicks coach Jeff Van Gundy doesn't believe that's necessarily the case. He spoke to the subject Sunday on ESPN Radio's The Ian O'Connor Show (via ESPNNewYork.com's Ian Begley), saying:
I think it makes sense for him to talk to people that he philosophically shares a great deal of agreement on. But even if you haven't coached, certainly, in a triangle system, I don't think that will preclude him from looking at people, because while you may not have had expertise, or experience coaching in the triangle, most coaches believe in unselfishness, floor balance, and defensive rebounding.
In other words, though coaches may not be well-versed in the Triangle itself, many are accustomed to the philosophical principles that underlie it.
The comments came on the heels of Van Gundy admitting, "If Phil Jackson ever wanted to talk basketball with me, which, listen, who knows if that's true, but if he ever did, of course I would take the time, because I'm sure I could benefit from the conversation."
Van Gundy has shied away from saying too much about his potential role in the Knicks' (or any other) coaching search.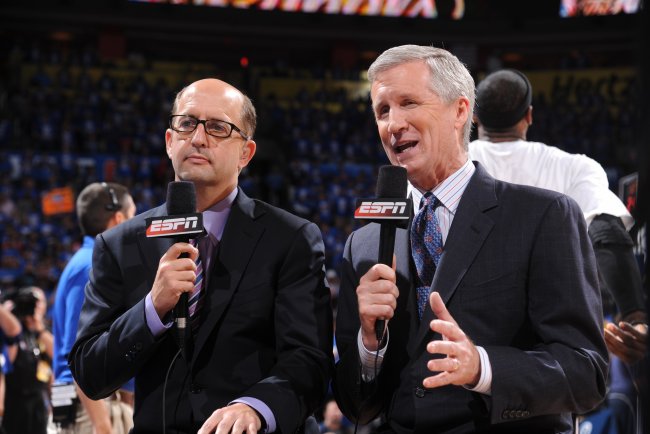 Garrett Ellwood/Getty Images
ESPN.com's Marc Stein and Ramona Shelburne previously reported that, "Sources close to the process told ESPN.com that the most likely scenario, even after Jackson was snubbed by the only candidate he has considered for the position since taking the Knicks' job in March, remains hiring a younger coach Jackson has worked with previously and can mentor."
One of the implications of Jackson wanting to groom someone in his image is the Triangle. The arrangement was employed with both the Chicago Bulls and Los Angeles Lakers during Jackson's tenures. It's premised on a particular style of ball and player movement, often revolving around a post player serving as a pivot point and making plays.
We now know Steve Kerr won't be taking the reins for Jackson (after accepting a long-term deal with the Golden State Warriors), so that's led to plenty of speculation about who might. Stein and Shelburne offer some additional names to consider, including some options to become assistants:
Sources say that Jackson likewise has interest in a number of veteran coaches he has worked with previously, including Kurt Rambis, Jim Cleamons, Bill Cartwright and Frank Hamblen. Cartwright, in fact, has already interviewed with Jackson since he joined the Knicks, but it's believed only Rambis from that group would be considered for the top spot on the staff.