The Cleveland Browns were in a desperate need for a wide receiver, causing them to sign free-agent veteran Miles Austin. Although this seems questionable at first, it is a smart move for the organization.
There was a lot of excitement surrounding the Browns after the first day of the draft. They selected cornerback Justin Gilbert with the No. 8 pick before really making a splash at No. 22, grabbing former Heisman trophy winner Johnny Manziel.
Although the electrifying quarterback might start his career on the bench, he will quickly find his way onto the field and bring a great deal of energy to a franchise that has generated little buzz in recent years.
Unfortunately, the excitement quickly turned into disappointment when T.J. Quinn and Don Van Natta Jr. of ESPN reported that Josh Gordon is facing a year-long suspension after failing a drug test.
ESPN Stats and Info provided a look at why this is such a big deal:
Josh Gordon is facing a season-long suspension; he accounted for 37.6% of the Browns receiving yards last season (2nd-most in NFL).

— ESPN Stats & Info (@ESPNStatsInfo) May 9, 2014
Gordon led the NFL in receiving yards this past season, and his presence will surely be missed. No matter who is throwing the ball for Cleveland, that quarterback will struggle without legitimate targets.
Things got even worse when the Browns decided not to take a single receiver in the NFL draft.
However, they did the next best thing and signed a reliable veteran in Austin. This move, as well as the signing of Earl Bennett, allowed the Browns to release the inconsistent Greg Little.
ESPN's Adam Schefter notes, Cleveland's receiving personnel will be a bit different than what was originally expected:
So instead of throwing to Josh Gordon and Greg Little, Browns QB Johnny Manziel will be throwing to Miles Austin and Earl Bennett.

— Adam Schefter (@AdamSchefter) May 16, 2014
The good news is that Austin has been productive when he is healthy. He made the Pro Bowl in both 2009 and 2010 and even posted 66 catches and 943 yards as a secondary target in 2012.
Dallas Cowboys head coach Jason Garrett recently explained that he wanted to retain the talented receiver, telling Rowan Kavner of DallasCowboys.com:
We love Miles Austin, we really do. Obviously, drafting Devin Street (Saturday), we addressed the receiver position a little bit. But Miles has been a really good player for us.
This is the type of thing that led CBS Sports' Jason La Canfora to believe this was a smart move:
Smart of the Browns to pounce on vet WRs now, but time will tell whether Miles Austin and Earl Bennett are able to stay healthy/contribute

— Jason La Canfora (@JasonLaCanfora) May 15, 2014
Of course, he also notes the negative when it comes to Austin. The receiver has struggled to stay on the field over the past three years, missing a total of 11 games.
When he was actually able to play in 2013, the wideout was not very productive in totaling just 24 catches for 244 yards. He eventually lost his job to rookie Terrence Williams.
The fact is that Austin no longer fit the Cowboys' offense. They wanted a downfield attack with faster players who could take advantage of Tony Romo's strong arm.
However, this is not what the Browns should be looking for in their receivers. Whether it is Brian Hoyer or Manziel under center, the young passer will need more reliability than flash from his pass-catchers. It is more important that a player can run the correct route and catch a ball thrown to him than make plays after the catch.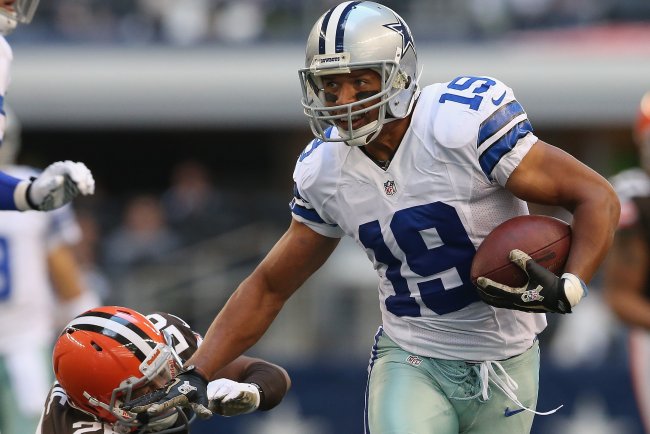 Ronald Martinez/Getty Images
This is what Austin can provide for a young quarterback. As long as he is healthy, he can be a consistent contributor who is always in the right position. If the quarterback gets into trouble (or in Manziel's case decides to scramble for days), the veteran will know how to adjust his route to help out his teammate.
These are things that Little struggled with, and it is likely the reason he is no longer with the team.
Meanwhile, tight end Jordan Cameron can still make the athletic plays down the field or in the end zone that is expected from a No. 1 receiver.
Austin obviously is no longer the elite receiver that he was just a few years ago. However, the Browns need help in this area and the former Cowboy is the best player available.
As long as things go according to plan, he could end up being a valuable addition to an improving team.