The call was worth the wait for Tre Mason.
After watching four running backs come off the board on the second night of the NFL draft, Auburn's latest Heisman Trophy finalist stood by, waiting to be selected in a draft that had the latest first running back choice in NFL history.
Then, midway through the third round, he got a call from a voice familiar to the Auburn football program—St. Louis Rams head coach Jeff Fisher.
Mason was selected with the No. 75 overall pick by the Rams, an NFL franchise with a growing connection to the Tigers.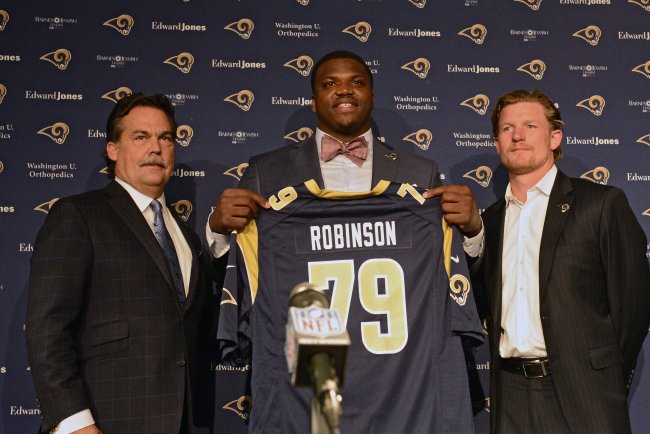 USA TODAY Sports
The Rams took highly touted Auburn offensive tackle Greg Robinson with the No. 2 overall pick in the draft. By choosing Mason the next day with their third-round pick, the Rams reunited an important pairing in Auburn's top-ranked rushing attack from its SEC championship season.
"We came in our freshman year talking about that we wanted to be three and out, and it's like a dream come true if we played together at the next level," Mason said as he was introduced in St. Louis on Tuesday. "God blessed us with the opportunity."
After Mason ended his call with Fisher, he immediately called his former Auburn and new St. Louis teammate.
"When I first called him, he couldn't believe it," Mason said. "He told me, 'Stop lying.' But I told him, just wait a couple minutes and you'll see that I'm not playing."
As the Rams' selection of Mason was being announced in New York City, an emotional Robinson took to Twitter to show his excitement about the reunion in St. Louis:
My brother @TreMason21 called me crying I just dropped a few tears this is crazy love you bro #RamsDraft

— Greg Robinson (@GRob_92) May 10, 2014
The early selections of Robinson and Mason gave Auburn fans a connection to the Rams, but the relationship between the NFC West franchise and the SEC West school has grown over the last several seasons.
The Auburn-St. Louis connection started several years ago at the top of the organization with Les Snead, St. Louis' general manager.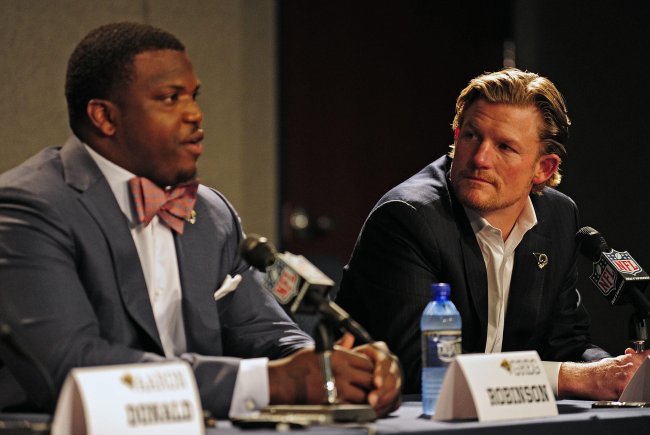 USA TODAY Sports
Snead grew up in Eufaula, a small Alabama town 60 miles south of Auburn. After two years of playing for former Auburn assistant coach Larry Blakeney at Troy State, Snead chose to walk on at Auburn as a blocking tight end for the 1992 and 1993 seasons.
Later, as a graduate assistant for the Tigers, Snead was exposed to the world of pro football scouting.
Snead spent more than a dozen years as a scout for both the Jacksonville Jaguars and the Atlanta Falcons. He would later become the director of player personnel for the Falcons, which led to him getting his current job in St. Louis.
The former Auburn tight end helped orchestrate the trade with Washington in the 2012 NFL draft that earned St. Louis the No. 2 pick this year. The Rams carefully scouted and researched all the available options for the highly valued draft position, and they decided to go with a player from Snead's alma mater.
"[Robinson is] who's going to be there, he fits a big-time need, we really like this player," Snead said on The Doug Gottlieb Show. "We didn't think that any trade that was going to come was going to outweigh Greg—no pun intended there."
Snead and the Rams' second pick in the draft, Pittsburgh defensive tackle Aaron Donald, even had an Auburn flavor to it.
Current Tiger and cancer survivor Shon Coleman announced the newest pro teammate for Robinson—whom Coleman is looking to replace on the Auburn depth chart in 2014—in New York City:
Throughout the weekend's draft, Snead stood in the St. Louis war room with head coach Jeff Fisher, who also has a personal connection to the Plains.
Trent Fisher, the son of the former Tennessee Titans' head coach, was a former walk-on safety at Auburn who earned a scholarship at the beginning of the 2012 season. Fisher recorded one of the few highlights from the Tigers' dreadful 2012 when he returned an interception 60 yards against Alabama A&M.
Jeff Fisher came down to Auburn several times to watch his son play from 2011 to 2013, and he became familiar with the pro prospects on the Tigers' roster.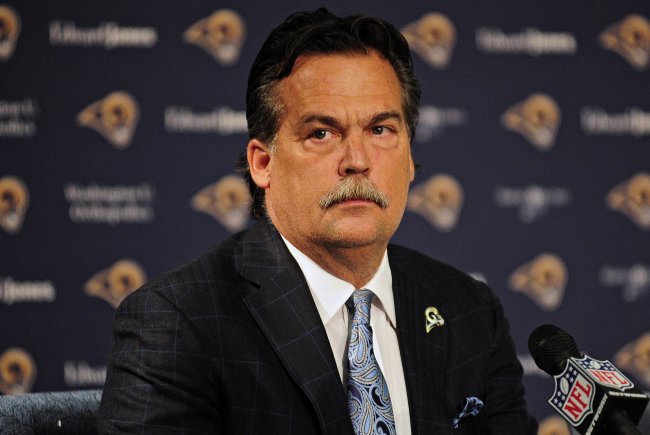 USA TODAY Sports
"Trent and I always talked about one day I'd maybe play for the Rams," Mason said Tuesday. "He'd always joke around like that. Come today, I'm sitting here a St. Louis Ram."
But even with Auburn's personal connection to the Rams' general manager and head coach, the move to pick Mason in the third round of the draft came as a surprise to the talented running back.
Mason neither visited with the Rams nor had a personal workout with the team, but St. Louis' front office was still comfortable with selecting a player it had become familiar with over the last season.
"We did our homework," Fisher said in a post-draft press conference last week. "We felt like we knew everything we needed to know about the kid. We just couldn't pass him up."
The Rams' familiarity with the Auburn roster was evident at this time last year. Although St. Louis did not select any former Tigers in the 2013 draft, they gave three former Auburn players—linebacker Daren Bates, wide receiver Emory Blake and tight end Philip Lutzenkirchen—undrafted free-agent deals.
Bates and Blake are still on St. Louis' roster, and former teammate Barrett Trotter now works as a scout for the Rams:
Thank you Sir may I have another... Back together with another former teammate @TreMason21. Welcome to the @STLouisRams #WDE #RamsDraft

— barrett trotter (@barrett_trotter) May 10, 2014
With Tiger connections in the front office, the coach's office and across the playing field, the Auburn Family will have a growing branch in St. Louis for seasons to come.
And Mason is glad to see those family bonds strengthen as the Rams continue to be a popular landing spot for Auburn players after their collegiate careers.
"Greg is my brother," Mason said. "We know each other's tendencies and techniques and how we play, so it will be great to continue on with Greg."
Justin Ferguson is Bleacher Report's lead Auburn writer. Follow him on Twitter @JFergusonAU. All quotes were obtained firsthand unless otherwise noted.