Although it's important to nail those first-round picks in the NFL draft, a Super Bowl winner is made by maximizing the later-round selections and unearthing some hidden gems.
Even if you don't believe that this is the deepest draft in recent memory, the amount of talent available is impressive. That, in turn, pushes players who might have been considered first-rounders in some years into the second, third or maybe even fourth rounds.
Looking down to some of the players who will likely fall past Day 1, these four players offer a lot of bang for their buck.
Antonio Richardson, OT, Tennessee
If not for his knee issues, Antonio Richardson would likely be a first-round pick. He has everything you look for in a potential starting tackle.
While Richardson doesn't possess the polish of Jake Matthews or the potential of Greg Robinson, he is more athletic than you'd expect for somebody who's 6'6" and 336 pounds and has enough strength to handle opposing defensive linemen.
Bleacher Report's Matt Miller feels that the Volunteers star isn't getting the respect he deserves:
It really feels like Antonio Richardson (Tennessee) has been underrated some. Solid two years of film, great length (35") and huge power

— Matt Miller (@nfldraftscout) April 27, 2014
Although he played left tackle at Tennessee, Richardson looks more like a right tackle in the NFL. His technical flaws would limit his effectiveness against premier pass-rushers.
Richardson could go in the second round, but if he falls to the third, somebody should snap him up quick. Whatever health problems are lingering, that risk is far outweighed by getting him that late in the draft.
Davante Adams, WR, Fresno State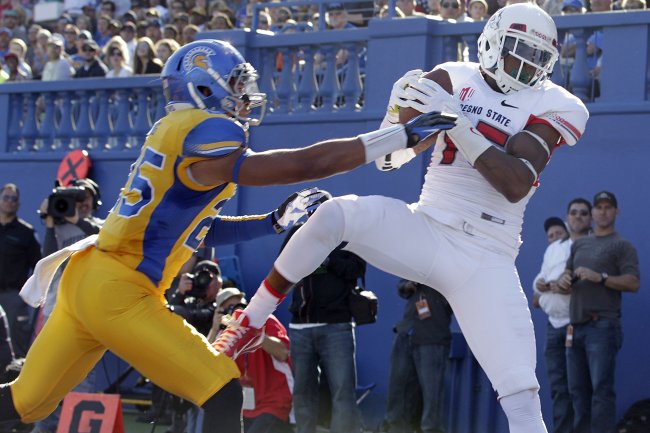 Tony Avelar/Associated Press
Once you get past Sammy Watkins and Mike Evans, this year's crop of wideouts is a crapshoot. Odell Beckham Jr., Marqise Lee, Kelvin Benjamin and Brandin Cooks all look like potential first-rounders, but their flaws should give teams a bit of pause.
Rather than grabbing a wide receiver early, waiting on Davante Adams may provide the bigger payoff.
His numbers no doubt jump off the page (233 receptions, 3,031 yards and 38 touchdowns in two years), but there are legitimate concerns about his level of competition at Fresno State.
What Adams lacks in speed he more than makes up for with pass-catching ability. He can jump above opposing defensive backs and contort his body in a way to give him the best chance to make the grab.
Ahead of the combine, the Bulldogs star affirmed his intentions to hit the ground running in the NFL, per Taylor Price of 49ers.com:
Fresno State WR Davante Adams: "I'm ready to play immediately and handle business." pic.twitter.com/XTuLcrlOvu

— Taylor Price (@TaylorPrice49) February 21, 2014
Although Adams' ceiling isn't as high as what guys like Beckham, Cooks, Watkins, etc., offer, his ability to contribute right away makes him a steal in the second or third round.
Kyle Van Noy, OLB, BYU
"Solid" is exactly what comes to mind when you try to describe Kyle Van Noy in one word:
Risers on Big Board include Zack Martin (ND), plus some LBs -- Chris Borland and Kyle Van Noy. Spent more time on Van Noy tape -- solid.

— Mel Kiper Jr. (@MelKiperESPN) April 10, 2014
Like Adams, he's not somebody who's going to blow you away with his speed and athleticism. Instead, the BYU linebacker merely goes about his job and does so admirably.
Van Noy reads the game so well. He takes good pursuit angles, and his change-of-pace ability allows him to quickly react and respond to how the play unfolds.
The one thing about Van Noy is that he'll need to be in the right defensive scheme in order to flourish:
Van Noy is an interesting LB prospect. Would play Sam or Will in a 4-3. Always around the football. Had 5 defensive TDs at BYU.

— Tim Twentyman (@ttwentyman) April 24, 2014
It may seem crazy, but Van Noy may actually be a better pick than Anthony Barr. Although Barr is a freak athlete, how many of those types of guys have been busts?
Give me the consistent, instinctual defender any day of the week.
Marcus Roberson, CB, Florida
For a short time, Marcus Roberson was mocked toward the end of the first round. His stock has since fallen, and now he projects as somewhere between a second and fourth-rounder.
Roberson won't turn into the next Deion Sanders, except when it comes to tackling, but teams can't have enough productive, dependable cornerbacks.
Sports Illustrated's Doug Farrar put it best when describing Roberson's utility in the NFL:
The trend in today's NFL is to try and find that dominant cornerback who has the size, controlled aggression and athleticism to shut down every opponent's No. 1 receiver. But when reality intervenes, and teams realize that such players are few and far between, the defenders who are often prized over time are the ones who can do many things well.
The Gators defensive back is one of those players who does many things well. He's solid, if unspectacular, in coverage and talented enough to make big plays when the ball is in the air.
As long as a team doesn't draft him with the intention of making him the No. 1 cornerback on the depth chart, it will be getting a contributor in pass defense.