The "#RememberSenna" hashtag was trending on Twitter on the morning of 1 May 2014, two decades to the day since Ayrton Senna, the three-time Formula One World Champion, lost his life in the San Marino Grand Prix.
The world and F1 have evolved quite dramatically in these last 20 years, haven't they?
Senna remains the last driver to die in a Formula One car. His fatal crash at the Tamburello corner of the Imola circuit in 1994, 24 hours after Austrian driver Roland Ratzenberger lost his life a couple of hundred metres down the road, signified the end of an era—and the start of a new one.
The subsequent improvements in safety ensured that every driver since has been free to replicate as best they can the aggressive driving style that Senna made his own in overhauling F1, challenging the conventional wisdom.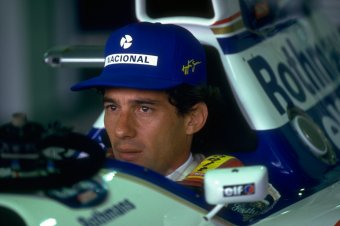 Pascal Rondeau/Getty Images
The competitors of today can launch their car up the inside of another and not be regarded as dangerous but rather as true racers. They take these risks in the knowledge that if all goes wrong, the worst that will happen is that they will leave the circuit that same evening with no points rather than no life.
The posts of drivers and teams on the 20th anniversary of his death—from Senna's colleagues and rivals to those who never knew or met him—that have flooded Twitter, which was founded on what would have been the Brazilian's 46th birthday in 2006, are not just tributes but messages of thanks.
And that feeling of gratitude, that his death allowed the stars of today to enjoy their careers, means that Ayrton Senna will always be remembered.
Here are the best tributes on the 20th anniversary of the loss of F1's fastest-ever driver.
Lotus broke off from their habit of posting humourous tweets by writing a heartfelt tribute to Senna. The team played a significant role in the Brazilian's career, with Senna claiming the first of his 45 wins for Lotus in the 1985 Portuguese Grand Prix.
We'll never forget the gift that you had and the gift that you gave to us. #RememberSenna pic.twitter.com/FsgPxad1n7

— Lotus F1 Team (@Lotus_F1Team) May 1, 2014
As the team which provided Senna with each of his three championship-winning cars, it came as no surprise to see McLaren extremely active in their remembrance of Senna. The Brazilian drove for the Woking outfit between 1988 and 1993, over which time he secured 35 grand prix victories.
On the limit, millimetre-perfect, knuckles white: this is how we'll always remember him. #RememberSenna pic.twitter.com/6U7FlxYjly

— McLaren (@McLarenF1) May 1, 2014
Senna's final team, Williams, have carried a tribute to the Brazilian on each of their cars since his passing. On the 20th anniversary of his demise, that sentiment has extended to their social media affairs, with the team posting this touching image:
Today we remember a racing legend.....20 years on and still in our thoughts #RememberSenna #NeverForgotten pic.twitter.com/LJc93He3L5

— WILLIAMS RACING (@WilliamsRacing) May 1, 2014
Felipe Massa came desperately close to becoming Brazil's first world champion since Senna in 2008, and the 33-year-old, who as a Williams driver is emulating his boyhood hero this year, posted a tribute to his personal Instagram account:
Massa's former Ferrari teammate, Fernando Alonso, has commented on how the deaths of Senna and Ratzenberger led to an improvement in safety standards. The two-time world champion has experienced their legacy himself, having emerged unscathed from a horrific first-corner crash at the 2012 Belgian Grand Prix.
Imola.... Roland Ratzenberger, Ayrton Senna, and that sad and terrible GP 20 years ago. Current safety in F1 is also their legacy #heroes

— Fernando Alonso (@alo_oficial) May 1, 2014
Lewis Hamilton won his sole world championship at Senna's home track, Interlagos, in 2008. The Brazilian's influence on the British driver is clear, with Hamilton wearing a similar-coloured helmet to Senna throughout his career. Hamilton paid his respects via Twitter, with a link to his personal website, where he explains his admiration of the three-time world champion in further detail:
Senna was an incredible legend who will be remembered and admired forever. He had the rare quality of greatness http://t.co/3tVI8RGOB0

— Lewis Hamilton (@LewisHamilton) May 1, 2014
Bruno Senna, Ayrton's nephew, has offered an alternative perspective on the 20th anniversary of the three-time world champion's death, posting a picture of a playful Senna on holiday. Senna emulated his uncle by competing for the Lotus-Renault and Williams-Renault teams in an F1 career spanning three years.
Compartilhe a sua experiência! Share your experience! http://t.co/aXN3L2jHH0 Saudades e muitas memórias alegres! pic.twitter.com/HxxGjUpbLl

— Bruno Senna (@BSenna) May 1, 2014
The impact of Senna, of course, was not just confined to the F1 community. Brazilian football team Corinthians Paulista paid a remarkable tribute to Senna ahead of their match against Nacional AM on Wednesday, with their players emerging from the tunnel with Senna-style replica helmets. Senna's success and patriotism had and continues to have a major impact on Brazil, which will host the FIFA World Cup this summer.
#AyrtonSennaDaFiel #SennaEterno pic.twitter.com/ojpPi5hHBi

— Corinthians Paulista (@Corinthians) May 1, 2014
Arsenal forward Lukas Podolski has also paid tribute to Senna. The German international is a good friend of seven-time world champion Michael Schumacher, who went on to win the 1994 San Marino Grand Prix and that year's world championship, after Senna's fatal accident temporarily halted the race.
Never forget Ayrton Senna. Legends never die..... #RIP #Legend #formel1 #brazil #racing #senna pic.twitter.com/n11SSrp81s

— Lukas-Podolski.com (@Podolski10) May 1, 2014
2009 world champion Jenson Button, who like compatriot Lewis Hamilton sealed his title at Interlagos, celebrated Senna's life by posting a link to a video produced by McLaren in honour of Senna's qualifying performance at Monaco in 1988.
A special memory of one of the greatest drivers that the sport will ever see http://t.co/cIrZKepaNt #RememberingSenna

— Jenson Button (@JensonButton) May 1, 2014
David Brabham, son of three-time world champion Jack, was the teammate of Roland Ratzenberger at the Simtek team in 1994 and was deeply affected by the events at Imola. You can read the Australian's recollection of the weekend with Matthew Walthert here.
When Ayrton drove, we were in awe, when he spoke, we listened, commitment like no other, he was simply the best. #AyrtonSenna

— David Brabham (@brabsracer) May 1, 2014
Rubens Barrichello was injured on the Friday at Imola following a crash which appeared to be more violent than those which killed Ratzenberger and Senna. He became the first Brazilian to win a race since Senna at the 2000 German Grand Prix, with the emotion of the occasion leaving the popular Ferrari driver shedding tears during the podium ceremony.
Although Senna never came into contact with Mercedes in Formula One, the German manufacturer provided him with the car that propelled him onto the world stage.
A "race of champions" event took place to mark the opening of the new Nurburgring in May 1984, with star names competing in equal Mercedes machines. A fresh-faced Senna was only recruited as a replacement for Emerson Fittipaldi but turned up and won anyway.
Remember Ayrton now as he shone brightest in life: dancing on the limit #ObrigadoAyrton pic.twitter.com/LR4Hu1u0XA

— MERCEDES AMG F1 (@MercedesAMGF1) May 1, 2014
Like Senna, Kevin Magnussen was signed by McLaren to give his world-champion teammate something to think about. The Dane, who is barely old enough to remember the Brazilian in action, posted this image of a triumphant Senna:
Legend. pic.twitter.com/m6WQWZ6uHO

— Kevin Magnussen (@KevinMagnussen) May 1, 2014
When Senna was at his peak, Red Bull was just another energy drink. Fast-forward 20 years, and that beverage is now a four-time world championship-winning constructor. The team's tribute to the Brazilian, promoted via the their Twitter account, includes quotes from reigning world champion Sebastian Vettel, who has avoided cyberspace and is arguably the fastest driver over a single lap since Senna.
20 years ago F1 lost one of its true giants. We pay tribute to a racing legend: http://t.co/dj2slrdmwp #RememberSenna pic.twitter.com/1SYuDizppv

— Red Bull Racing (@redbullracing) May 1, 2014
The sheer outpouring of love, not grief, for Senna on this, the 20th anniversary of F1's biggest loss, is a reflection of his unrivalled stature. His overwhelming charisma allowed him to capture the imaginations not only of Formula One's fans and onlookers but those of his colleagues and fellow competitors.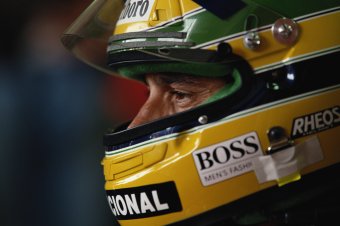 Pascal Rondeau/Getty Images
There is a special group of people in sport who have the ability to make those around them fully aware of their greatness as it happens.
But Senna didn't just make them aware—he reinforced his greatness, his superiority, again and again and again.
And that's why, two decades later, Senna is still remembered so fondly.