Myles Jack is on the verge of growing into an elite linebacker in the college football world, and it has absolutely nothing to do with the offensive side of the ball. The rising sophomore just closed out spring ball at UCLA, and the Bruins' stud defender is set to take the next step in his development as a linebacker.
A next step that will place him squarely in the upper echelon of collegiate linebackers.
Yet, the only thing folks seem to take pleasure in discussing is his offensive production, a topic that comes up whenever Jack's name is mentioned. Despite Jack and UCLA confirming that he is a linebacker and that running back is merely a spot duty, the ball-carrying question becomes a focal point time and again.
.@Mike_Yam: Will Jack be on offense this year? Mora: "He's gonna touch the ball on offense. Don't know how many times, but he'll touch it."

— Pac-12 Networks (@Pac12Networks) April 28, 2014
It should not be surprising that the two-way phenomenon combined with the nation's lust for offense has created a unique beast in Jack. He pulled double duty in five games a season ago out of necessity, something that drew the attention of fans and media. Terms like "throwback" and "iron man football" came to mind as people conjured up images of their favorite ideals from an extinct version of the game.
Add to that the American college football fan being infinitely more interested in offense than defense, and Jack's touchdowns were a major catalyst. People wanted more of everything, but especially more touchdowns. After all, who would waste time playing defense when they could be trotting into the end zone?
Combine the nostalgia and the modern uniquity of Jack with the fact that he was scoring touchdowns, and it became the perfect storm during 2013—a storm that has lingered through spring and will likely ramp up as the 2014 fall season approaches.
Jack doesn't need to be on offense to be one of the best players in the nation. In fact, it is best for Jack, and UCLA, if the sophomore spends as little time as possible on the offensive side of the ball. While the nation fawns over the offensive production, it conveniently ignores the gaping hole left in the defense by the absence of Jack when he is forced to be a significant part of the offense.
Although Jack carried the ball in five games a season ago, there were only three games—Arizona, Washington and Arizona State—where he toted the ball more than five times. Each of those contests saw the defense give up over 400 yards. While Jack started strong with eight tackles against Arizona, his impact on defense tapered off over the three-game stretch, to zero tackles against the Sun Devils.
The only other 400-plus-yard performances allowed by the defense were to the Pac-12's elite teams: Oregon's 555 yards and Stanford's 419 yards.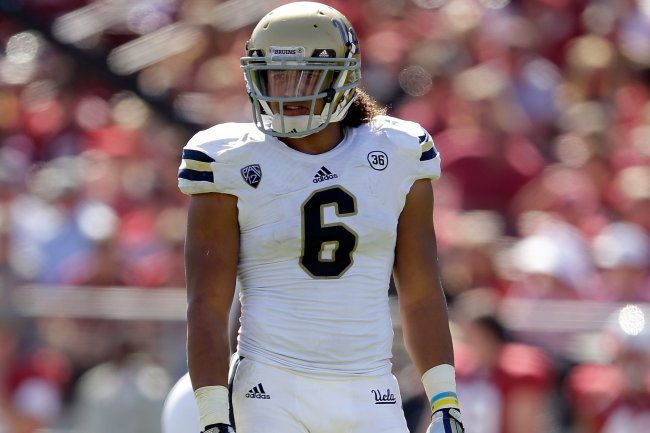 Ezra Shaw/Getty Images
Jack's absence was felt in stretches as the coaching staff tried to juggle his time and get the freshman some rest. In 2014, without Anthony Barr, Jordan Zumwalt and Cassius Marsh on the defensive side of the ball, Jack will be needed in an even greater capacity. Jack and fellow returning linebacker Eric Kendricks have to be the heart and soul of the defensive front for these Bruins to make a push for a Pac-12 championship.
It's clear UCLA will need Jack on the defensive side in its immediate future; for the athlete's career, linebacker is also where his star will burn brighter. Jack is a rare breed at linebacker, perhaps because so many of his ilk opt for the points and glory of running back.
The sophomore is a true every-down linebacker. He's a player who can be influential against the run and the pass. He is developing into a capable, active blitzer, something he showed flashes of in 2013. The young man also reads his keys well and flows fast, downhill to the football. And as so few backers can, Jack is an elite athlete in space, making him a plus in pass coverage instead of a liability.
Do you think Myles Jack should play running back?
Offenses are becoming increasingly specialized and looking to manipulate defenses and defensive personnel. Jack is the rare linebacker who can stay on the field for every down, and in every situation. He can flex out to cover tight ends. He can cover the curl-to-flat area. He can sift through the wash on run downs to make tackles.
That versatility on the defensive side is enough to make him the star. That ability is why he is currently NFLDraftScout.com's top-ranked outside linebacker for his class. As Barr heads to the NFL as a probable top-10 pick, Jack is set to replace him as the household name on Jim Mora's UCLA defense.
Defense is Myles Jack's home. Defense is where he has a shot to be a high draft pick with a bright future. Defense is where his star will rise on the collegiate landscape.
If the sophomore has to play on offense, due to necessity, then Mora will make that move. However, UCLA and Jack are best suited with the linebacker on the defensive side of the ball, and he certainly doesn't need offense to make him a star on the collegiate landscape.