Scouting Report: Should Everton Manager Roberto Martinez Sign Adrien Regattin?
April 29, 2014

Scott Heavey/Getty Images
Everton manager Roberto Martinez wants to add "another six or seven players" to the squad, per Phil Kirkbride at the Liverpool Echo. One suggested summer transfer window target is Toulouse's Adrien Regattin, so here is a scouting report on the 22-year-old French-born Moroccan international. 
Positives
Regattin is a 5'6", 148-pound central midfielder/right winger with a pitbull-type demeanour to playing the game.

Source: Ligue1.com.
Regattin is nimble-footed, pacey and regularly flashes quick-twitched movements. 
Last season, he accelerated through on goal and dauntlessly clipped the ball over an onrushing Brest goalkeeper Alexis Thebaux.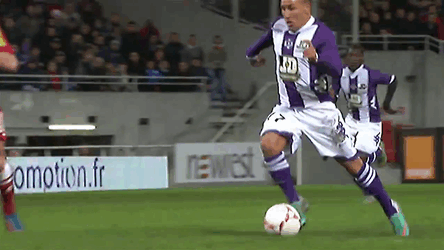 Source: Ligue1.com.
Against Valenciennes, Regattin cut in, forged ahead without challenge and confidently placed the ball in the bottom corner.  
Source: Ligue1.com.
Regattin creates separation from opposing players, like when he accumulated five successful take-ons from nine attempts against Nantes, per Squawka.com.

Source: Squawka.com.
Regattin powered his way into Bordeaux's defensive half and sent in a precise cross to then-Toulouse left winger Franck Tabanou. 
Source: Ligue1.com.
In a play against Guingamp, Regattin was in an advantageous scenario where he could set and cross.
His ability to move fluidly without the ball is why he is often unmarked when in possession of the ball out wide.
His cross led to Toulouse left wing-back Issiaga Sylla heading the ball at Guingamp keeper Guy N'Dy Assembe.
Source: Ligue1.com.
Here is why Regattin is an ideal fit for Martinez.
Everton average more possession per game (55.5) than Liverpool (55.3), Tottenham Hotspur (54.9) and Chelsea (54.6). 
There are 10 Everton players who have an 85 pass completion percentage or higher—Regattin completes 87.2 percent of his passes. 
Against Monaco, he passed accurately, making 92 percent of his passes, controlled the tempo of play and made thorough decisions on the ball.

Source: Ligue1.com.
Regattin can play one-touch football, as evident when he smartly released Toulouse centre-forward Martin Braithwaite after redirecting a pass from Sylla. 
Source: Ligue1.com.
Negatives
Regattin averages 0.3 tackles per game, and last season it was 0.5, so while he is an energetic player, his defensive productivity must improve. 
Taking out Montpellier centre-back Daniel Congre and receiving a red card last season is a snapshot into Regattin's ineffectiveness when Toulouse are defending. 
Source: Ligue1.com.
Abel Aguilar (26 starts), Clement Chantome (23 starts) and Etienne Didot (27 starts) are more vital central midfielders to Toulouse than Regattin (six starts), who has been a bit-part player throughout his Ligue 1 career. 
Since daredevilishly flicking the ball into the air and scoring an awe-inspiring overhead kick against Nice in 2011, Regattin's sluggish development is a concern.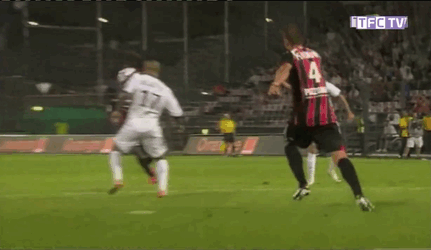 Source: Ligue1.com/TFC.info.
Bottom Line
Martinez plans on reinforcing Everton's squad depth, so he should consider gambling on Regattin's talent.
In 2013, French Football Weekly listed Regattin as one of the best prospects playing in France. 

Source: FrenchFootballWeekly.com.
Now Everton fans may point to the failures of Magaye Gueye (Strasbourg; 2010) and Guillaume Plessis (Lens; 2005), but signing Joseph Yobo (Marseille; 2003) was a home run. 
Martinez's predecessor, David Moyes, also hit the jackpot with Steven Pienaar (Borussia Dortmund; 2008) and Mikel Arteta (Real Sociedad; 2005).
Neither player was projected as a future star for Everton. 
Pienaar was ranked as the 138th-best player in the Bundesliga, per Kicker.


Source: Kicker.de.
Arteta was a leap of faith, as he had multiple red flags:

He did not make the grade at Barcelona.
He was not a Spanish international in a period prior to La

Furia

Roja's international dominance.
He claimed homesickness at Rangers, per Mark Buckingham at Sky Sports.
Upon moving to Real

Sociedad

, Arteta's relationship with then manager Jose Maria

Amorrortu

was 

unsalvageable.

According to Arteta, the two had irreconcilable differences stretching back to youth football, per Daniel Taylor at the Guardian:
[Amorrortu] was my coach when I was a kid in Bilbao and he never forgave me for joining Barcelona. 

I told him at the time, 'How can you deny me my dream? Barcelona have the best youth academy in the world.'

But he never accepted it. He didn't play me and we didn't talk. After four months I knew I had to leave.
Pienaar was Everton's Player of the Season for the 2009-10 campaign, while Arteta won back-to-back Player of the Season awards (2005-06, 2006-07).
Amid a plethora of forgettable speculative bets (Andy van der Meyde, Ibrahim Said, Jo, Per Kroldrup, et al.), Arteta and Pienaar were calculated risks which far exceeded expectations.
Regattin's passion is suited to the Premier League, he is able to conjure up special moments, he can play inside as a central midfielder, outside as a right winger and is a precise passer. 
Martinez should sign Regattin on loan and give him a chance to impress like Moyes did with Pienaar and Arteta.  
Statistics via WhoScored.com.