The Indiana Pacers haven't been officially eliminated from the NBA playoffs just yet, but it's hard to see any way for them to avoid that fate after watching them drop a critical Game 5 at home to the Atlanta Hawks.
Atlanta took a 3-2 lead with the 107-97 win, and while plenty of teams have overcome a 3-2 deficit, the Pacers' performance on Monday didn't provide any reason to believe they'll be the next one.
Sure, we saw what appeared to be signs of life in Indy's fourth-quarter run. It cut the Hawks' once-massive advantage to single digits behind a little small ball and a lot of desperation. But undersized lineups reliant on Chris Copeland aren't really signs of life.
They're last gasps.
The Pacers have become a different team entirely over the past few months. Gone is the gritty, bruising bunch that surged out to the NBA's best record on the strength of a historically stout defense. The 50-plus games Indiana spent as the league's biggest bully feel like they never even happened.
Indiana Pacers Season Segments

| | | | | |
| --- | --- | --- | --- | --- |
| | ORtg | DRtg | NetRtg | Record |
| First 50 Games | 102.4 | 94.0 | +8.4 | 39-11 |
| Final 32 Games | 100.1 | 101.0 | -0.9 | 17-15 |
| Postseason | 101.5 | 101.9 | -0.4 | 2-3 |
NBA.com
Now, the Pacers can't score. Now, the Pacers can't stop the offense of a No. 8 seed that finished the regular season six games under .500. Now, Roy Hibbert—once the anchor of an elite defense—finishes do-or-die playoff games with zero points and zero rebounds.
The Hawks took advantage of a broken opponent by playing with confidence and exploiting a stylistic mismatch many saw coming. They deserve loads of credit for stomping on a foe before it could get up off the mat.
And while it's hard to pick out the moments when it looked worst for Indiana in Game 5 (because there were so, so many of them), here's a rundown of what went wrong in the Pacers' latest embarrassing loss.
By the way, these breakdowns double as reasons to doubt the Pacers will recover in time to avoid a first-round exit.
Oh, Roy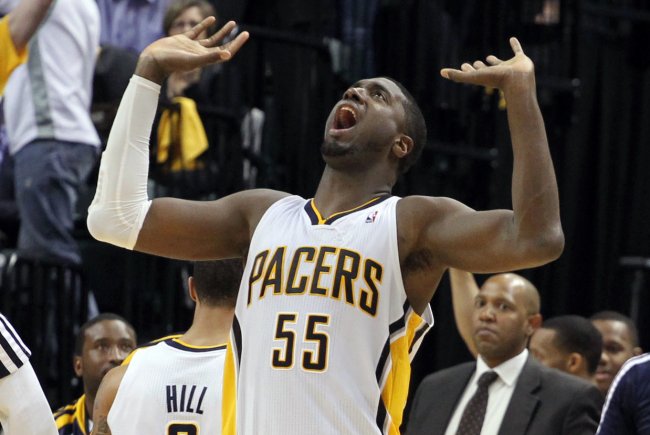 USA TODAY Sports
There was an audible groan at Bankers Life Fieldhouse when Roy Hibbert couldn't cram home an easy bucket just two minutes into the first quarter. Nobody is saying an easy slam would have erased the months of statistical misery Hibbert has endured, but it couldn't have hurt.
He couldn't put down an uncontested left-handed dunk, one of just two shots he'd attempt on the night.
In all, Hibbert played 12 minutes and failed to record a point or rebound. ESPN's Kevin Pelton pointed out Hibbert's harder-to-detect value, but at this point, fishing for small samples that show Hibbert to be a positive influence feels like a waste of time.
Since Roy Hibbert left: 5:41DeMarre Carroll makes layup 5:07Jeff Teague makes driving layup12-12 4:35Paul Millsap makes layup

— Kevin Pelton (@kpelton) April 29, 2014
If you're watching the games, you know he's done as a meaningful contributor—at least for the foreseeable future. His horrible night wasn't an outlier; it was the continuation of an ugly trend that now seems completely irreversible.
Roy Hibbert has more fouls (15) than made FG's & FT's combined (14) in this 1st round series vs Atlanta.

— Tommy Beer (@TommyBeer) April 29, 2014
The Killer Quarter
The next low point (remember, there were more than a few) came when Hawks forward Mike Scott completely lost consciousness against Indiana's forgetful defense.
He buried five threes in the second quarter as the Pacers couldn't do anything to stop Atlanta's lead from swelling. The Hawks blitzed Indiana with pace and space, drilling shot after shot while also tracking down loose balls and creating extra possessions.
Seeing no other option, Paul George tried to do a little too much in his efforts at a counterattack. He tossed up contested jumpers, turned the ball over and generally played like a guy desperate to save his team all by himself.
He couldn't, and even the fans in his home arena turned on him—well, one vocal fan anyway.
"I guess you're ready to go home in the first round! You ready to go home in the first round to Atlanta?" #Pacers fan screaming @ P. George.

— A. Sherrod Blakely (@SherrodbCSN) April 29, 2014
George finished with a phenomenal line of 26 points, 12 rebounds, six assists and six steals on 9-of-16 shooting. He wasn't the problem. But as the superstar of the franchise, he'll take a lot of heat going forward.
Things were bad—so bad, in fact, that many observers started asking the bigger questions. You know, the ones we'll be trying to solve after Indiana inevitably completes its collapse in the very near future.
When is a game that's over not really over? Right now

— Steve Alexander (@docktora) April 29, 2014
At some point, I hope we find out what happened with this Pacers team behind the scenes. There has to be more that we don't know.

— Alex Kennedy (@AlexKennedyNBA) April 29, 2014
Overstating the impact of that second quarter is almost impossible. It was historic:
With 9 3-pointers made in the 2nd quarter, the Hawks tied the NBA postseason record for 3-pt FGM in a quarter

— Basketball Reference (@bball_ref) April 29, 2014
It was also responsible for a very pretty shot chart...if you're into green:
.@ATLHawks erupt & outscore the Pacers 41-19 in the 2ndQ on 13/16 shooting, 9/11 from 3! pic.twitter.com/uIyNgLw1C1

— NBA.com/Stats (@nbastats) April 29, 2014
From there, the game was essentially over.
Fool's Gold
The Pacers put together the aforementioned fourth-quarter spurt, but the hole they'd dug was far too deep. And Lance Stephenson's poetic wedgie served as a symbol of how even the simplest tasks (open layups) have become painfully difficult for this Pacers team.
Indiana must now win back-to-back games to avoid elimination, something it hasn't done since vanquishing the mighty Detroit Pistons on March 15 and the formidable Philadelphia 76ers on March 17. That's more than a month without two straight wins, for those without a calendar.
For the optimists out there, go ahead and cling to the aforementioned fourth-quarter burst. But if we really think about it, is that "too little, too late" run actually a positive sign at all?
Top seeds aren't supposed to have to "find something" just to be competitive in a must-win game at home against a No. 8 seed. A gimmicky lineup that completely throws the team identity out the window is a desperate move that screams one thing, loud and clear: These Pacers don't know who they are anymore.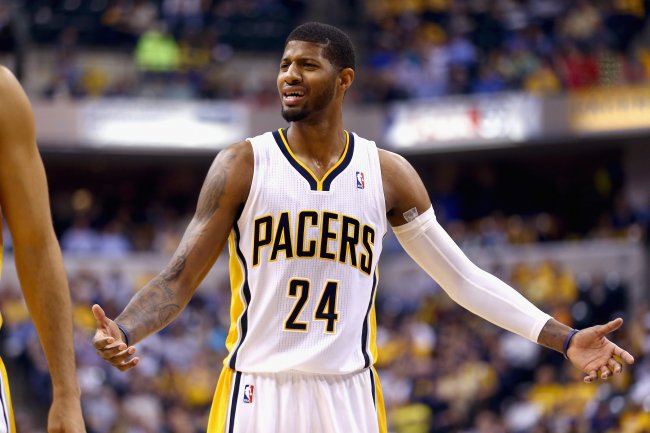 Andy Lyons/Getty Images
It's funny how three consecutive months of infighting and losing have a way of obscuring a team's self-image.
The Pacers are a far cry from the team they once were, and it's now obvious that nobody—not Frank Vogel, not George and certainly not Hibbert—knows how to push that magic button that will restore them to their former dominance.
"We have great respect for this opponent. They're testing us, and we have to respond." - Frank Vogel

— Atlanta Hawks (@ATLHawks) April 29, 2014
You can wait for the buzzer to sound on Indiana's wasted season if you want. But if you'd like to save a little time, go ahead and presume Indiana dead right now.
There hasn't been a real sign of life for a very long time.