The once-formidable Indiana Pacers have fallen further than any of us expected this spring.
After scoring a franchise-record low 23 points in the first half against the Atlanta Hawks on Sunday, Indy fell, 107-88, at home and dropped a full game behind the Miami Heat in the East.
Most NBA title contenders go through rough patches at some point in the season, but this has been an extended downward spiral capped by an unsightly drubbing at Banker's Life Fieldhouse. Frank Vogel's club looks like anything but a title contender these days.
Pacers were rolling to a possible top seed in the East. Then the improbable last 18 games happened. (via @ESPNMag) pic.twitter.com/8zRAOKd4HV

— SportsCenter (@SportsCenter) April 7, 2014
The team's lack of cohesiveness and competitiveness was on full display in the first half against the Hawks, as the Pacers racked up a grand total of one assist heading into the locker room. They struggled to create favorable scoring opportunities, and the result was 7-of-35 (20 percent) shooting at the half.
The early-game ineptitude reached historic proportions:
Indiana's 23 first half points is the lowest in the franchise's NBA history. At halftime: Hawks 55 Pacers 23

— Indiana Pacers (@Pacers) April 6, 2014
A huge factor in the Pacers' first-half failures was the ineffectual play of All-Star center Roy Hibbert.
Indiana's anchor in the middle was held off the glass, less than exemplary on defense and a non-factor as a scorer. He finished the first half scoreless on 0-of-5 shooting with zero rebounds and one turnover.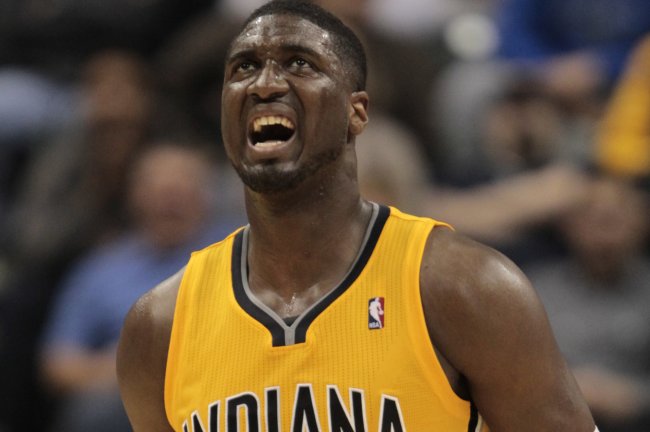 AJ MAST
Frank Vogel obviously wasn't enamored with the big fella's performance—or his body language—during the first half, and he sat him the entire second half.
Hibbert's body language didn't improve at all from the bench, even though it was an opportunity for him to encourage his teammates as they chipped away at Atlanta's massive lead.
Recently, the vociferous center called out his teammates, saying there are "some selfish dudes in here."
That's ironic, because he administered his own dose of selfishness Sunday, withdrawn from the team and not engaged at all.
Hibbert and Bynum, who is inactive, the first ones to peel away from the team huddle - while it was still going on during this timeout

— Candace Buckner (@CandaceDBuckner) April 6, 2014
According to Pacers radio broadcast, Hibbert walked to locker room b4 buzzer sounded. Miami now 1 game up in East.

— Ethan J. Skolnick (@EthanJSkolnick) April 7, 2014
It's disconcerting that Indiana is struggling with these kinds of issues at this point in the season. Vogel wanted to send a message to Hibbert in the second half against Atlanta, and he may sit him some more moving forward.
Vogel says he doesn't know If Roy will start Wednesday

— Tim Donahue (@TimDonahue8p9s) April 7, 2014
As for the rest of the Pacers, they competed, but came up embarrassingly short against a Hawks squad that was missing two starters.
In the second half, Indy moved the ball much better and attacked the basket more effectively, but the early thrashing still leaves a bad taste. The squad's triumvirate of playmakers was unable to get into a rhythm and establish an effective identity: Paul George, George Hill and Lance Stephenson shot a combined 10-of-33 Sunday.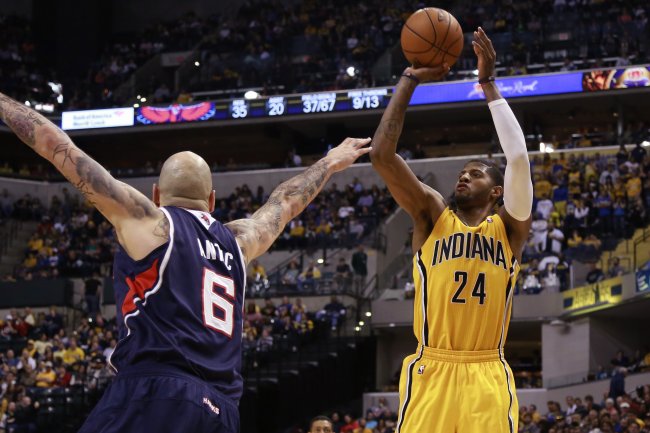 R Brent Smith
The hideous home loss is the latest in an embarrassing two-month stretch for the Pacers. Indiana is 13-13 since the All-Star break, and it's the weakest No. 2 seed we've seen in a long time. Any thought of competing with Miami for Eastern Conference supremacy seems laughable at this point.
Vogel believes his thoroughbreds are a bit drained at this juncture, and he needs to make some adjustments to prepare for the postseason:
Vogel: "Our whole starting five looks worn down to me. We've gotta figure out rest vs. rhythm."

— Indiana Pacers (@Pacers) April 7, 2014
When the Pacers were at their best this year, they were sharing the ball methodically to find high-percentage looks, and the game was coming easy to Paul George. Hibbert and David West were controlling the paint, and the team always dictated the pace.
Fast-forward to Sunday, and things look much different.
They were out-rebounded by a Hawks team that ranks 28th in that category. They let Pero Antic drop 18 on them. They let Paul Millsap toy with them. And, as previously mentioned, they had one assist at halftime. One.
We're seeing a lack of dynamic shot creation and consistent ball movement on offense. And worse yet, we're seeing shaky defense that fails to rotate and finish out possessions.
When you combine the product on the court with the body language on the bench, it's clear that this team doesn't have the recipe for winning right now. It doesn't look like the Pacers have the moxie or the wherewithal to regain their early-season form. The 2013-14 Eastern Conference is a laughingstock, yet the Pacers are failing to keep their heads above water.
Big changes must take place, and soon. Otherwise, Indiana will be dispatched early in the playoffs and go down as one of the biggest underachievers of this era.
Dan O'Brien covers the NBA for Bleacher Report.
Follow him on Twitter: @DanielO_BR