Goaltending remains one of the most critical question marks for the Philadelphia Flyers as the regular season draws to a close.
This isn't a new sentiment; a particularly lazy columnist could have written something along these lines 15 years ago and simply re-issued the piece with a few names changed and a line or two added every spring since. Not since the days of Ron Hextall have the Flyers had a goalie they could really bank on tending the nets.
This year, Steve Mason is the man tasked with being the final line of defence, and to his credit, in a lot of ways he's earned the opportunity.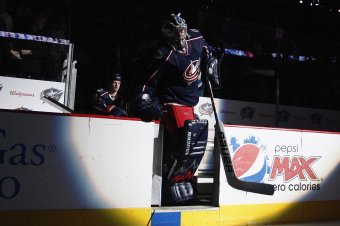 John Grieshop/Getty Images
Mason hasn't appeared in a postseason game since 2008-09, his first year in the majors. He burst on to the scene in Columbus, posting a 0.916 save percentage en route to winning the Calder Trophy as the league's most proficient rookie and further being honoured with a spot on the league's second All-Star team.
The dream season ended with an incredibly disappointing playoffs. Mason averaged just over four goals against per game as the Blue Jackets were swept in the only postseason series in franchise history.
From that point on, Mason became part of the problem in Columbus. Given the majority of his team's starts for the next three seasons, Mason hovered around the 0.900 save percentage mark and played a key role in ensuring the Blue Jackets didn't get a chance to improve on their 0-4 postseason record. Finally, last season, he was traded to the Flyers.
He's been remarkable since. As the starter in Philadelphia this season, Mason has matched the heights of his rookie campaign, posting a 0.916 save percentage and a 31-17-7 record. He easily brushed aside an early-season challenge from Ray Emery and was rewarded in January with a three-year contract extension:
Steve Mason extension, first reported by @Real_ESPNLeBrun is 3 years, $12.3M.

— Elliotte Friedman (@FriedgeHNIC) January 18, 2014
Still, it's hard to forget how badly Mason played the last time he appeared in the playoffs, particularly since in a lot of ways this season has followed the same curve as that one, with a hot start, a disastrous middle and a resurgence at the tail end of the year: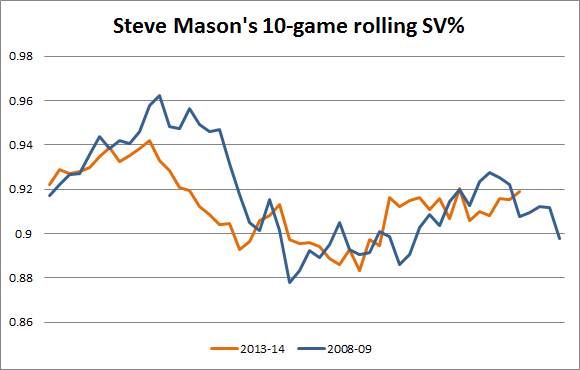 Jonathan Willis
It's probably not worth getting too worked up over what happened at the end of that 2008-09 campaign. The Jackets met a powerhouse Detroit team in the first round and got flattened, and besides that Mason was an awfully good playoff goalie back in his junior days. Four bad games in a horrible mismatch of a playoff series isn't enough to indicate that he's the kind of guy who underperforms in the postseason.
What is worth worrying about is the likelihood that for all that Mason's numbers have improved, he's still the same kind of goalie he was on all those Blue Jackets teams that followed that first playoff series.
Back in December, impressed by Mason's dramatic turnaround in Philadelphia, we went looking for historic examples of NHL goaltenders who had managed to improve to the same degree at around the same age. After looking at every season since the NHL started recording save percentage, this is what we found:
In other words, from the data we have, no goalie has managed to pull off the kind of transformation Mason did and use it as a springboard for improved play down the line. … The most likely outcome is that Steve Mason goes back to being the fringe NHLer he was when the Flyers acquired him.
At the time of that assessment, Mason had a 0.932 save percentage for Philadelphia, in sharp contrast to the 0.905 number he had posted in his five prior seasons. In the 37 games since, he's been a 0.906 save percentage goalie. It seems likely that his hot start was an aberration, and that he's back to being the same goalie he was in Columbus.
And the thought of that should terrify the people making decisions in Philly.
Unless otherwise noted, statistics are courtesy of NHL.com and current through the start of action on April 1.